Advanced Analysis: How the Predators swept Chicago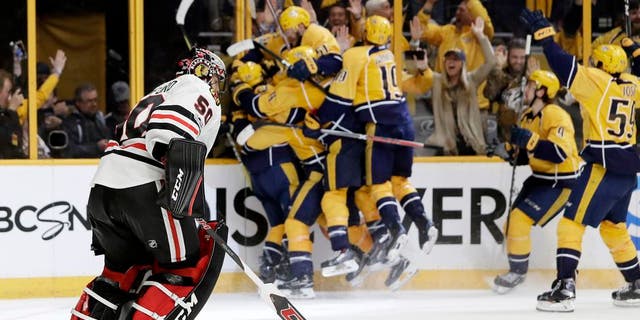 Its still quite a shock to be sitting and writing that Nashville completed a four-game sweep against the Chicago Blackhawks and did it in convincing fashion.Before diving into the keys for Nashvilles dominance over the Hawks, lets take a moment to look back at our initial preview.
Forwards
Pre-Series Edge Given: Chicago
When you compare both of Nashville and Chicagos lineups, names like Patrick Kane, Jonathan Toews and Marian Hossa are going to stick out to you more than Viktor Arvidsson, Ryan Johansen and Filip Forsberg.
But you never would have guessed that the latter would be vastly more effective in four games than the former.
That happened, though.
Defensemen
Pre-Series Edge Given: Nashville
This was easy to see coming if you did your due diligence. The Predators speed and tenacity on the back end led to so many solid offensive opportunities.
More importantly, though, the ability for Nashvilles defense to clear the area in front of Pekka Rinne, break up any offensive zone pressure from Chicago and transition it back into, at the bare minimum, the neutral zone was something seen few and far between this season by the Predators.
Doing it for four straight games? Incredible.
Goaltending
Pre-Series Edge Given: Push
It was fascinating to wonder how the matchup of Rinne versus Corey Crawford was going to go. Crawford, an experienced postseason netminder who returned elite results when it mattered, and Rinne, an elite goaltender approaching the potential twilight of his career.
In retrospect, it was still a great goaltending matchup. Crawford played amazing the entire series, his team just couldnt protect him against the offensive onslaught from the Predators. On the flip side, Rinne stopped 123 of 126 shots over four games and recorded two shutouts.
I dont believe theres much more that couldve been asked from either goalie.
Special Teams
Pre-Series Edge Given: Push
Neither were truly effective for either team when looking back at this first-round matchup. Chicago scored three goals the entire series, two of them coming off nine separate power play chances.
On the flip side, Nashville scored once on the power play off eight chances in four games.
Both the Preds and Hawks had ample opportunities, they just couldnt convert.
Coaching
Pre-Series Edge Given: Chicago
Theres no question that Joel Quenneville will continue to remain one of the greatest coaches in the NHL currently. He just is. Regardless of a first-round sweep at the hands of Nashville, Quenneville is an absolutely dominant coach.
But Peter Laviolette got the best of him. And thats not an easy thing to do.
Laviolettes ability to counter Quennevilles moves punch-for-punch was a spectacle to watch. No matter what line combination Quenneville sent out against Nashville, Laviolette had an answer.Granted, the Filip Forsberg-Ryan Johansen-Viktor Arvidsson line made Lavis job a bit easier, but it was just a masterful job overall by the Nashville bench boss.
X-Factor, Nashville: Pekka Rinne
Nashvilles goaltending will be the key to whether they can steal the series away from Chicago. The Predators are fully capable of providing Rinne the goal support he needs to be successful in the playoffs, the only problem is that history isnt on his side in terms of finding said success.
The plus side of this is that Rinnes record this season when Nashville scores at least three goals is stellar: 27-1-3. Even in the playoffs, its not so bad a solid 18-8.
Obviously, if the Predators can score at least three goals per game, history deems that Rinne will be in pretty good shape.But if the offense fails? Rinne will have to steal a couple of games if Nashville wants to escape the first round.
Not trying to toot my own horn, but this couldnt have been more spot-on. Rinne needed to be sharp and more against Chicago and stopping 123 of 126 shots was a performance for the ages.
Rinne ended with a 27-1-3 record during the regular season when Nashville scored three goals or more. That has since grown to 30-1-3, and a career postseason record of 21-8, under the same metrics.The only game this series that Rinne truly had to steal? Game one. Nashville dominated the majority from then on.
X-Factor, Chicago Artem Anisimov
Anisimov finished the series with zero points in four games, averaging 17-plus minutes a game.
Thats a far cry from the forward who ended the season with 22 goals and 23 assists in 64 games.
Maybe he was playing at less than 100 percent, but the Blackhawks really needed Anisimov for this series, along with their other forwards, and no one showed up.
Prediction Predatorsin7
a new bar has been set. And this is the season that Nashville kicks that bar right off the rack.
Yeah, the prediction was for the Predators to win in seven games, but did Nashville kick that bar right off the rack? The one previously set by the Detroit Red Wings?
Id say so.
Nashvilles first four-game sweep in franchise history is a bar-setter if Ive ever seen one.
When reviewing the course of events over the Predators four-game series, it can all be quietly wrapped up very nicely by analyzing Game 4as a whole what may have been a microcosm of the entire series.
Nashville relied on four lines to do the bulk of the work against Chicago:
Forsberg Johansen Arvidsson
Kevin Fiala Calle Jarnkrok James Neal
Austin Watson Mike Fisher Harry Zolnierczyk
Pontus Aberg Colton Sissons Craig Smith
The Blackhawks, on the other hand, tried every combination they could to crack Nashvilles 1-4 zone trap. Unfortunately for them, nothing would stick.
In Game 4, there were occasions where a combination other than one of the four above lines found time on the ice, however it was usually due to a line change or an icing of the puck that stuck an odd combination out there.
Two of Nashvilles goals in the third period were actually scored by lines in the midst of a change: Arvidsson, Sissons and Aberg notched goal two while Sissons, Fisher and Watson were rushing along with Roman Josi for goal three.Johansen, Forsberg and Arvidsson known affectionately as the JOFA line did a bulk of the heavy lifting against a good portion of Chicagos top players, and rightfully they should have. One line combination that surprised more than I thought it would was Aberg, Sissons and Smith.
In Game 4, we learned that Craig Smith wasnt the catalyst on that line, but maybe young Pontus Aberg was?
Diagnosed with a lower-body injury, Smith was replaced by P.A. Parenteau in the lineup to play alongside Sissons and Aberg in Game Four.
Through the course of the first and second periods, the Sissons Aberg Parenteau line (the SAP line) found time on the ice against eight separate Chicago lines.
Nashvilles fourth line, by number only as head coach Peter Laviolette isnt found of actually numbering his lines, was trusted so implicitly that they, quite literally, faced off against much of the Blackhawks forward group seven of their 11 iced forwards to be exact.
(Note: Corsi, as mentioned below, is a measure of the number of shots blocked, missed, on net for as opposed to the number of shots against while a player, or in this case a line, is on the ice)
Over the first period, the SAP line earned no more than Sissons 5:17 on the ice, with Parenteau at 3:45 and Aberg at 4:41. Even with just a max of a quarter of the period being played, the SAP line finished with a Corsi of 87.5 percent seeing seven shots attempted towards Corey Crawford and only seeing one against.Those seven shots were spread out against five separate lines, forcing no more than two shots attempted against each line.
They were just as effective in the second period, recording a 75 percent Corsi with six shots attempted on Crawford and only two against half of those coming against a Chicago line combination of Anisimov, Nick Schmaltz and Richard Panik.
The third period wasnt as strong for this line, or the Predators, in terms of shot production and puck possession overall, however its what they did in Game 4that showcased why they beat Chicago and as quickly as they did.
Throwing pucks from nearly every zone, Chicago finally started to get decent puck pressure in the third period, but could only put one goal past Pekka Rinne at even-strength during the entire series which did not come in Game Four.
The Predators ability to clear Chicagos net-front presence through four games and effectively limit the Blackhawks to minimal second-chance abilities, sometimes allowing no first-chance abilities, was one of the primary means for success.
Plenty of times the Blackhawks would send multiple players into the neutral and offensive zones only to be effectively turned away at nearly every opportunity.
In Nashvilles postseason franchise history, theyve never had that type of success against an opposing team in preventing a majority of chances against.
And it wasnt for a lack of trying in Chicagos case, either.
In the final 20 minutes of Game 4, Nashvilles four lines combined for four attempted shots and 20 attempted shots against. Two defensive collapses by the Blackhawks spelled doom for a possibility of sending it back to the United Center for a Game 5, but the chances were all there.
It wasnt a trick that the Predators beat Chicago as handily as they did. They played with a net-front pressure that made the Blackhawks one of the more elite offensive teams in the league combined with a shutdown trap defensive posture of some of the greatest defensive fronts to win the Stanley Cup.
St. Louis will provide a much different challenge, but expect a lot of the same tactics to be used.