Adam Jones voices frustration over perceived lack of effort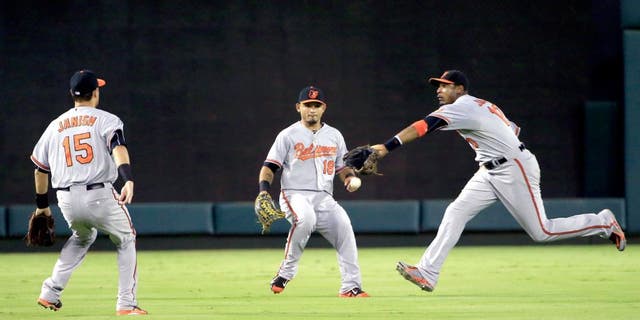 NEWYou can now listen to Fox News articles!
The Baltimore Orioles are struggling.
Just 1-10 in their last 11 games, some fans are being a bit vocal about the teams' effort level.
Adam Jones is having none of that.
In speaking to reporters following a 6-0 loss (and three-game sweep) against the Texas Rangers, Jones was asked to speak about the team' perceived lack of effort via MASN Sports:
"My biggest thing about sports is when somebody doubts an effort or another player or something like that. That's basically calling him a coward. You know what I mean? Whenever someone says, 'Oh, you don't give an effort. You're not playing (with) effort,' that's kind of calling someone a coward. It's like me going to someone else's job and saying, 'You're not doing what you're supposed to be doing. You're not playing hard.'
"It's a sport, man. We go out there and play our tails off. Some days it looks pretty, some days it doesn't, but the effort is always there. For some people to say that our effort level isn't there just because we struck out 11 times, we could strike out 20 times, but to say our effort level wasn't there, that's a slap in the face and I want to slap somebody in the face who says that. There's my point of view on that.
"It annoys the hell out of me when people say effort is low. The effort's not low. We might be getting beat, but that's not from a lack of effort."
As the team leader, Jones is expected to address his teammates in times of crisis.
"I've talked to the team, I talk to these guys every day," Jones said. "What do you want me to do, bend them over and spank them? They're grown men. They understand the objective here."
The objective, of course, is to make the playoffs. After Sunday's games, the Orioles sit 5.5 games back of the second place in the wild card.
(h/t MASN Sports)