Abby Wambach, Mia Hamm reach out to 8-year-old disqualified from tournament for 'looking like a boy'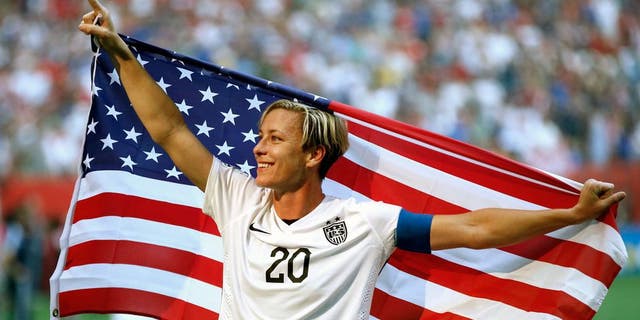 NEWYou can now listen to Fox News articles!
Former U.S. women's national teamstars Abby Wambach and Mia Hamm have reached out to 8-year-oldMili Hernandez after hearing of her disqualification from a tournament in Nebraska because organizers thought she was a boy.
Hernandez, one of the best players on the Omaha Azzuri Cachorros' 11-year-old team, was set to play in the finals of the Springfield Soccer Club tournament on Sunday when she was told that her team had been disqualified because she "looks like a boy."
"Just because I look like a boy doesn't mean I am a boy," Hernandez told local TV station WOWT 6. "They don't have a reason to kick the whole club out."
Mili's father, Gerardo Hernandez, says the little girl, "was in shock.
"She was crying after they told us," he said."They made her cry."
Hernandez and her parents received the news four hours before kickoff, but despite her parents showing Mili's health insurance card to prove she's a girl, "they didn't even want to take it," said GerardoHernandez.
"I was mad. I never had that problem before. She's been playing so long in different tournaments," Gerardo Hernandez told The Washington Post. "I don't want no problems with nobody, but that wasn't the right way to treat people."
Mili, who has played since she was five, was moved up to her club's 11-year-old team after showing her ability amongst girls her own age. Mili's father kept her hair short due to her active lifestyle, but when she got older, and he gave her the choice of choosing her own style, she stuck with it. When my hair starts to grow, I put it short because Ive always had short hair, she told WOWT. I didnt like my hair long.
After hearing her story, USWNT legends Mia Hamm and Abby Wambach reached out to show their support, with Hamm inviting Mili to her soccer academy, and Wambach sending her a strong message as well.
The Springfield Soccer Association claims Mili was not disqualified from the tournament because of her appearance, but that a misprint in a team roster listing Mili as a boy caused the confusion.
According to WOWT, the Hernandez family were told that they can file an appeal to the Nebraska State Soccer association to challenge the disqualification.
NSS did not comment on any possible appeal, but they did move to condemn the tournament's actions against Mili and her club in a statement released on Monday night.
"While Nebraska State Soccer did not oversee the Springfield Tournament, we recognize that our core values were simply not present this past weekend at this tournament and we apologize to this young girl, her family and her soccer club for this unfortunate misunderstanding," the statement read. "We believe that this needs to be a learning moment for everyone involved with soccer in our state and are working directly with our clubs and tournament officials to ensure that this does not happen again."