Aaron Hernandez had 'horrendous existence' due to CTE, lawyers say
Aaron Hernandez had a "horrendous existence" because he suffered from the severe chronic traumatic encephalopathy, a degenerative brain disease that caused his aggressive and explosive behavior, his lawyers said in a refiled lawsuit against the NFL and a helmet manufacturer.
The civil complaint filed on Monday accused the NFL of hiding the dangers of football and also named Riddell, the company that previously manufactured the league's helmets that Hernandez wore when he was playing for the New England Patriots.
"Aaron experienced a chaotic and horrendous existence in many respects, due to his undiagnosed brain injury," according to the complaint obtained by People Magazine.
The Hernandez estate also said CTE caused "aggression, explosive behavior, loss of concentration, mood swings, depression, apathy, and cognitive impairment."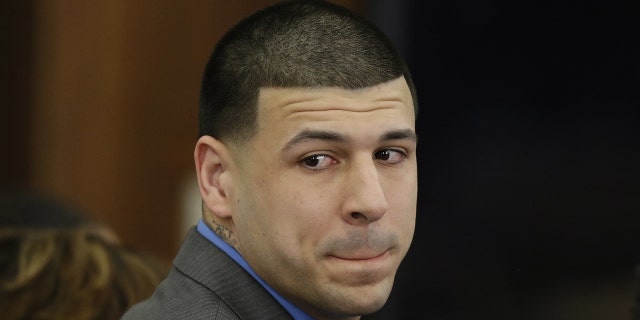 Riddell, an Illinois-based manufacturer, said it intends to vigorously defend its products and its reputation against concussion-related lawsuits
Hernandez hanged himself in his Massachusetts prison cell in April, five days after he was acquitted of the 2012 double murder of Daniel de Abreu and Safiro Furtado. He was serving life in prison for the 2013 murder of Odin Lloyd.
Boston University's CTE Center announced in September that experts found the former football player suffered from stage three CTE. The disease has been shown to cause depression, violent mood swings and other cognitive problems in people.
"Hernandez had early brain atrophy and large perforations in the septum pellucidum, a central membrane," the university's center said in a statement.
The lawyers are seeking the damages on behalf of Hernandez's 4-year-old daughter. The case was refiled in state court after the federal case was dismissed last Friday. The initial federal lawsuit claimed the NFL and the Patriots failed to "disclose, treat or protect" Hernandez from so-called "repetitive impact injuries." The Patriots have since been dropped from the lawsuit.
During his early high school years, Hernandez was known as a gifted athlete, but was also seen with a "rough-and-tumble" crowd, the New York Times reported. His father, Dennis Hernandez, kept him grounded until his death in 2006. His mother told reporters that she was worried the death would derail her son's life.
The Associated Press contributed to this report