Aaron Hernandez Gets Dumped By Patriots Fans In Jersey Trade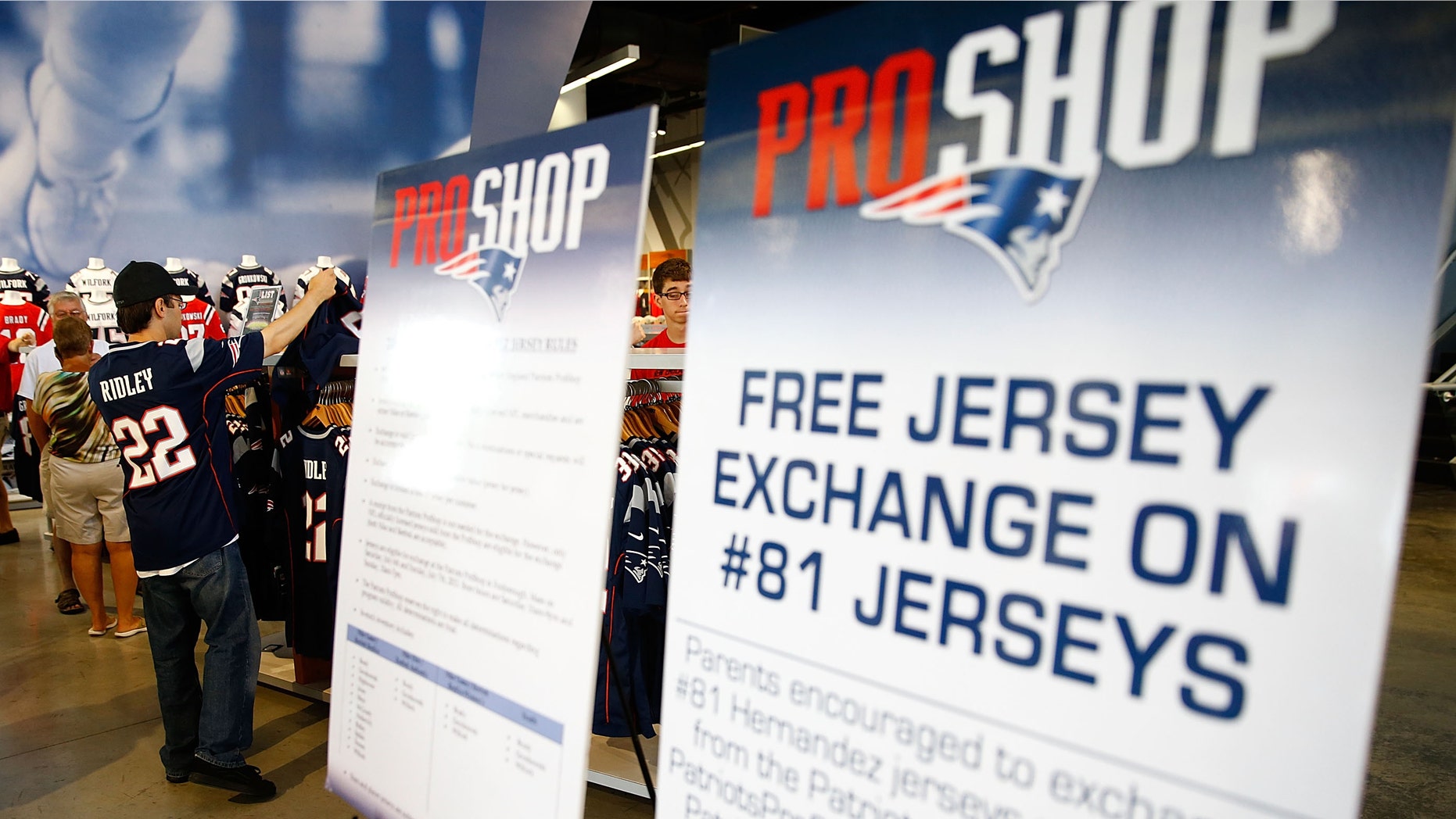 A few weeks after the New England Patriots officially cut its ties with accused murdered Aaron Hernandez, fans of the former tight end are now doing the same.
Over the weekend, thousands of Patriots fans lined up outside the team's Gillette Stadium and sweltered in 90-degree temperatures to rid themselves of the former player's No. 81 official jersey.
As part of a two-day opportunity, fans who purchased the Hernandez jersey at the team shop at the stadium or its online store were able to exchange the jersey for one of the team's other players.
A final exact count of just how many jerseys were swapped has yet to be released.
However, according to the team, in the first day of the exchange, the Patriots ProShop received nearly 1,200 Hernandez jersey exchanges.
And, as to the ProShop's twitter page showed, the most popular players Hernandez was replaced with were Vince Wilfork and Tom Brady.
According to the list, fans had just a few options to choose from. Only 11 different players were available in replica jerseys, and for "authentic" youth and women's jerseys, Brady, Gronkowski, and Wilfork were the only options.
Even though not all fans took advantage of the program, with some selling their Hernandez merchandise on auction sites like eBay for close to $300, many Patriots fans couldn't fathom keeping the gear.
"I turned in my jersey to spite all those people who want to make money off this," one Patriots fan, Josh Benner, told the Boston Herald.
"I am here because Aaron Hernandez betrayed us," Benner said. "He betrayed every Patriot fan who was loyal to him, who invested their time and belief that he was one of us. I want him to know that such a betrayal comes with a reciprocal price."
Fellow fan Nick Genelli also told the Boston Herald: "Now, I couldn't even wear this thing as a joke. It would be like walking around with an O.J. Simpson jersey."
Hernandez has been charged with murder in the death of his friend, 27-year-old semi-pro football player Odin Lloyd. Hernandez pleaded not guilty.
Patriots' spokesman Stacey James says children love wearing Patriots gear but may not understand why their parents don't want them wearing Hernandez's jersey.
"We hope this opportunity to exchange those jerseys at the Patriots ProShop for another player's jersey will be well received by parents," James said.
Follow us on twitter.com/foxnewslatino
Like us at facebook.com/foxnewslatino