A view from Wembley: When La Marseillaise is everyone's anthem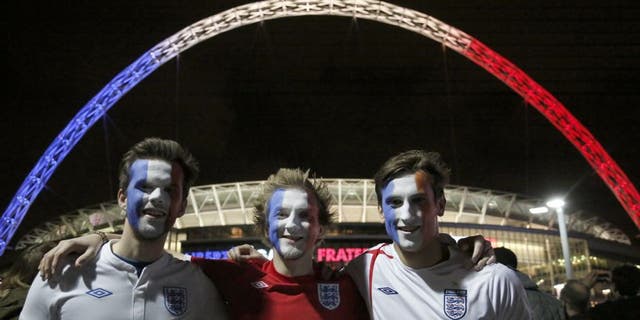 As a French citizen living in London, it felt imperative to go to Wembley to take part in this match that was as much an act of defiance and solidarity as a sporting event. I was sitting in an section with England fans and the people in front of me said that they had bought tickets after what happened in Paris because they too felt very strongly that they should be there.
During the national anthems they actually apologized about their pronunciation of La Marseillaise. French is not an easy language for English speakers to grasp. But that they tried, they had a go to sing along, was very moving.
I was so proud to be there, so proud to be French, and so proud of the British for being so welcoming and tolerant. Football is their passion and in their stadium, they extended the hand of friendship. The minute's silnece was extraordinary. For the home fans to hold up a display of the flag of France, where normally they show off England colors, was unusual and special. It was particularly touching when Lassana Diarra, who lost a family member in the Paris atrocities, came on and he was given a huge ovation. There was immense respect.
Once the game started, the atmosphere was noticably quiet. Respectfully quiet. It probably helped that this was a friendly, which meant there was natually less tension than for a competitive match with something at stake. But what mattered here was to honor the occasion and its meaning rather than the 90 minutes.
In the long history of our countries, the English and French don't always get along. It is not a natural blend. But here it was. It was impossible to feel uncomfortable even with a big French flag around your shoulders surrounded by England fans.
The defiance and strength in response to what is happening in the world is backed up by what we witnessed at Wembley. I sent a photograph to friend in Paris and the reply was that it is so important for everyone to see that we go on. Life goes on.
The result was irrelevant. Who you were rooting for was incidental. I understand what a huge influence sport can have. This was a tonic after everything that happened in Paris.