A.J. Griffin takes mound for Rangers against Astros on Thursday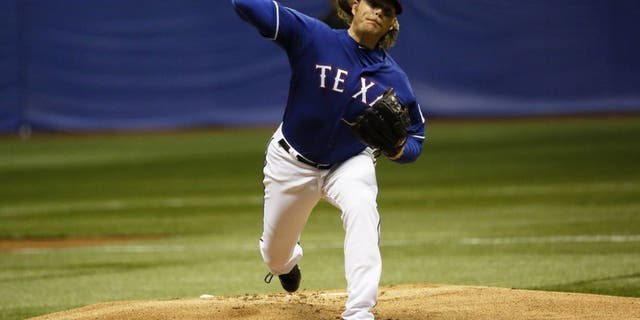 HOUSTON -- The Texas Rangers, having already completed the first month of the season without cornerstone third baseman Adrian Beltre, were dealt a significant blow when ace left-hander Cole Hamels was placed on the 10-day disabled list Wednesday.
Hamels (2-0, 3.03 ERA) sustained a right oblique strain during warmups on Tuesday. He returned to Arlington on Wednesday for an MRI and exam, with Dr. Keith Meister determining that Hamels will miss approximately eight weeks.
"Any time you lose a player, any player, but when you lose a (Yu) Darvish, a Beltre, a Hamels, Colby Lewis last year, (Shin-Coo) Choo, there are certain waves that move across the clubhouse of a team," Rangers manager Jeff Banister said. "You need those types of players out on the field performing for you because they are elite performers.
"However, there are times where those types of things can galvanize the club and put them back into the spot where they need to be where they perform best. These types of things allow a team to draw closer just because of the necessity of it all. The positive part of it is they've been through this before. It's not new to them."
Texas (11-17) will forge on in the series finale against the Houston Astros on Thursday behind right-hander A.J. Griffin (2-0, 4.11 ERA), who will make his first start since being placed on the 10-day disabled list on April 21 with gout in his left ankle. Griffin is 5-0 with a 4.22 ERA over seven career starts against the Astros.
Right-hander Joe Musgrove (1-2, 4.88 ERA) will pitch for the Astros in the series finale on Thursday. Musgrove will face the Rangers for the first time this season and the fourth time in his career. He is 1-1 with a 4.58 ERA against Texas, including 1-0 with a 2.70 ERA and 13 strikeouts over two starts at home.
While the Astros (19-9) are poised to get reinforcements to their pitching staff, both in the bullpen (right-hander Jandel Gustave) and rotation (right-hander Collin McHugh), they've been bolstered by their organizational pitching depth. One example is the production supplied by right-hander James Hoyt.
Hoyt and Gustave battled for the last spot in the bullpen coming out of spring training, with Gustave ultimately winning that contest to make his first Opening Day roster. But when Gustave landed on the 10-day disabled list on April 20 with right forearm tightness, Hoyt was recalled from Triple-A Fresno. He has pitched impeccably since, going 1-0 with a 0.00 ERA over three appearances.
"I think sometimes I have to remind myself of how many swings and misses he can generate," Astros manager A.J. Hinch said. "(Tuesday) night was a huge part of the game, but part of his repertoire is to get to two strikes and have some put-away pitches, mostly secondary pitches, splits and sliders.
"When he's in the strike zone early, he can expand. His Achilles' heel in the big leagues so far has been high pitch counts in innings that wouldn't allow him to go two innings or two-plus innings. So (Tuesday) night he was efficient with his pitches and pitching ahead, which allowed him to pile up a ton of strikeouts."