5 sleepers that could make a stunning run to the College Football Playoff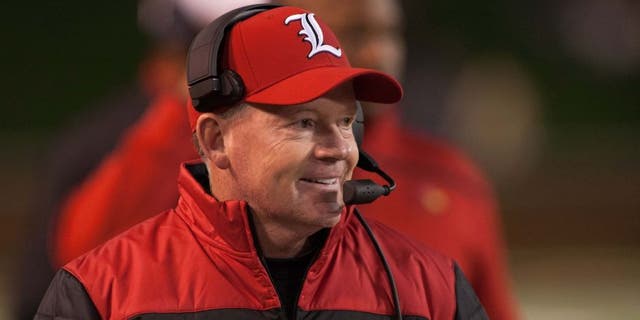 NEWYou can now listen to Fox News articles!
I know it sounds crazy, but we're closing in on 100 days --- yes, a mere 100 --- before the start of the college football season. And while a lot of stuff is going to happen between now and then to shake up the landscape (just look at the Cam Robinson situation this week), it's never too early to start arguing about the season ahead, because after all, isn't arguing what college football fans do best?
Today, the topic is "which teams could surprise fans and make the College Football Playoff." We're not talking about Alabama, LSU or Clemson, but clubs that are way off the radar.
Here are five candidates.
Bruce Feldman and Stewart Mandel had a spirited debate about the likelihood of the Cougars actually making the playoff earlier this week on The Audible. Mandel specifically gave it just a 10 percent shot (18:00 mark in the podcast embedded above), and that was based on the Cougars running the table (beating Oklahoma and Louisville in the process) and both of those teams going on to have good seasons independent of a loss to the Cougars.
Granted, that's not likely, but it is possible.
For starters, both of those games are in Houston (the opener against Oklahoma is technically a "neutral site" game at NRG Field, home of the Texans), and the Cougars do return the talent to play with anyone. Quarterback Greg Ward is coming off a season in which he accounted for over 3,300 yards of total offense and nearly 40 touchdowns, while the defense should again be stout.
The question again: Can they beat the two Power-5 schools in front of them, starting with Oklahoma in Week 1?
Clearly the Cardinals would have to beat the team mentioned above (Houston) to make the playoff, but that game isn't until Nov. 17. The simple truth is that we'll know long before then if the Cardinals are a true contender or not.
For Bobby's Petrino's club, they get thrown right into the meat of their schedule early with games against perennial ACC juggernauts Florida State and Clemson within the first five weeks of the season. The good news is that they get the Seminoles at home and played Clemson really tough last year, losing 20-17.
In terms of their talent, Louisville has enough to beat anyone on the schedule.
The Cardinals return 18 starters, including quarterback Lamar Jackson, All-ACC linebacker Keith Kelsey and safety Josh Harvey-Clemons.
While it might be a stretch to Louisville getting into the playoff, it really isn't for North Carolina. They play in the much more manageable ACC Coastal (meaning they get to avoid Clemson in the regular season), and even if they do face the Tigers in the ACC championship game, they played with Dabo Swinney's club right down to the bitter end last year.
For the Tar Heels, their whole season likely comes down to two things: How does QB Mitch Trubisky handle the adjustment after taking over for the departed Marquise Williams? And can they defeat either Georgia in their regular-season opener or Florida State on Oct. 1 to set up what could be a "win-and-you're-in" playoff scenario in the ACC Championship game?
I know, I know, we've seen the Oklahoma State hype before. Heck, we saw it last year when the Pokes started out 10-0 before getting bludgeoned down the stretch with losses to Baylor, Oklahoma and Ole Miss in the Sugar Bowl by a combined score of 151-78.
Still, in 2016 things will be different! Or at least that's what they're hoping in Stillwater.
The best argument for Oklahoma State is that they return basically their whole team (17 starters) including quarterback Mason Rudolph and that the rest of the Big 12 except Oklahoma should take a step back from last year.
The question as always could come down to Bedlam, where a Big 12 title berth and playoff spot could be on the line.
Sure, it seems absurd to have USC on a list of college football sleepers. But after years of entering season after season overrated, is it possible that they enter 2016 a tiny bit underrated?
It seems likely as USC returns talent all over the field, including running backs Ronald Jones and Justin Davis, as well as star wide receiver JuJu Smith-Schuster. Not to mention that the Trojans may have the best group of defensive backs in the country, led by everybody's All-American Adoree Jackson.
The question now: Can USC somehow survive a daunting schedule that includes Alabama in an opener at Jerry's World and 11 games against teams that made bowl games last year?