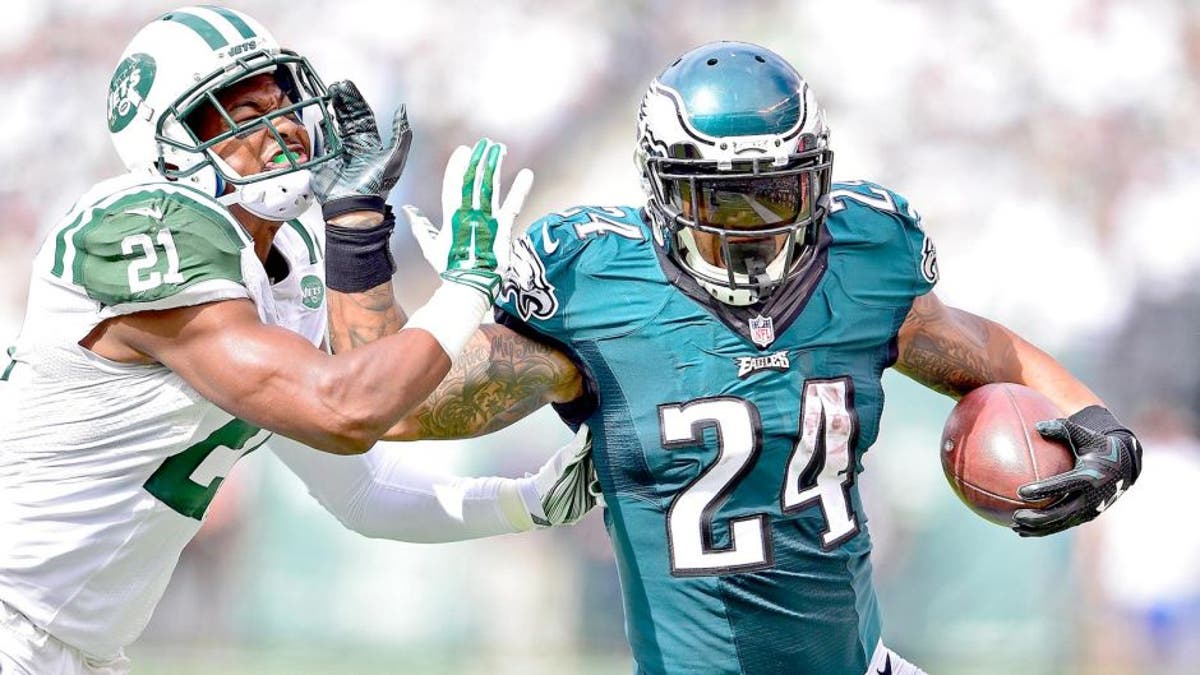 The Philadelphia Eagles finished second in the NFC East last season, but that doesn't mean it was a success. It was closer to a disaster with Kelly's offense failing and the defense struggling to catch its collective breath due to the amount of time it was on the field. Their 7-9 record wasn't enough to get them into the playoffs, but a new head coach and rookie quarterback in 2016 give fans plenty to be excited about.
The success of the team hinges on the play (and durability) of Sam Bradford, who's playing for his job week in and week out. If he can stay healthy and play like the former No. 1 overall pick he once was, the Eagles have a good shot at making the postseason -- particularly in a division filled with questions.
Here are five reasons why Eagles fans should be excited for the 2016 season.
No DeMarco Murray? No problem. Ryan Mathews was the better running back of the two last season and it shows in the numbers. Mathews rushed for 539 yards on just 106 carries, which averages out to 5.1 yards per attempt. Now with Murray in Tennessee, it's Mathews taking over as the lead back. Injuries have plagued his career in the past, but if he's able to stay healthy, Mathews should reach 1,000 yards rushing behind the Eagles' solid offensive line. In 2013, his only full season, Mathews rushed for 1,255 yards and six touchdowns with the Chargers, which should be a goal for him in 2016.
Sam Bradford is going to be the starting quarterback in Week 1. The Eagles have made that very clear, but that doesn't mean he'll remain the No. 1 guy for all of 2016. In fact, there's a good chance he doesn't start all 16 games, either due to injuries or poor play. Chase Daniel might be the next guy up, but fans are going to call for Carson Wentz early and often. He has a ton of potential, which is why Philadelphia gave up a boatload of picks to move up to No. 2 overall. His presence on the roster alone gives Eagles fans hope for the future, which could begin in 2016 depending on Bradford's performance.
The Eagles have made a concerted effort to shore up the wide receiver position without Jeremy Maclin there. Jordan Matthews is a good slot receiver, but it's 2015 first-round pick Nelson Agholor that is drawing a lot of interest. He was quiet last season as a rookie, catching just 23 passes for 283 yards, but he showed flashes of great potential. He boasts a combination of speed and size at wideout, with the ability to return punts too. Additionally, Josh Huff is a speedster, while Reuben Randle can be a good No. 3 option if he can stay healthy. The Eagles are young at the position, but there is plenty of talent there.
Jordan Hicks was on the fast track to winning Defensive Rookie of the Year before suffering a pectoral injury that ended his season in Week 9. He was playing lights out at middle linebacker, hitting anything and everything that came his way, while also showing off great range in coverage. Mychal Kendricks, on the other hand, has been a stalwart on defense for a few years. One of the fastest linebackers in the league, Kendricks will be the starter at weak side linebacker and star at the position. In 2013, he had three interceptions, two forced fumbles and 106 tackles, and while he hasn't matched those numbers in any single season since then, he has the potential to do so. He's a fun player to watch on defense.
Chip Kelly is no longer in Philadelphia, which gave way to Doug Pederson as the team's new head coach. Formerly the Chiefs' offensive coordinator, Pederson was credited with elevating Alex Smith's game in Andy Reid's West Coast offense. While he may not bring the flair and speed that Kelly had, Pederson is an intriguing coach who hopes to fix the Eagles' quarterback issues, be it with Bradford, Wentz or Daniel. Fans can expect a quick-hitting offense similar to the Chiefs' last season, which bodes well for Mathews at running back. There's a good chance Pederson's scheme works better in Philly than Kelly's did, despite the notion that he leads teams to points in bunches.