49ers' Tomsula not committed to quarterback switch for rest of season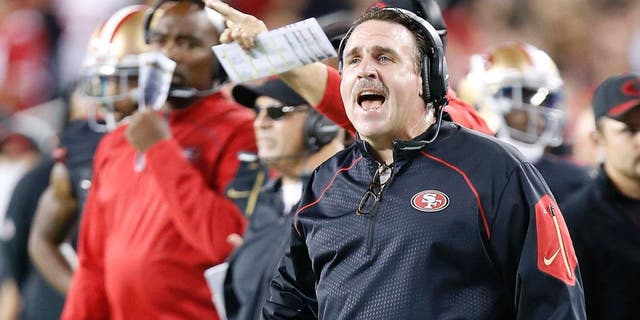 Coach Jim Tomsula is not committed to a long-term change at quarterback. Tony Avelar AP Photo
Blaine Gabbert has replaced Colin Kaepernick as quarterback of the San Francisco 49ers but his position is hardly secure.
"It's this week," 49ers coach Jim Tomsula said. "Going into Atlanta, I felt like this was the direction we needed to go."
Tomsula decided to bench Kaepernick on Monday after San Francisco was held without a touchdown for the second straight game. Following Sunday's matchup versus the visiting Falcons, the 49ers will have a bye, giving Tomsula a chance to re-assess his quarterbacks.
"This was a decision where I felt like I just wanted Colin to step back and breathe, look at things through a different lens," Tomsula said. "Keep preparing. Keep working. Keep doing his thing. But just step back. Take a look at things."
San Francisco ranks last in the NFL in points (13.6) and total yards (282.3) per game and has the league's second-worst passing attack (181.3 yards). The team has been held under 200 total yards in four of the last six games.
"In no way is 2-6 all on Colin Kaepernick," Tomsula said. "That's all of us. That's all of us. Everybody here on the Niners. We all take a big chunk of that."
MORE NEWS: Want stories delivered to you? Sign up for our NFL newsletters.