49ers lose Garoppolo to possible ACL injury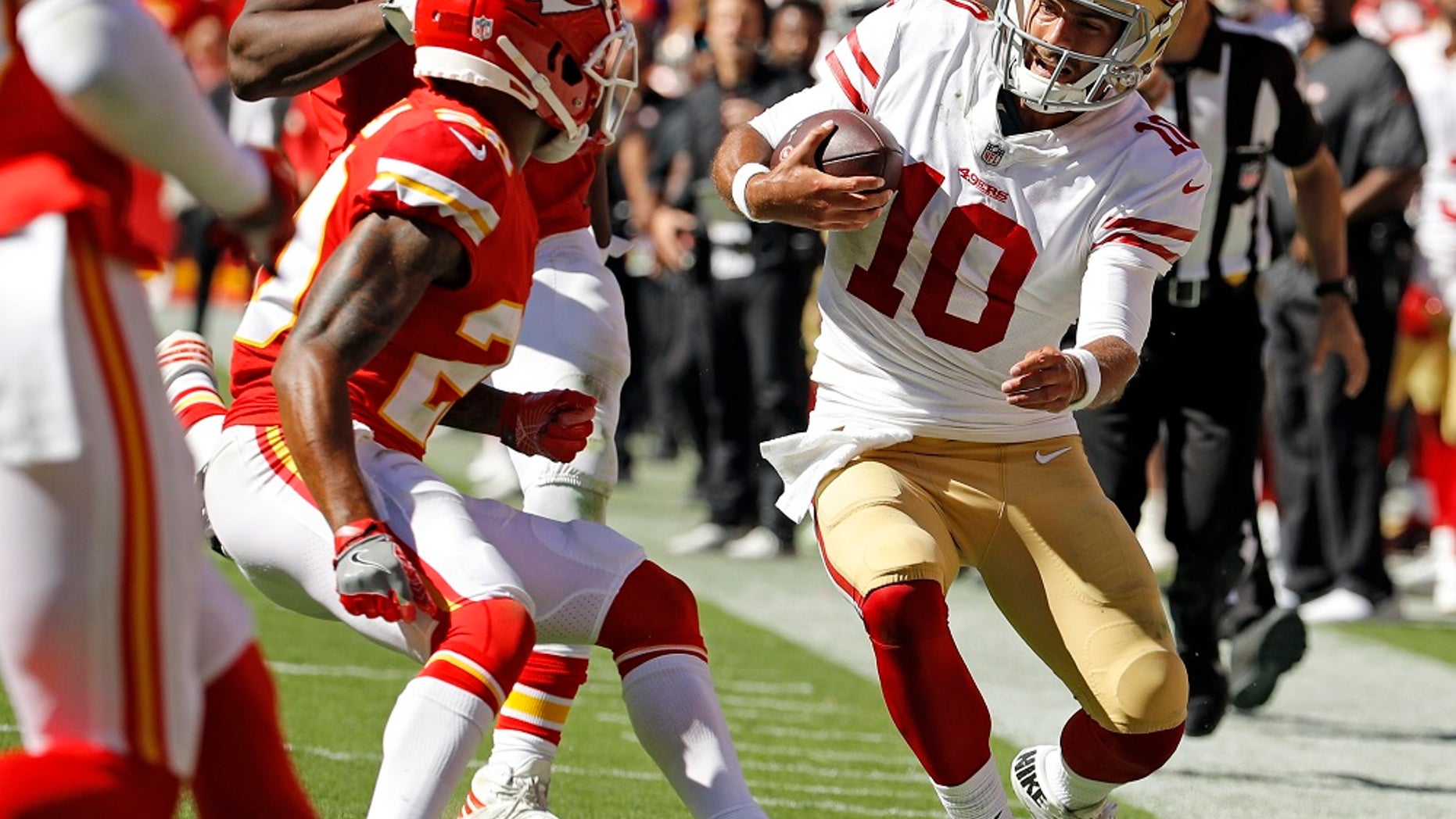 The San Francisco 49ers endured a heavy loss Sunday after star quarterback Jimmy Garoppolo was badly injured, forcing his exit from a game that ended in a 38-27 loss against the Kansas City Chiefs at Arrowhead Stadium.
The 26-year-old quarterback, who signed a $137 million contract with the 49ers in February, may be out for the season after suffering an injury Sunday in an attempt to rally his team. The team fears Garoppolo tore his left anterior cruciate ligament.
With five minutes remaining against the Chiefs, the 49ers were trailing 38-24 when Garoppolo led them on a near-scoring drive in the final minutes.
The Chiefs' defense responded by sacking Garoppolo on consecutive plays before flushing him from the pocket on the third-and-goal from the 20-yard line. That's when the San Francisco quarterback headed for the sideline.
Garoppolo's left knee buckled just before the Chiefs' cornerback delivered a shoulder-to-shoulder blow, sending Garoppolo down. Garoppolo was on the turf for a couple of minutes before he was helped to his feet and eventually carted off late in a 38-27 loss to Kansas City.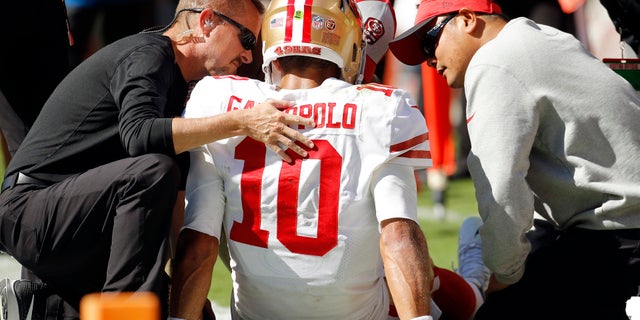 Justin Houston, a linebacker for the Chiefs, said it appeared the quarterback should have stepped out of bounds rather than absorb the hit.
"I think that was his fault," Houston told The New York Times. "I pray he's not hurt, it's nothing serious, but as a quarterback you should step out of bounds. It's only an inch. An inch wouldn't have made a difference. You got the yardage. You need to be smart."
Garoppolo's ousting is the 49ers second loss after top running back Jerick McKinnon, who endured a season-ending knee injury last month. The team now has only two other quarterbacks on the roster.
Beathard took over for Garoppolo with just over five minutes left, and he appeared to throw a touchdown pass to George Kittle before offensive pass interference wiped it out. San Francisco had to kick a field goal and that wound up being the final margin.
Top cornerback Richard Sherman went down with a calf injury, while backup Tarvarius Moore left with a wrist injury. Strong safety Jaquiski Tartt was inactive with a shoulder injury and free safety Adrian Colbert hurt his ankle, forcing a bunch of backups to play significant snaps.
Still, the 49ers leaned on running backs Alfred Morris and Matt Breida and the strong arm of their quarterback to mount a comeback. And after Garoppolo's TD toss to Marquis Goodwin in the third quarter made it 35-24, there was a sense of optimism on the San Francisco sideline.
Beathard is in line to start next week when the 49ers play the Chargers in Los Angeles, and Nick Mullens could get a call-up from the practice squad to serve as the backup.
Head coach Kyle Shanahan said Garoppolo will have an MRI on Monday to confirm whether he suffered a torn ACL.
The Associated Press contributed to this report.