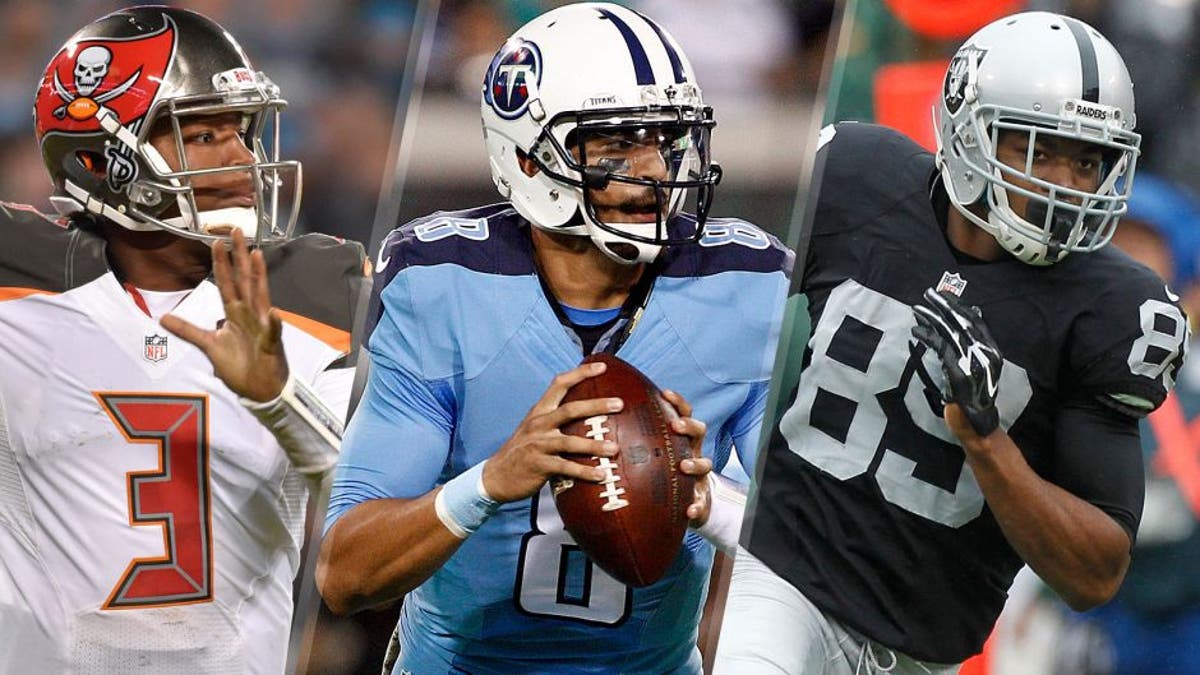 The first Wednesday in February -- Signing Day -- invariably gets under the skin of certain college football curmudgeons. They can't stand all the doting over 17-year-olds with overinflated egos. They hate the hat ceremonies. They're probably furious that LSU this year plans to put up billboards in their honor.
That's their prerogative.
But what annoys me to no end is the annual lazy narrative that the recruiting rankings at the center of Signing Day are meaningless. A favorite trick is to hold up someone like Houston Texans star J.J. Watt (former two-star recruit) or 2014 Heisman winner Marcus Mariota (three stars) as an indictment of the entire system. Or a school like Boise State that's won at a high level or without a host of blue-chippers. Or Texas, which has essentially done the opposite.
But what these critics hold up as "evidence," anyone with a basic understanding of statistics call "outliers."
To the recruiting analysts' credit, the rankings of both the recruits you'll see sign Wednesday and the classes that schools assemble are highly accurate predictors of future success. That is, unless you're holding the evaluators to some impossible standard where they should never miss on a single prospect. If that's the case, former sixth-round pick Tom Brady is an indictment of the entire NFL draft process, and Vegas oddsmakers should never be taken seriously because sometimes the underdogs beat the favorites.
To truly understand why you should in fact play close attention to Wednesday's results, you need to look at the bigger picture. Below, I've assembled some data that debunks the most common myths about recruiting.
Note: Much of my work here draws on similar research conducted by other writers in the past. I provide links below to several of those articles.
Myth No. 1: It doesn't matter where a team ends up in recruiting rankings.
Admittedly, whether your favorite school finishes fourth or seventh is a largely arbitrary distinction. It's something to brag about, but ultimately those are both really good classes.
There is, however, a largely ominous difference between fifth and 35th.
On the left hand side below, I compiled the cumulative Top 20 recruiting schools from 2010-13 by awarding points for where their class finished each year in Scout.com's rankings. On the right hand side, I compiled the cumulative Top 20 programs in the AP poll from 2012-15 (when those classes began comprising the majority of teams' rosters.) Teams had to appear in at least the Top 25 to qualify, with 100 points the maximum possible score.
Notice how many names appear in both.
Scout.com rankings (2010-13) AP poll finishes (2012-15)
1. Alabama (87) 1. Alabama (91)
2. Auburn (76) 2. Ohio State (84)
3. Ohio State (75) 3. Florida State (74)
4. Texas (73) 4. Oregon (72)
5. LSU (73) 5. Clemson (68)
6. Florida State (68) 6. Michigan State (64)
7. Florida (65) 7. Stanford (57)
8. USC (64) 8. Oklahoma (52)
9. Oklahoma (62) 9. Baylor (45)
10. Michigan (61) 10. Notre Dame (43)
11. Georgia (58) 11. TCU (42)
12. Notre Dame (56) 12. South Carolina (40)
13. UCLA (48) 13. Georgia (38)
14. Oregon (46) 14. LSU (34)
15. Clemson (39) 15. Missouri (33)
16. Miami (35) 16. Texas A&M (29)
17. Ole Miss (33) 17. Auburn (28)
18. Tennessee (30) 18. Louisville (26)
19. South Carolina (30) 19. UCLA (25)
20. Texas A&M (26) 20. Ole Miss (25)
All told, seven of the Top 10 performers ranked among the Top 20 recruiters as did 12 of the Top 20.
There are outliers on both ends -- recent powers Michigan State, Stanford and Baylor have far exceeded expectations based on their recruiting rankings, while Texas, Florida and USC have woefully underachieved.
But if we assume the correlations here are generally true from year-to-year, consider these odds.
Power 5 teams (of which there are 65) that consistently recruit Top 20 classes have a 60 percent chance of becoming a Top 20 program and a 35 percent chance of regularly inhabiting the Top 10.
By contrast, Power 5 teams that finish outside the Top 20 in recruiting have a lower than 18 percent chance of fielding Top 20 teams and just a 6.7 percent chance of reaching the Top 10.
Still think those recruiting rankings are meaningless?
In 2014, Matt Hinton took an even deeper dive into the correlation between team recruiting rankings and on-field performance.
Myth No. 2: Star rankings don't matter
Last year at this time, a few sites jumped all over the fact that no starters in that week's Patriots-Seahawks Super Bowl had a five-star ranking coming out of high school as proof that those designations are worthless. It was statistically disingenuous. Given that the recruiting sites only award five-stars to just over 30 recruits in a given year, it's hardly outrageous that two of the 32 NFL starting lineups did not include a member of that relatively tiny talent pool.
A more analytical method to determining whether star-rankings carry weight is to look at the ratios by which they produced NFL talent.
Using 247Sports' composite rankings -- which combine all the major recruiting sites to derive a consensus evaluation of the nation's recruits -- here's how the 32 members of the 2015 NFL first round broke down by star-rankings.
Five stars: eight (25 percent)
Four stars: seven (21.9 percent)
Three stars: 15 (47.8 percent)
Two stars or lower: two (6.2 percent)
A ha! More than half of last year's first rounders were no better than three-star recruits. Definitive proof that those stars don't matter, right?
Well … not if you consider the broader dispersal of those stars. Compare those percentages above to the percentage of five-stars among all 2011 recruits (the class that produced the majority of those draft picks.)
Five stars: 26 (0.7 percent)
Four stars: 336 (8.9 percent)
Three stars: 971 (25.7 percent)
Two stars or lower: 2,441 (64.7 percent)
So despite comprising less than 1 percent of all recruits, five-stars accounted for a quarter of 2015 first-rounders. Meanwhile, more than 90 percent of all recruits are designated as being three stars or less, yet their representation in the first round is nearly half that.
Put it this way: About one in four five-star recruits like No. 1 pick Jameis Winston goes on to become a first-rounder, but only about one in 64 three-star recruits like No. 2 Marcus Mariota does. Any generalizations about star-ratings that use NFL rosters as justification are giving disproportionate weight to the outliers.
Last year, SB Nation's Bud Elliott examined why some two-star recruits still wind up becoming NFL stars.
Myth No. 3: 'Half these guys won't end up doing anything'
Once upon a time -- back in the days when recruiting services consisted of quarterly newsletters and 1-900 numbers -- that statement may have held true. Half the guys they anointed as blue-chippers went on to have successful careers, and half were busts. Give or take.
Today, however, evaluators have the benefit of attending national and regional combines throughout players' high-school careers; high-definition video of their games; and, well, the Internet. As such, their hit rates are pretty darn good.
Again, using the 247 composite rankings, let's review the college careers of the Top 50 prospects in the class of 2012. Given their lofty status, it's reasonable to expect these "best of the best" recruits to develop into major contributors as soon as their freshman seasons.
For the most part, that's exactly what happened.
Highlighted by stars like Florida State's Winston; Washington LB Shaq Thompson; USC DT Leonard Williams; and Alabama's Amari Cooper, T.J. Yeldon and Reggie Ragland, 38 of the 50 started multiple seasons, 28 earned all-conference honors and 14 made All-American.
Conversely, only seven of the 50 could be considered a "bust," having never started a full season.
In 2013, Hinton, then with CBS Sports, examined the rate at which each star-level of recruits develop into All-Americans.
So even if you can't stand all the pomp and the fuss of Signing Day, you probably should pay attention Wednesday to the college decisions of five-star prospects like Rashan Gary, Derrick Brown and Demetris Robertson. Statistically speaking, they are far more likely than not to become future standouts, and the teams that land the most are far more likely to win championships than not.
Sorry to be a party-pooper, all you Signing Day party poopers.
Stewart Mandel is a senior college sports columnist for FOXSports.com. He covered college football and basketball for 15 years at Sports Illustrated. You can follow him on Twitter @slmandel and Facebook. Send emails and Mailbag questions to Stewart.Mandel@fox.com.