25 years after passing on Derek, the Reds finally draft their Jeter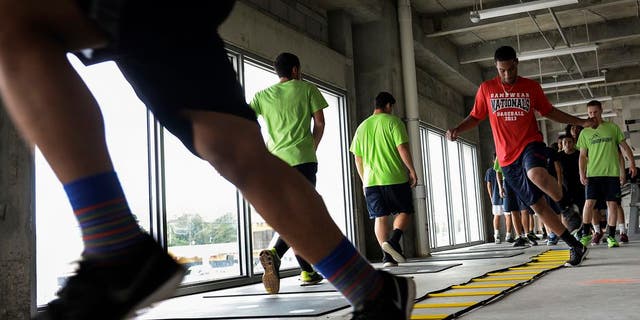 NEWYou can now listen to Fox News articles!
In the maddening world of what if?, the Cincinnati Reds passed on Derek Jeter with the fifth overall pick in the 1992 MLB Draft. The Yankees, of course, would select him one pick later and the rest is history.
Twenty-five long years later, the Reds have their Jeter well,kind of. With their competitive-balance pick (No. 32 overall) on Monday night, the franchise drafted Jeter Downs, an 18-year-old high school shortstop from Miami, Fla.
And, yes, Jeter Downs is named after the future Hall of Famer who just was enshrined in Monument Park at Yankee Stadium. Although this Jeter is at least a few years away from the majors if he reaches The Show at all buthes got a great head on his shoulders, as evidenced by his comments on his namesake:
"When he came into the Major Leagues [in 1995], he was the name. He was the thing. He was shining," Downs said, via MLB.com. "It was 'Jeter this, Jeter that.' It was actually my Mom's idea. My brother got Jerry from my Dad [Jerry Sr.]. It was my Mom's turn to pick a name since I was a second child. She just fell in love with Jeter and the way he played, his humbleness, how he carried himself on and off the field.
"That's how I pride myself. I try to do the right thing on and off the field, whether it's baseball-related or out with friends or helping somebody out on the street. It's kind of ironic that I have the name because that's exactly the person I model myself after.
Anthony Gruppuso/USA TODAY Sports
Not a bad role model, and we wish young Mr. Downs the best.
And in case youre wondering, the Reds selected outfielder Chad Mottola with the fifth overall pick in 1992. He hit .215/.271/.367 with three homers and six RBI during his rookie season with Cincinnati in 1996, and played briefly in parts of four other major-league seasons with the Blue Jays (2000, 2006), Marlins (2001) and Orioles (2004).