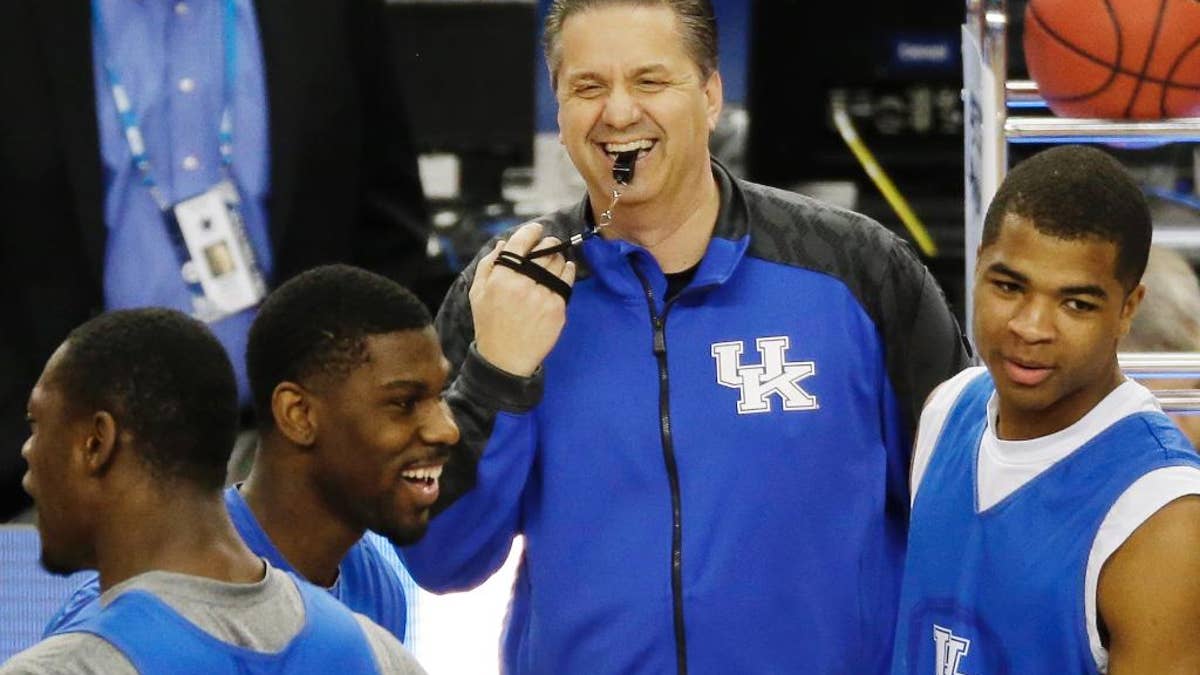 ARLINGTON, Texas – One and Dones?
Wisconsin coach Bo Ryan had a "Three and Done" one time. Devin Harris walked into his office after the 2004 season and told Ryan he wanted to head to the NBA.
"I told him that I would get back to him after I found out what the NBA people really felt," Ryan said of the eventual lottery pick. "And when I did find out and sat down and talked to him, he was just so relieved that I would allow him to go make a lot of money."
John Calipari lets his Kentucky players do that with regularity after only one season. He's had 11 One-and-Doners during his four-plus seasons at Kentucky and probably has a few more on this year's roster.
Wisconsin meets Kentucky in the Final Four on Saturday, in a national semifinal between two programs that approach the sport from completely different ends of the court.
Kentucky has the coach labeled a renegade, a rotating stable of McDonald's All-Americans and sky-high expectations every year.
Wisconsin has a coach who has stayed firmly in one state for three decades, a lineup filled with juniors and seniors and an aw-shucks attitude about its first trip to the Final Four in more than a decade.
"Frank Sinatra, wasn't that the song? We did it our way?" Ryan said. "Everybody's doing it their way. If you're a coach and here's the landscape, you do it the best way you can."
In his 13th season at Wisconsin, Ryan is at his first Final Four at this level after winning four national titles at Division III Wisconsin-Platteville.
Asked about the biggest difference between getting this far at Division III and Division I, Ryan espoused the virtues of enjoying a good doughnut, diet soda and a crossword puzzle before the big game, as opposed to heading to a room filled with reporters who want to dissect his every move.
The trappings of big-time college basketball have not changed him.
"Every place I've been, wherever I was an employee, (the paycheck) always went into the account," Ryan said. "My wife gives me $150 a month as an allowance, whether I need it or not. I don't get caught up in all that other stuff."
That is more the domain of Calipari, whose news conferences at the NCAA tournament usually grow more prickly as the Wildcats make their way deeper through the bracket.
He is labeled by some as a pariah, the primary exploiter of the "One-and-Done" rule — really an NBA rule — that so many feel are ruining the game. Calipari attempted to put a different spin on it Friday. "Succeed and Proceed," he called it, adding that the T-shirts with said slogan are at the printer.
"If you want to pile it on and say it's me, I'm OK," Calipari said. "All I care about is the players I'm coaching, that they're prepared to reach their dreams, whether it's after one year, two years, three years, or four years. I've had guys stay all those times."
Whatever Calipari is doing this year is working. Though it certainly wasn't the case earlier this season.
Led by lottery pick-to-be Julius Randle and the Harrison twins, Aaron and Andrew, Calipari recruited six McDonald's All-Americans to the bluegrass this season. The national title and an undefeated season were expected to be mere stopping points for these kids on the way to bigger things.
But it was way more complicated than that as recently as March 1, after the team had lost ugly in back-to-back games against Arkansas and South Carolina to fall to 21-8.
Calipari tweaked something — he'll reveal exactly what when the season is over — and the march to the Final Four began. Never in the recruiting process or the season has the NBA been brought up, he insists.
"It's the elephant in the room that we don't need to talk about," he said.
It's a different story at Wisconsin, where the talent doesn't always jump out to NBA scouts and Ryan's swing-offense system gets credit for getting the most out of his players — even in a season such as this, when the Badgers are playing more up-tempo and making more shots. Their 73.5 points are the most Wisconsin has averaged in 20 seasons.
"Sometimes," conceded 7-foot center Frank Kaminsky, "we kind of fail the eye test."