19 important takeaways from the NFL Combine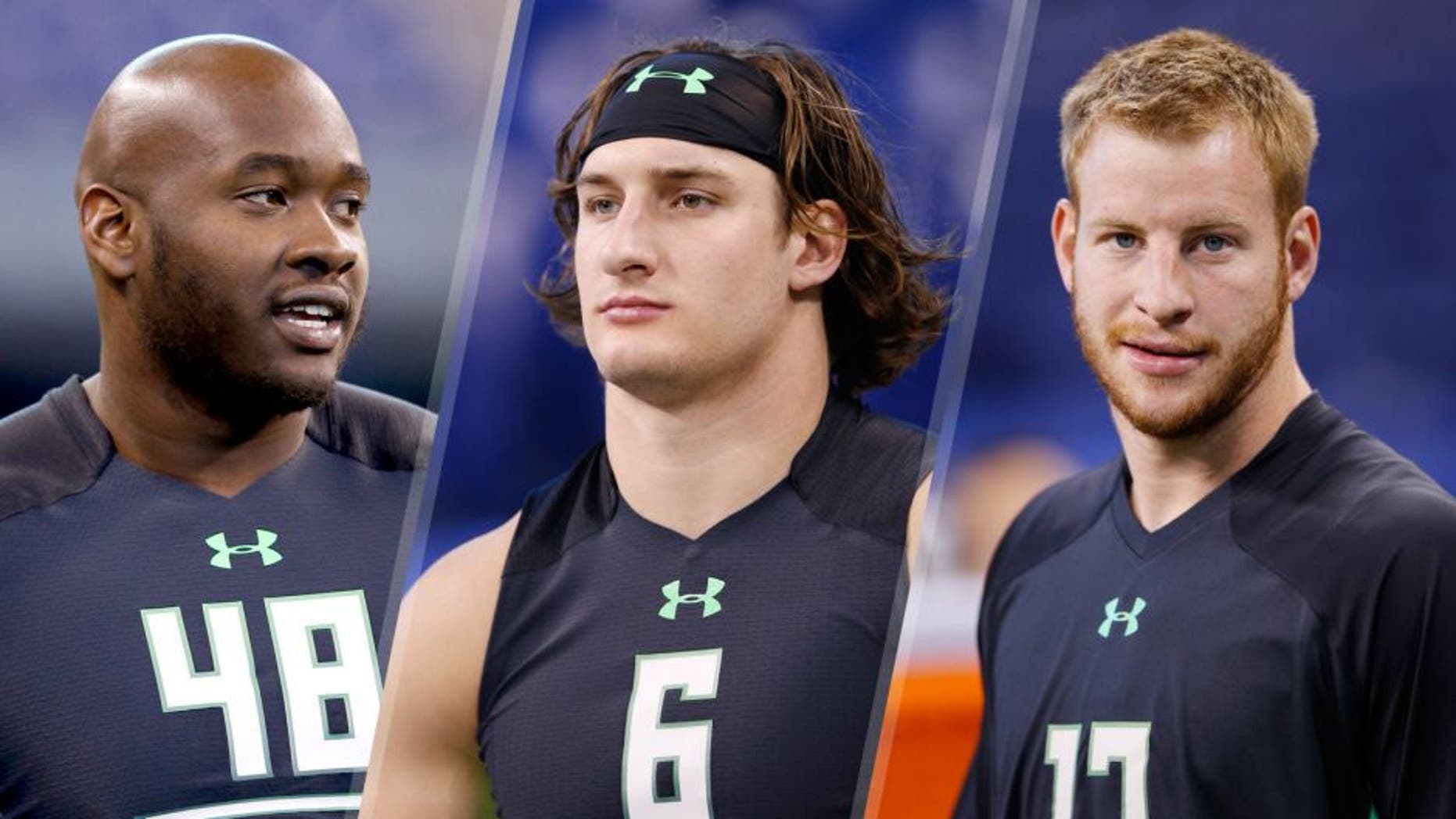 INDIANAPOLIS -- It was an interesting week in Indy at the NFL Combine. Here are 19 takeaways from my conversations and observations:

1. My hunch right now is that Ole Miss left tackle Laremy Tunsil is the best bet to go No. 1 overall. "He is a franchise left tackle," one scout told me over the weekend. "He's everything you're looking for and his footwork is so much better than a lot of tackles that have gone in the Top 10 the past few years. It's not even close. And, I think he's going to keep getting better and better."

2. I'm not sure anyone made more money in Indy last week than Darron Lee. The Ohio State linebacker who was an unheralded recruit when he arrived in Columbus and, I'm told, only weighed a little over 190 pounds on his official visit blossomed into a star for Urban Meyer. He may have been the best defensive player on the field when the Buckeyes won the title after the 2014 season, beating Oregon.

In Indy, Lee weighed 232 pounds and left jaws on the floor with his 4.43 40-yard dash (fastest by a linebacker in nine years since New Mexico's Quincy Black went 4.42). Lee also had an 11-foot, 1-inch broad jump. He enters the NFL at an ideal time for someone with his size and skill set where the pro game has evolved with so much more of it in space, much like how former Buckeye star Ryan Shazier is thriving. One NFL personnel guy told me he thinks Lee will prove to be the best NFL player among the 14 Buckeyes in Indy.
Said another scout: "He also is extremely smart. His interview stuff was impressive. Has high football intelligence. I just wish he was bigger."

3. Another linebacker people are sky high on is former UCLA two-way guy Myles Jack, who said his leg feels 100 percent and that he expects to be cleared by doctors on March 11.

"I love his play-making ability and you just don't see linebackers who can cover like he can," said one veteran NFL personnel guy. "He's confident with a high level of football knowledge. I was a little skeptical of him before the Combine, but he was a great kid to be around.

"He's special. I really like Darron Lee. I love Myles Jack. He will strike you. He is a way more complete linebacker. He's played nickel and safety and I've seen him 14 yards deep in the post and make plays."

The 6-1, 245-pound Jack also doesn't turn 21 until September.

4. Jalen Ramsey is a legit Freak. Most of the guys from our annual Freaks list back up when they get to Indy. A few don't. Ramsey, the former ACC long jump champ, probably should've been even higher on our list. The 6-foot-1, 209-pounder produced an 11-foot, 3-inch broad jump, a 41 1/2-inch vertical leap and also ran a 4.41 40-yard dash. He's a rare athlete and may be too tough for teams to bypass in the top five come draft day.
"He's taller, longer and has better top-end speed and is so much more explosive than all the other top DBs," said a scout.

There are a couple of stud DBs coming out of the state of Florida -- as often is the case. The other big one is Florida's Vernon Hargreaves III. The word I kept hearing when I brought up his name to NFL people was "impressive."

They loved his demeanor, his football knowledge, his change of direction and how smooth he is. "I just wished he ran a bit faster (in the 40, where he clocked a 4.50) but I think he's just so solid," one said.

5. I've seen some mock drafts that have had former Ohio State star Joey Bosa being taken with the No. 1 overall pick. Last month, his coach at Ohio State, Urban Meyer, came on The Audible and essentially said the D-lineman is the best college player he's ever coached. Bosa is very athletic and very technically skilled, so I'd expect him to be a very good NFL player. Some in the media drew comparisons to another former Big Ten D-lineman, the great J.J. Watt, since their testing numbers in Indy were similar -- although Watt was 20 pounds heavier than the 269-pound Bosa.

One scout who was around him last week joked that Bosa reminded him of "Spicoli" from Fast Times. "He's a meathead, but he's a football meathead," he said, adding that he wasn't sure if he sees first-pick-of-the-draft talent. "I do like him. He's very good. He doesn't have a lot of juice coming off the edge. Everything is power, hands. He's really good against the run.
Asked about if there are any character concerns with Bosa given that he was suspended for the first game of the season, the scout said there are, but said that he's heard those issues stemmed from Bosa hanging around with some of the wrong people and that he's since separated himself from them. And the scout added, "I really do believe he loves football more than anything else."

6. The quarterback draft board will be interesting to watch unfold. The top two guys, North Dakota State's Carson Wentz and Cal's Jared Goff, both did well in Indy.

One NFL QB coach told FOX Sports he prefers Goff to Wentz because he's "played more football, is a better passer and more of a ready-made guy."

As for the 6-6, 235-pound FCS star from North Dakota, the coach liked him too. "He's someone who you'd think was wrestling bears when he was 12 years old. He's big, tall, big hands. He just has that kind of persona. On the field he moves around like an athletic 6-2 guy, not like he's 6-6. He does everything physically that you can ask for, but the negatives with him is that he just didn't play a lot of football. To me, that lack of exposure is bigger than the level of play."

The coach had more hesitation regarding former Memphis QB Paxton Lynch. "He was kind of an odd interview," he said. "I'm not sure if he gets it.

"I know he can throw the fastball. Can he make the different types of throws he'll need to in this league? He also has a lot of stuff to clean with his footwork."
7. Michigan State's Connor Cook was another hot topic around Indy, especially due to rumblings about his leadership. The NFL personnel guy I spoke to on Wednesday morning said he thought Cook was solid.

"He ran well, but I don't think he had a great day throwing," he said. "He skipped some balls off the turf, and I know he was throwing to new receivers, but his timing wasn't as good with these receivers as some of the other QBs. I do like him though. He has a quick release and I think he has a short memory. You'll see him march 'em down the field after he's thrown a bad pick. I think he has a 'Don't give a [expletive]' mindset. When we've talked to him, he wasn't a [expletive]. He was loose and relaxed. I think he's a second-round pick."

8. Small school D-lineman to keep an eye on: Grand Valley State's Matt Judon. He's 6-3, 275 and was dominant at the D-II level -- as he would need to be to catch scouts' eyes -- piling up 20 sacks, 23.5 tackles for loss, and three forced fumbles in 2015. In Indy, Judon didn't disappoint, running 4.73, vertical jumping 35 inches and benching 225 pounds 30 times. Judon, a Michigan native, actually was in the same recruiting class in that state as former Michigan State DL William Gholston, who has already been in the NFL three seasons. Lots of NFL folks in Indy I spoke with are very intrigued by Judon. "He's stiff, but he's strong and he does have some tools to work with."

9. Former Ohio State defensive end Noah Spence, whose battle back from drug addiction we chronicled last October, didn't have such a good week in Indy. While his jumping ability and explosiveness was as expected (35-inch vertical and 10-1 broad jump), his 40 time was disappointing at 4.80 and I'm told he looked very average in field drills. Worse still, coaches from one team I spoke with were very down on Spence after meeting with him.
10. I always thought Houston cornerback William Jackson has been underrated, but after this week in Indy, the word is out. He's got good length at about 6-foot, 1/2-inch and anyone questioning his speed, should feel better after seeing him run a 4.37. By the way, Jackson had high praise for Tom Herman, the rookie head coach who spurred UH to a 13-1 season. I asked Jackson how Herman toughed the Cougars up and if he had an example of how he ramped up their competitive edge.

"You had to earn everything," Jackson told me. "Like with our tickets. If you don't go hard, you don't get tickets to the game."

11. Favorite bio nugget: Clemson's massive defensive tackle D.J. Reader, a former pitcher on the Tigers baseball team, told me the fastest he's ever been clocked at throwing a baseball was 94 mph. And said he did it while weighing 321 pounds in high school. Reader also was very impressive in his individual meeting, one NFL coach told me in Indy.

"The more and more our guys were around him, the more we liked him," said one scout.

12. Josh Doctson wasn't expected to be anywhere near as explosive as he was in Indy. The 6-2, 202-pound TCU standout -- who despite injuries still had 79 catches for 1,327 yards in 2015 while displaying terrific ball skills -- shined, clocking a 4.52 40 and an eye-popping 41-inch vertical, best among all wideouts.
"We had a low first-round/high second-round grade on him," said an NFL personnel guy. "He did very well and this is really not a great wide receiver class."

13. Former Michigan State star defensive end Shilique Calhoun quietly had a very strong week in Indy, I'm told. As expected, he wasn't going to wow people with his size. He measured 6-4, 251, but people really liked what they saw from him.

"He can be a 3-4 outside linebacker or a 7-technique in a 4-3," said an NFC scout. "He's not a 3-4 WILL, but he definitely showed some athleticism (35-inch vertical and was among the top D-linemen in the agility drills). He was a very nice surprise. He showed that he is athletic enough to drop (into coverage)."

14. One NFL coach I spoke with loved -- LOOOOVVVVED -- Baylor's Corey Coleman in his private interview session. Coleman isn't the biggest receiver, but no one was better in college football in 2015. He's explosive (40.5 vertical and 10-9 in the broad jump) and extremely strong despite being only 5-11. I'd be surprised if he doesn't go in the top 40 picks.

15. Southern Utah safety Miles Killebrew is an interesting prospect. Engineering major. No offers out of high school. Killebrew told me he was a 180-pound running back whose parents wouldn't let him lift weights, so he never lifted till college. Huge hitter, which is why at 6-2, 217, he was drawing comparisons to former Washington State enforcer Deone Bucannon. NFL teams also had a verified 40 time in the low 4.4s for him from last year.
Killebrew, who had 132 tackles this fall, jumped well with a 10-7 broad jump and 38-inch vertical but had a sub-par 4.65 40. "Seeing that was extremely disappointing," said one scout on Wednesday.

16. Louisiana Tech defensive lineman Vernon Butler is an interesting prospect who a lot of college football fans probably haven't heard much about. He is very athletic for a 320-pounder. Butler told me he had four different defensive coordinators and three different defensive line coaches.

17. I wouldn't be shocked if next year at this time, Texas A&M defensive end Myles Garrett is creating a lot of buzz in Indy. I know he's only going to be a junior in 2016, but we'll see how he develops. Lord knows he has the athleticism. I asked his teammate, Aggie cornerback DeVante Harris, what's the most amazing thing he's seen Garrett do.

Harris thought for about 30 seconds and talked about some jumping contest they got into in the weight room one day and then came back with another example -- when the 260-pound Garrett ran a team-best 3.90 shuttle. That would rank as the best in the last 10 years by any D-lineman. Florida's 239-pound Alex McCallister's 4.00 ranks as the top time in that span. In fact, among all the players at this year's Combine, only Boston College safety Justin Simmons (3.85) clocked a faster time than what Harris says Garrett did last year.

18. Auburn wide receiver Duke Williams was very hyped coming into the 2015 season but was booted off the Tigers team for a myriad of off-field issues, admitted he let his teammates and coaches down, lamenting that he didn't learn even after coach Gus Malzahn had given him chance after chance.

"I cried night after night," he said. "I stayed up overthinking and now it's just moving forward."

The 6-2, 229-pound wideout said he's done that, but from what I'm told by several NFL folks, he's seen as untouchable by some teams because of those character issues. Williams also didn't help himself by clocking a 4.72 40.

19. Favorite quote in Indy: Alabama defensive lineman A'Shawn Robinson asked if he shaves his head and grows his beard for intimidation: "It wasn't an intimidation thing. I was going bald."

Second favorite quote: "I shocked that he's only 20. He looks older than most of the guys on our team."