Denmark Scientist's Secret Plan to Claim North Pole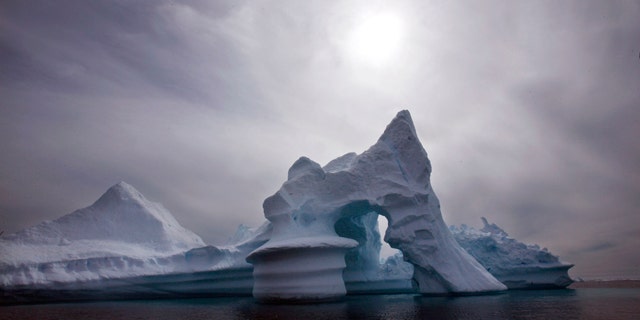 NEWYou can now listen to Fox News articles!
COPENHAGEN, Denmark – Denmark plans to lay claim to the North Pole and other areas in the Arctic, where melting ice is uncovering new shipping routes, fishing grounds and drilling opportunities for oil and gas, a leaked government document showed Tuesday.
The draft document titled "Strategy for the Arctic" said Denmark's Science Ministry has started collecting data to formally submit a claim for those areas to the U.N. Commission on the Limits of the Continental Shelf no later than 2014.
Russia, Norway, Canada and the U.S. have their own claims -- sometimes competing -- in a region believed to hold as much as 25 percent of the world's undiscovered oil and gas.
The Danish government confirmed the authenticity of the document, which was first obtained by Danish Radio and published online by newspaper Information.
Denmark has for years explored potential claims to areas off Greenland, a semiautonomous territory, but this is the first time the government explicitly states it will make a claim for the North Pole, said Martin Breum, a Danish journalist who has written a book about Denmark's interests in the Arctic.
Foreign Minister Lene Espersen said the strategy is still being reviewed and a final version is expected in June. However, she affirmed in a statement that Denmark expects to "be able to lay claim on an area which includes the seabed of the North Pole."
The race to secure subsurface rights to the Arctic seabed heated up in 2007 when Russia sent two small submarines to plant a tiny national flag under the North Pole. Russia argued that an underwater ridge connected the country directly to the North Pole, a claim disputed by other Arctic nations.
The 34-page Danish document said Denmark wants "to lay claim to the continental shelf in five areas around the Faeroe Islands and Greenland, including the North Pole itself." At least four of those areas are believed to hold oil or gas resources.
Exploiting such resources becomes easier as climate change shrinks Arctic sea ice coverage, which has reached record lows in the past decade.
The document also said Denmark's military will strengthen its focus on the Arctic but stressed that the Scandinavian nation will work for peaceful cooperation between Arctic states.
Last week the eight members of the Arctic Council -- Russia, United States, Canada, Norway, Sweden, Denmark, Finland and Iceland -- agreed to coordinate Arctic search-and-rescue missions.
The United States has said it wants the cooperation pact to be a template for agreement on more pressing national security issues.