Winter dangers around the home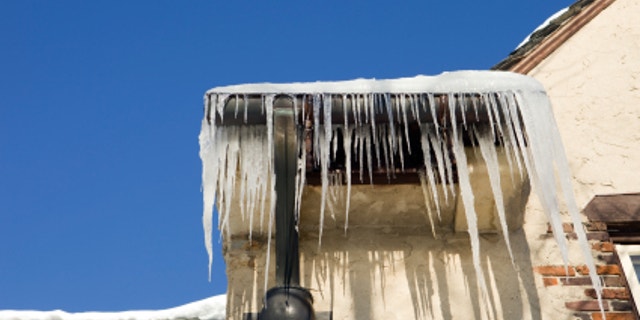 NEWYou can now listen to Fox News articles!
Not content to torment us with chilling winds and mountains of snow, winter weather can also wreak havoc on our homes.
To make sure your home and family are safe this year, take a look at some of these potential threats before the worst of the winter weather sets in.
Chimney
Sitting by the hearth, alight in the warming glow of the fire, is a great way to stay toasty in the winter months. But before you light your first fire of the season, you might want to ask yourself if your chimney is good to go. Because most homeowners use their fireplaces only occasionally, many don't give the structures much thought. But over time, creosote, the sticky residue from burning wood, can build up, creating a dangerous situation. If it gets severe enough, this buildup can ignite, transforming your chimney into an inferno. Birds' nests and fallen leaves can also cause blockages, forcing smoke back into your home, so it is best to get your chimney inspected and cleaned every few years. And, when not in use, make sure the flue closes securely to cut back on drafts and wasted energy.
Ice Dams
Often a problem with uninsulated or under-insulated attics, ice dams form when the warm air in your home melts the snow on the roof, causing it to flow down to the eaves where it can refreeze and create a blockage. As these dams grow throughout the winter, they can do damage to your roof by forcing water back up under your shingles, creating leaks. If you've ever noticed moisture collecting on your ceiling in the winter, it could be an indication that you have an ice dam problem. While hiring a contractor to ensure that your attic and roof are properly insulated and ventilated can be a big expense, it can save your ceiling from rot and mildew, and it will also net you big savings on your heating bill.
If you've ever noticed moisture collecting on your ceiling in the winter, it could be an indication that you have an ice dam problem.
In addition to ice dams, heavy snowfall, particularly when mixed with freezing rain, can create a risk for roof collapse if the snow isn't cleared. Most homes are built to withstand the weight of a winter snowfall, but if you're having a particularly snowy season, it's a good idea to hire a specialist to clear the roof for you.
Frozen Pipes
Without proper insulation on your pipes, a sudden cold spell can leave you waterless or, even worse, dealing with a deluge caused by a burst pipe. Homes in the coldest parts of the country are usually already protected from this problem. It's homeowners in the more temperate parts of the country, where pipes are uninsulated and often located outside of the home, that have to worry the most – especially when temperatures dip below 20 degrees. Fortunately, this can be a pretty cheap and easy problem to fix. Track down any pipes that can be exposed to the elements, such as those in the attic, garage or basement, and surround them with pipe insulation. Additionally, you'll want to seal up any holes in the home near pipes that allow frigid winds to blow around them. If a pipe does freeze, open the tap all the way and grab a hairdryer, working your way along the pipe. Once you hit the frozen spot, you'll hear the water come pouring out of the tap.
Holiday Disasters
In addition to the winter weather and mistletoe, the holidays also bring certain dangers around the home. A parched tree in the house can be a real fire hazard, and bad wiring, either caused by overloaded sockets, or an antiquated string of Christmas lights, can be the ignition needed to set off a blaze. So make sure to keep your tree watered, and ditch any lights that look frayed or cracked.