What's Up Next on the Color Wheel of Popular Paints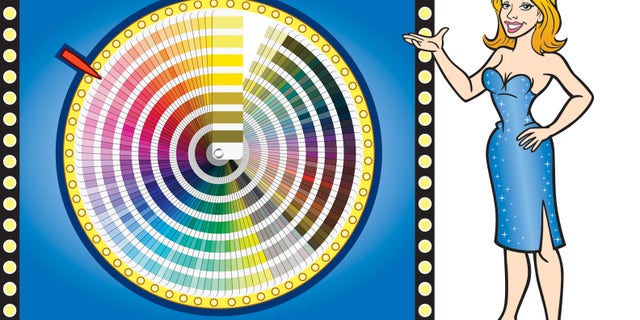 Homeowners today have a mind-boggling variety of color choices for their home, and the options just keep getting more and more colorful. Last week alone, "global color authority" Pantone, a company that develops and markets color solutions for corporations, introduced 210 new shades, bringing the total number in its portfolio to 2,310. The expanded selection includes several new tones of orange, blue, and pink -- which, according to hue mavens, are the colors that will be trending most in coming months.
But let's take a step back. The undisputed, all-time favorite color of interior house paint remains white -- and the runners-up are shades of not-quite white.
"The top-selling colors are always going to be the neutrals: taupes, driftwood grays, and all variations of white," says Erika Woelfel, Behr Paints' vice president of color marketing. "There are also certain colors that people use as a kind of standard -- certain red colors for the kitchen and historical, classic colors like stone blues."
Sue Kim, color strategist at the paint supplier Valspar, agrees, but notes that the definition of "classic" has expanded.
"The tried-and-true beige colors are still popular, but homeowners are ready to make the transition to different but still versatile grays, especially with warm undertones," Kim says.
Outside the more neutral palette, though, color preferences tend to come in three- to five-year cycles -- influenced by fashion trends, the economy, and technology. In the 1920s, thanks to the influence of art deco and Coco Chanel, lacquered black, mauve, stainless steel, and dusty turquoise were all the rage. The Great Depression of the '30s brought in pearly, light colors such as barely-there yellow and baby blue. In the 1940s, the wartime effort -- and wartime shortages -- meant that olives, khakis, and drab neutrals trumped brighter colors. A similar trend happened, Woelfel notes, in the years right after 9/11.
Right now, the range of popular colors includes warmer grays, golden yellows, hot pink, and indigo and baby blue.
"We're seeing things happen with gray, where it's becoming warmer, almost a bridge color between gray and brown," Woelfel says.
Purple, blue-green, and turquoise are trending down, Woelfel adds, but the time may have come for long-overlooked orange. "It has a huge range, particularly as an accent color."
Even with the flurry of new or refashioned shades, many homeowners are reluctant to incorporate bold colors into their homes, Kim says.
"The strong colors are always put to the side because of what we see as color anxiety," she says. "But there are more bold shades that are easy to bring into the home -- a denim-inspired color, say, or a rich copper can better bring out the details of a home."
So what's up next? Look to the more distant past -- in addition to the shorter cycles of popularity, there are also 20-year cycles fueled by nostalgia. Just as there's been a recent embrace of all things from the '90s on television, in house painting, colors popular from 1990 to 1995 are on the rise.
"We've been seeing silver tones like chrome and stainless steel for years," Woelfel says. "Now we're seeing brushed golds."
If the cycle holds true, look for the bright gel colors of the early 2000s to start gaining steam soon. Or you could always go with eggshell. That never goes out of style.