What Is a Promissory Note? What You're Really Promising, Revealed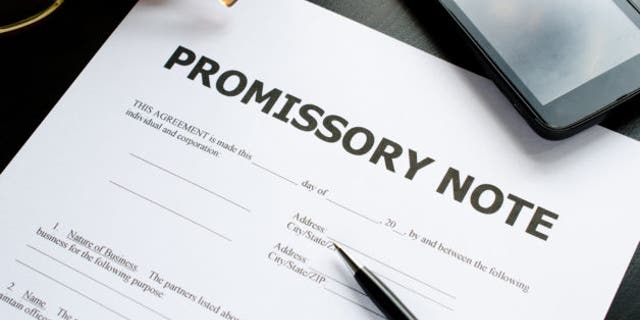 If you get a mortgage to buy a home, you will end up signing something called a promissory note. So what exactly is a promissory note?
In the most basic terms, it's a legal document you sign containing a written "promise" to pay a lender, says Scott A. Marcus, a shareholder in Becker & Poliakoff's Real Estate Practice Group, in Fort Lauderdale, FL.
Promissory notes are a standard part of all real estate financing contracts and include basic information such as:
Promissory notes are an important yet often misunderstood part of the loan process.
"The worst mistake someone signing a promissory note can make is to sign a note without reading and understanding all of its terms," says Marcus.
So let's clear up a few common misconceptions, shall we?
Promissory note vs. a mortgage: What's the difference?
Many home buyers mistakenly think that the mortgage—another contract they sign—is their promise to pay back the loan.
Well, they're wrong! The promissory note is your promise to do that, plain and simple. The mortgage, on the other hand, is a contract that kicks in more when things go wrong.
In a nutshell, a mortgage (also called a deed of trust) is a pledge you sign to put up your property as collateral in case you default on your loan, according to David Reiss, professor of law at Brooklyn Law School and editor of REFinBlog.com.
In other words, if you suddenly find yourself unable to repay your home loan, your lender will eventually confiscate your property and sell it as a foreclosure to help it recoup its losses from lending you all that money.
Another difference between these two documents: The lender holds the promissory note until the loan is paid off. A mortgage or deed of trust is part of county land records and remains there indefinitely.
Granted, there are also some similarities between promissory notes and mortgages (thus adding to many people's confusion between the two). For instance, some of the terms of the promissory note are included in the mortgage, including the date of the note, amount due, and other terms (five years, 30 years, five-year fixed then adjustable). But items such as the interest rate or the amount of the monthly payment are not typically included on the mortgage or public record.
What happens once you fulfill your promise?
Once you've paid off your loan, the lender will give you the promissory note. Consider this your receipt for paying off your loan—and stash it in a safe place, lest you encounter any snafus down the road where you have to prove you've paid off this debt. But probably the most important thing to do with promissory notes (as with any real estate contracts) is to really look at what you're signing instead of just dashing off your autograph on any line placed in front of you.
Make sure you understand what you're promising in this pivotal transaction, and ask your real estate agent or lender for any clarification before you sign on the dotted line.
The post What Is a Promissory Note? What You're Really Promising, Revealed appeared first on Real Estate News & Advice | realtor.com®.