What Is a Keeping Room? The Perfect Sidekick for Open Kitchens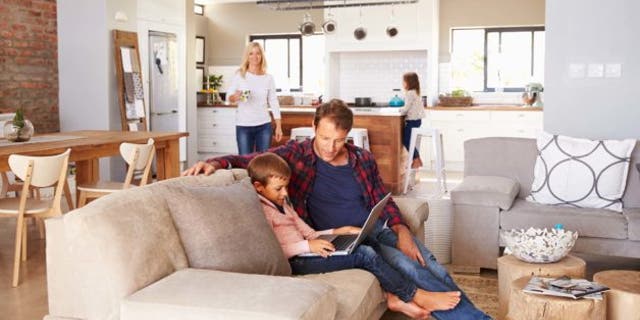 One of North America's oldest rooms is making a big comeback: the keeping room. The what room? In short, it's a space adjacent to a home's kitchen where people can kick back and keep the cook company. But there's a whole lot more to it than that, so let's take a walk through the keeping room's 246-year-old history—and just why it's resurfaced in contemporary real estate listings as an attractive feature to have in a home today.
History of keeping rooms
Keeping rooms can be traced to 18th-century Colonial America, when most cooking was done around a home's only fireplace. Since this was the warmest part of the house, family members were drawn to the kitchen; but to avoid being underfoot and annoying the chef, they gathered in the next closest area: the keeping room. It was typically furnished with a comfortable couch, where they could lounge and accomplish small tasks such as sewing or writing letters.
"This cozy area could serve a multitude of activities, including cooking prep, sewing, and other small household tasks,"says Megan Harris, part of the design team at Atlanta-based builder Edward Andrews Homes. In the winter, rural families would also sleep in the toasty keeping room, which helps explain the origin of the room's name as the fire "kept" a family warm.
In the South, keeping rooms have maintained their importance as a feature in residential architecture. Harris, for instance, grew up in a home where the keeping room was the most-used room in the house.
"They are common in older homes," Harris says. "But they've seen a resurgence in new construction, too."
Modern-day benefits of a keeping room
Keeping rooms, also called family rooms or hearth rooms, are again gaining real estate clout due to the explosion of open floor plans. Homeowners knocked down walls and instated kitchen islands so that they could cook dinner within view or earshot of family members and guests. Well, why not give them a more comfortable place to sit than those teeny bar stools already?
"You've heard the old adage that the kitchen is the heart of the home; the keeping room gives you a place to comfortably seat your family and close friends while you prep a meal, cook, or clean," says Harris.
Newer keeping rooms can be small or large, and they don't necessarily need to be a whole room—a nook or even just a defined space will suffice. Harris typically sees the rooms furnished in a comfortable, practical manner.
"Durable fabrics on the sofa and chairs, a place to prop your feet, sometimes built-ins to stash books or hide family board games," she says. Since wood-burning stoves are no longer common in kitchens, many people also add a fireplace to give the space the same warm, cozy feel that made it popular in Colonial times.
"Buyers most definitely want the kitchen open to a multipurpose entertaining space with TV and fireplace," says Realtor® Bill Golden with Re/Max Metro Atlanta. In most newer homes, that function is filled by a living room, but if that area is more for formal entertaining or not close enough to the kitchen, having a keeping room can be a huge plus.
"Keeping rooms add value to homes in most markets and are seen as a huge plus," says Harris. "I certainly don't see them as being a must-have feature that adds value to the home in every case, but it could be that extra something that could convince the right buyer to bite."
The post What Is a Keeping Room? The Perfect Sidekick for Open Kitchens appeared first on Real Estate News & Advice | realtor.com®.