Video Exclusive: We Went Inside San Francisco's $350,000 Shack!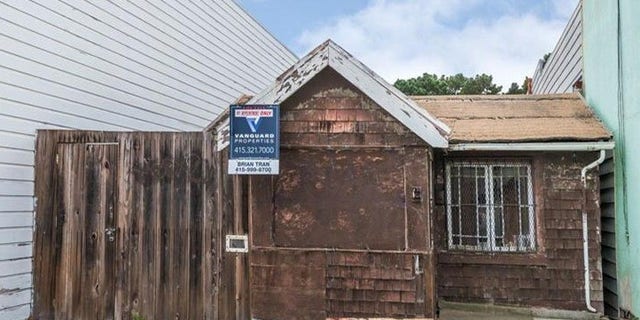 NEWYou can now listen to Fox News articles!
We first saw San Francisco's cheapest home a couple of weeks back when it unexpectedly shot to the top of the most popular listings on realtor.com.
When we laid eyes on the picture of the epically shabby wooden structure standing shoulder to shoulder with well-kept homes, we made it our mission to set foot inside this $350,000 shack deep in the heart of America's most expensive city. We had to see behind the rickety front door of the city's least expensive listing.
Our team made its way up to the city's Outer Mission neighborhood and met with listing agents Brian Tran and Alex Han of Vanguard Properties. The duo offered us an exclusive walk-through of the home that grabbed national headlines.
Tran and Han have made a habit of hunting for dusty gems within San Francisco's compact 49 square miles.
"My partner and I look for homes just like this -- homes that are in need of work or neglected," Tran said.
When they stumbled across this relic, they saw potential and reached out to the owner to get the listing.
"It took about four months to get the listing. We visited the owner," he said, "and after a few months of back and forth, she finally said, 'Let's sell it.'"
After listing the home, the agents were confronted with an issue they never imagined: crowd control. When they held a weekend open house, almost 100 people showed up.
"We let one group in at a time. There was a line all the way down the block of people who wanted to see the inside of the home," Han said.
Their approach has paid off in terms of publicity and, more importantly, sales. They see dollar signs where others see decrepitude.
"When I drive by a home like this, I see opportunity. It's a chance to get the listing and sell it to someone who's going to care about the home and going to fix it up," Tran said.
The seized opportunity resulted in a quick sale. The agents said they received six offers, and the shack will sell for over asking price (the final price has yet to be disclosed). But will it be knocked down? The agents weren't sure what the new owner plans to do, but it's bound to improve the already soaring property values in the area.
"They're not going to keep it the way it is now. No matter what they do, they're going to make this neighborhood a lot prettier," Han said.