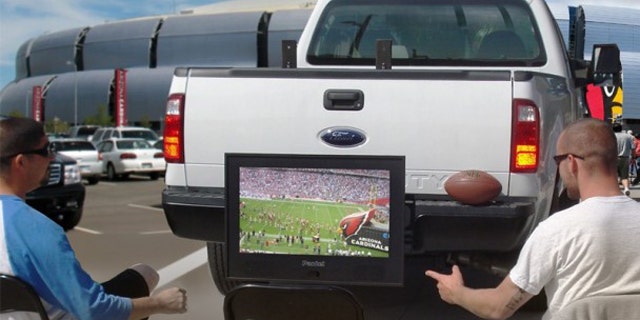 Football season is underway, which means it's time for that greatest of all American traditions: the tailgate party. Tailgating is all about transforming the cold, concrete confines of a parking lot into a space as warm and inviting as your living room. In order to throw a party that your friends will be talking about all season long, you're going to need some top quality gear.
So before you make your way to the stadium, check out our list of tailgating essentials. Whether you plan to grill, swill, or just kick back and relax, we've got you covered.
Mark Your Territory
The first order of business is to find a prime piece of real estate and hold onto it. While late comers may try to squeeze in beside you, you need to stand your ground and make it known, "This spot is taken, bub. Keep moving." A canopy tent, like this one from Coleman, is a great way to mark your territory, while shielding you from the elements.
Keep It Cool
Few things are more essential at a tailgate party than plenty of cold beer. Of course, you could roll up with a basic cooler and a couple of bags of ice. But why do that when you could get a Jockey Box, a cooler with a beer tap built right in? On one side you can keep your keg chilled, while stacking your brats and burgers on the other.
Eat Well, Be Merry
It's not a tailgate party without enough food to double your waistline. While there are many portable grills out there, few are as lightweight and easy to use as the Weber Smokey Joe Gold ($37). If propane is more your speed, consider the Smokey Joe's cousin, the Weber Q100 ($135), a tabletop grill that can't be beat.
While both of those are a great place to start for those looking to feed a few friends, but if you're looking to get your grill on in a serious way on game day, check out the Freedom Grill FG-900. This trailer-mounted behemoth is capable of pumping out 99,000 BTUs of heat into its duel grills, enough to feed the entire parking lot and then some. Sure it costs $9,990, but just think about how awesome you'll look rolling up alongside all those itty-bitty hibachis that your neighbors will be cooking on.
While you can't go wrong with hotdogs and burgers, if you're looking for something a little different at your party, then check out the Bayou Classic Outdoor Turkey Fryer ($75). Normally used to quickly brown a Thanksgiving bird, the Bayou Fryer can also be put to use cooking up a tasty mountain of wings in no time.
Stay Informed
If you're the kind of obsessive fan that can't miss a minute of pre-game action while you tailgate, check out the Dish Network Tailgater ($499), a portable 10-pound antenna that allows you to keep eye on every game going on in the league. And best of all, it's all in HD.
Of course that dish isn't going to do you any good without a place to put your flatscreen. Enter the Tow Hitch TV ($230), a solid metal mount that allows you to secure a screen as big as 50 inches to the back of your vehicle.
Once you've got your entertainment system set up, all you need is some comfortable seating to transform your party site into an outdoor living room. The Tailgate Couch ($149) is a simple foldable foam cushion that transforms your truck bed into a comfortable seat in no time.
Power It Up
Firing up a TV, satellite and endless other peripherals can put a real strain on your car's battery. So if you absolutely can't party without your gadgets, grab a portable generator, like All Power America's 2000 watt model ($200). This little machine is capable of providing electricity for up to 9 hours, long enough for even the wildest tailgate parties.
Click here for more from FoxNews.com Home and Garden