Top Portable BBQs Reviewed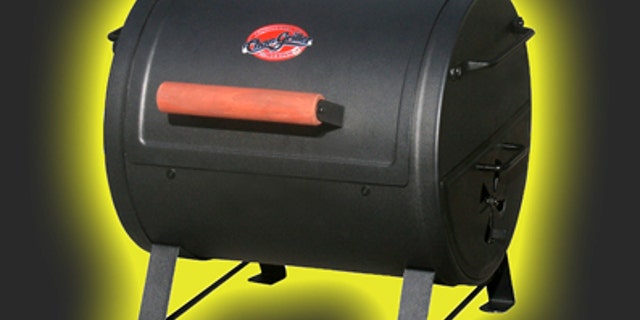 NEWYou can now listen to Fox News articles!
Whether you plan to go camping, hit the beach or even just spend the afternoon at the park, every summer outing goes better with a little barbecue. But lugging a full-sized grill can be a pain, so before you break your back trying to stuff your barbecue into the trunk of your car, we rate some of the most popular tabletop charcoal grills and tell you which you should take with you when you hit the road this summer.
While most portable grills are of the tabletop variety, the Aussie Walk-A-Bout boasts a set of folding legs, which means you don't have to crouch in the dirt if you don't have a picnic table to set your grill on. With a 332-square-inch grate, it's also one of the biggest portable grills. And that's the problem with the Walk-A-Bout — it's really heavy, bulky and just barely qualifies as "portable."
In addition to its size, the cooking grate has gaping spaces in between the bars, allowing smaller food like shrimp or vegetables to easily slip through. Finally, the Walk-A-Bout just feels flimsy and cheaply constructed, and $70 is a steep price to pay for a portable barbecue that won't last for more than a couple of years.
Pros: Extra-large grilling area. Fold-out legs.
Cons: Heavy and bulky. Grill grate is poorly constructed.
Verdict: Unless you really want a grill that won't make you crouch, this one is a pass.
Char-Griller Portable Table Top Grill ($70)
A serious grill for serious barbecue fanatics who still want something portable, the Char-Griller Table Top Grill is a well-built barbecue. Its solid cast-iron grates give you 250 square inches of space, enough for a pork shoulder or 10 hamburgers. And the slide-out ash pan means you can slip in more fuel without having to pull the meat and grate off. Weighing in at 39 pounds, it's a heavy grill, but it makes up for its weight by being far more compact than the Walk-A-Bout.
Pros: Well-built. Convenient slid-out ash tray.
Cons: Heavy.
Verdict: The best choice for serious barbecue fans that don't mind hauling a hefty grill with them.
Easily the most portable of the portable grills, the Weber Smokey Joe Gold weighs a mere 9 pounds, light enough to have your kids to carry it for you. The Weber also scores points for a metal handle that securely locks down the lid when you're not using the grill, eliminating the possibility of spent ashes spilling in the trunk of the car. At $35, the Smokey Joe Gold is one of the most inexpensive portable grills you can buy. But that price comes at a cost — with a 188-square-inch grilling area, it's a lot more cramped than some of the other options out there.
Pros: Seals up securely. Lightweight. Easy to transport. Inexpensive.
Cons: Small grilling area.
Verdict: The best choice for those looking for an ultraportable, but sturdy barbecue.
Lodge Logic Sportsman's Charcoal Grill ($140)
Lodge, the largest manufacturer of cast iron skillets in the U.S., now makes a hibachi-style portable grill. Constructed mainly from their trademark cast iron, this grill is built to last. Because it is a hibachi-style grill, it lacks a lid, which means slow cooking isn't an option. So the Lodge is a grill best suited for those who stick to steaks and burgers. While it is the smallest grill in the pack, featuring a scant 155 square inches of grilling space, it's also the most expensive at $140, making it a far less attractive option than some of the other grills out there.
Pros: Solid cast iron construction.
Cons: No lid. Heavy. Expensive. Small cooking area.
Verdict: While it's a solidly constructed grill that will last for years to come, its heft, limited cooking surface and price make it a pass.