Tips on Keeping the Holiday Spirit and Your Tree Alive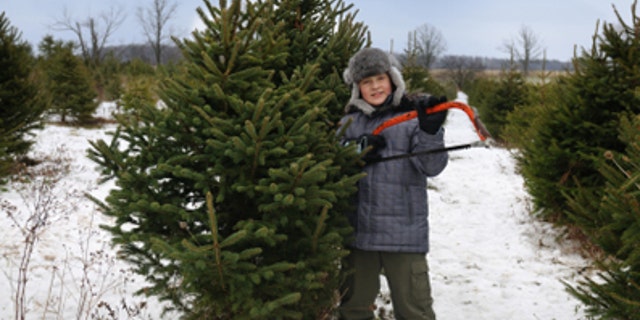 The wreath, garland, and Christmas tree all look lovely early in the holiday season.
If you're feeling lucky – the mistletoe, too, is already gracefully dangling from the top of the doorway.
Yet some people celebrating Christmas tend to get carried away a little too early, and without proper care their holiday greens end up turning brown way before the big guy dressed in red has left the North Pole.
"The best thing to do is get your tree cut, and have the stand put on it," says Hilde Poole, of Casa Verde Nursery in El Paso, Texas. Poole says the cut tree should be in a stand with water within 24 hours, so that the pores stay open and take in water.
Poole adds that Christmas tree stands should be always full of water. So that it stays full, make sure to keep the dog away.
For live trees that are brought in the house, but will be planted in the ground after the holiday, don't keep them indoors longer than 10 days, says Poole. "After that, they think it's spring and they will start putting out new growth and then it will freeze when it goes outside."
Poole says wreaths and garlands live best outdoors because of the cooler temperatures.
Festive and pretty, Poole says poinsettias are Casa Verde's most popular Christmas plant. "You want to put them in a very light area, close to a window, because they (will stay) more colorful. If they are in a dark area, they lose their color (easily)."
Plus, if well taken care of, they can live from one holiday to another.
"Keep them damp. Keep them well watered. Keep them in bright light," advises Lewis Lawrence, owner of Casa Verde Nursery. "They will go all the way to Easter," he added.
Lawrence says Casa Verde's poinsettias are grown in Albuquerque, now produced in thousands of different styles.
Don't be misled by the myth that poinsettias are very deadly. Consuming the leaves can cause symptoms like a stomachache, but that's about it.
"Most poinsettias are poisonous, but if you ever try to chew one, you will find out that it tastes very bitter, and children don't like bitter things," according to Poole. Mistletoe is extremely toxic, however, and she recommends keeping both plants up high, and away from the kids and pets.
With the economy picking up, Lawrence says more Americans are investing in green holiday décor. "People have more of a positive attitude this year."
Poole says Christmas trees are taller this year compared to last, as a slow economy forced many to opt out last Christmas from buying one, many have an extra year of growth.
Yet, regardless of size, in less than a minute a beautiful tree can turn into a catastrophe if it's placed near something that can ignite it.
Over 250 home fires involve Christmas trees every year, according to the National Fire Protection Association and the U.S. Fire Administration.
To keep the trees from becoming a flaming hazard, John Concha, a spokesman for the El Paso Fire Department, says to plan ahead before setting up a tree indoors. That includes making sure the tree isn't place next to anything that may spark a fire, including heating vents.
Even if there's pressure to have the nicest looking tree in the window on the block, be careful. Go easy. Don't be a Clark Griswold.
"Of course everyone wants to over do it with the lighting, because the more lights, the better it looks; but you've got to consider the overloading of the sockets," says Concha.
If using an extension cord, he said to make sure a testing company rated it.
Finally, when it's time to say farewell to the holidays, Concha has one more important piece of advice.
"We've seen it where people will put the tree into the fireplace."
While it may look like some easy kindling, the large burning tree can get out of control and spread into the home. It's best to consider using the wood chipper or dropping it off at a tree-recycling center.
So, Feliz Navidad, and please, keep the holidays green and the needles on the tree.