This Week's Most Popular Homes Come in All Shapes and Sizes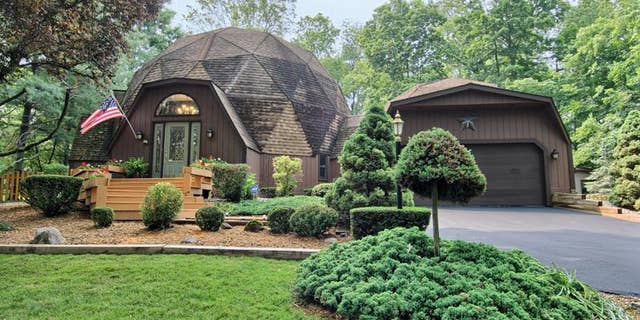 We were interested to see the way things shaped up in this week's most-clicked listings on realtor.com.
Specifically, the shape of this week's most popular home. It's a geodesic dome nestled in the woods of … Kokomo, IN. We'll spare you a Beach Boys joke and simply marvel at the fact that such an unconventional structure managed to snag our top spot.
Throughout the rest of the Top 10, you'll find a couple of log cabins, a nouveau French chateau, and a charming Colonial. And, of course, there are some regular old ranches in the mix.
One other trend worth noting -- two of this week's 10 come equipped with their own horse-riding arenas. Saddle up with us and join this week's countdown:
10. 15432 Garfield Ave., Allen Park, MI
Price: $177,700
Why it's here: Listing agent Lynn Ketelhut wasn't sure, but this brick bungalow is adorable. Oh, and it comes with its own horseshoe pit out back.
-- -- --
9. 3236 102nd Ave., Kenosha, WI
Price: $112,000
Why it's here: At only $89 per square foot, this '40s ranch is the bargain pick of the week. The listing touts the fact that the home "sits on a dead end road," so if it's privacy you seek, this place has it.
-- -- --
8. 4334 Village Club Drive, Powell, OH
Price: $579,900
Why it's here: This 4,500-square-foot behemoth boasts two powder rooms. Plus, the lower level boasts a wine room -- save us a glass of ros!
-- -- --
7. 1012 S. Taylor Ave., Oak Park, IL
Price: $231,000
Why it's here: About a half-hour outside Chicago, this brick rancher is modest and charming. If you have a theory on why it's so popular this week, let us know.
-- -- --
6. 2 Holmehurst Ave., Catonsville, MD
Price: $439,900
Why it's here: Agent Allie Brewer told us that Catonsville is a "very desirable" area of Baltimore County and people "want to live there." When you mix a fab location with vintage charm (and a sweet price), the result is popularity!
-- -- --
5. 2409 25th Ave., Rice Lake, WI
Price: $339,900
Why it's here: This 11-acre horse ranch comes with a stable and a riding arena for any aspiring horsemen or horsewomen. But if you're looking to gallop up to Wisconsin, it's probably too late -- listing agent Thomas Richie said he's closing on an offer for this desirable home.
-- -- --
4. 147 Black Forest Road, Glen Spey, NY
Price: $199,900
Why it's here: When we spoke with the owner of this modest log cabin last week, she was mildly shocked at how popular her property was. Imagine her shock after the home stayed on our list and moved up three spots.
-- -- --
3. 329 Breakneck Road, Sewell, NJ
Price: $1,099,900
Why it's here: Located on 12.5 acres in South Jersey, this home boasts an impressive indoor swimming pool. It's also the second home on this week's list to feature its very own horse riding ring.
-- -- --
2. 9505 Lania Lane, Beverly Hills, CA
Price: $195,000,000
Why it's here: It's a repeat offender -- the most expensive home in America.
-- -- --
1. 1047 W. 300 S., Kokomo, IN
Price: $169,900
Why it's here: You can go geodesic in Kokomo. It's as simple as that. Besides the home's standout shape -- it's also ultra-affordable -- only $82 per square foot of futuristic living.