This Revolutionary War-era farmhouse is steeped in American spy history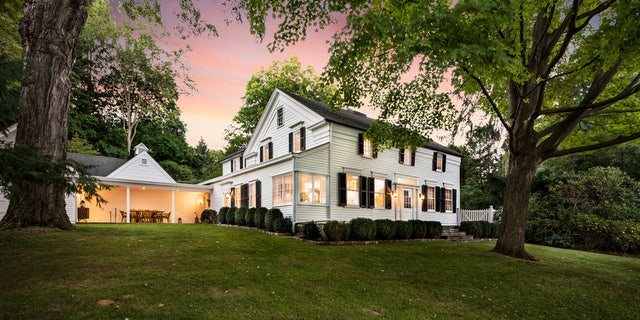 NEWYou can now listen to Fox News articles!
American history buffs looking for a country home are in luck: The former estate of a Revolutionary War spy is on the market for $1.75 million.
The four-bedroom, six-bathroom farmhouse in Brewster, New York, was built circa 1789 for Enoch Crosby, a former cobbler. And although it retains its original look, it's been renovated for the current century.
During the Revolutionary War, Crosby posed as a British spy to infiltrate the Loyalists, according to an article in Hudson Valley Magazine. James Fenimore Cooper, meanwhile, is suspected to have based his 1821 novel "The Spy" on the exploits of Crosby, although it was never confirmed by the writer.
After the war, Crosby and his brother purchased the Hudson Valley estate, which was then 276 acres, the article said, and Enoch Crosby lived there until his death in 1835.
The estate, which was listed for sale at the beginning of May, sits on four acres, according to listing agent Diana Murphy of HomeSmart Homes & Estates. It's also available as a long-term rental at $8,500 a month.
"It's a fascinating property," Murphy said. "It's been completely modernized for today's buyer, but it has a great history."
The 4,192-square-foot farmhouse has had a complete overhaul, overseen by the current owner, a real-estate developer. He bought the estate in 2015 for $1.135 million according to public records.
Renovations to the home include a state-of-the-art chef's kitchen, a customized wet bar, a marble foyer and other updates. The living room, which runs the width of the house, has high ceilings and plenty of windows to let in the light. A formal dining room is light and airy with exposed beams and a fireplace, while the den has wood walls and a "cozy" feel. Upstairs, there are three bedroom suites. Bathrooms feature soaking tubs and separate showers and his-and-her sinks.
The house is surrounded by bluestone patios and landscaped gardens. There's a pool and spa area within the fenced-in yard. One of the out buildings has been converted to a yoga studio and there's also a covered veranda for entertaining.
In addition to the farmhouse, a guest cottage on the property has also been updated. The one-bedroom space boasts a custom kitchen and areas for an office and entertaining.
The grounds also include a large greenhouse and a 19th-century barn, and the property overlooks the Middle Branch Reservoir.
"The barn has a huge hayloft that could be converted," Murphy added. She imagines farm-to-table dinners on the property, or a bed and breakfast. "There are so many uses."
Or, it could just be an escape for city folk.
"It's private, it's beautiful, it's minutes to the train," she said. "Manhattan is just about an hour away."