The Ultimate Open House Checklist: Every Other Room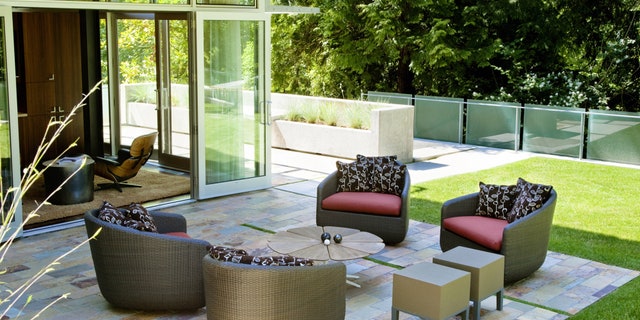 If you've been following our Open House Checklist series, you're probably well on your way toward converting your home into a high-profit-margin asset that generates a furious all-cash bidding war. (We can all dream, can't we?) So far, we've shown you how to stage your master bedroom, bathroom, kitchen, and dining room -- the shining stars of the home. Today, we turn the spotlight on the supporting players, from the mudroom to the attic.
Show off your foyer. If you have one, be sure to stage it. Install coathooks for guests, provide a bench for removing shoes ( if you swing that way), and set the tone with something fresh -- a potted orchid, a vase of flowers, or a table with bottles of water. This room is for receiving guests. Be sure it makes everyone feel welcome.
No mud in the mudroom. The mudroom, sometimes called an enclosed back porch, should always be staged to show how organized life here can be. Add hooks to the wall to hang wet coats, and cubbies to hold stinky running shoes. Place a colorful outdoor rug to catch dirt and grime before entering the house. Liven up the room with a fresh coat of paint. While we encourage neutral colors elsewhere, this is the place to have fun. The mudroom craves color!
Create a dreamy laundry room. First of all, I'm jealous! Laundry rooms are one of the most desirable rooms in a house. Don't believe me? Take a look at Pinterest. Across the country, we're fantasizing about organized shelves, quartz countertops for folding clothes, and a place to house a professional steamer. Take a cue from these boards and trick out your laundry room: paint the walls, stock the shelves, display perfectly folded towels. Like the old saying goes, if you got it, flaunt it!
Reimagine the basement. Unfinished basements are the blank canvases of real estate. While you might use your basement solely for storing off-season clothes or old toys and keepsakes, just remember: It can be so much more. Get a good contractor to estimate the cost of finishing the space as a TV room or a lower-level master suite. Show buyers what they can expect.
Declutter the garage. No one expects your garage to look like Jay Leno's, but it should be accessible. There's no need to stage it -- just declutter it to make sure buyers can get in.
An office in the attic. If the attic is unfinished, show it to your agent, who can envision its highest potential. Maybe, with a minimal investment, it could be a new master suite or home office. That's a selling point that should be pointed out to potential buyers.
Check the crawl space. Of course we know no one is going into your crawl space at an open house. At least, we hope not. But this often ignored space is important to the overall health of your home. If you have the funds, encapsulate it. At least have a professional check it for foundation issues, infestations, or trapped animals. You don't want any surprises, and neither do buyers!
Relax on the porch. There's a movement to bring porches back to new-home design. If you're lucky enough to have one, stage it to welcome buyers. Place an outdoor rug, a few colorful lanterns, and a comfy chair next to a table with a pitcher of lemonade. Buyers will remember the house with the lemonade!
A blooming balcony. Glam it up! Show off the Weber grill, a bistro table and chairs, potted plants, or a potted garden. Even in the coldest locales (like Chicago), balconies are high priorities for buyers.
Brighten the hallways. Make them bright. Replace lightbulbs, paint the walls (a neutral color!), and generally keep people interested as they walk from one room to the next.
Check the staircase. If the railing is loose, tighten it. Remember, lots of people will be walking through your house -- it's a liability issue.
Don't stress about the kids' room. We know it's hard enough to get your kids to clean their rooms, so we're not asking that they clean it for every open house and showing. Buyers understand that kids will be kids and few people actually live like the princesses featured in this Wall Street Journal article. Here's a compromise: Clean it, organize it, and stage it for the professional photos your agent will arrange. But for the open house, just tell your kids to make their beds.
The post The Ultimate Open House Checklist: Every Other Room appeared first on Real Estate News and Advice - realtor.com.