The IKEA products professional designers use
NEWYou can now listen to Fox News articles!
If you've ever owned or rented a home, there's a good chance you've selected and possibly assembled (likely with some difficulty) an Ektorp, Leirvik, Malm, or other similarly Swedish-dubbed furniture item from everyone's favorite Scandinavian brand: IKEA.
Though customers may bemoan certain seemingly impossible assembly instructions and lament the need for a GPS to navigate their enormous, labyrinthine stores, IKEA is, for the most part, beloved as behemoths go—a reliable source for everything from carpets to cabinets, flatware to furniture, for new and seasoned decorators alike.
The proof? Even professional designers will enter its iconic blue-and-yellow doors from time to time, supplementing higher-end designs with IKEA's reliable practicality, or using the brand's simple furniture as a base for embellishment. AD asked designers what they've used from the company; the answers may surprise you.
Marshall Watson, Marshall Watson Interiors
"I used IKEA's white Malm platform beds in a very small, low-ceilinged beach house. Once the beds were dressed with spectacular sheets and pillows, the white laminate was barely noticeable. The beautiful bedding just seemed to float on air, and kept the space quite open and uncrowded. I also upholstered just the headboard, which added extra panache to the design. I have also found simple but well-designed light fixtures that are perfect for modern, clean-lined beach cottage living, especially some of their undulating wood veneer chandeliers."
Steve McKenzie, McKenzie Design
"I love the Billy bookcase. It's a versatile item for a child's room, a mudroom, anywhere you need a little organization. Add baskets to hide the clutter."
Erin Gates, Elements of Style
"I added hardware to the Malm dresser above to give it a custom look similar to a much pricier dresser I had been eyeing. Adding little accents like hardware makes a huge difference in IKEA's simpler styles."
Tina Ramchandani, Tina Ramchandani Creative
"IKEA is one of my go-tos when it comes to smart, stylish, and affordable organizational solutions. I'm obsessed with their Tjena boxes—my office shelves are lined with them. Their extremely clean look meshes well with my minimalist style, and they can hold anything from a pair of shoes to smaller items like sunglasses or mail. I'm also a huge fan of the Kuggis box. They're stackable, which makes them super-dynamic and a great home for many everyday eyesores. The Bladdra is another storage solution that I often recommend to clients. They're great when placed near a sofa or bed for extra blankets or magazines, or even as a laundry basket in small spaces!"
Grace Rosenstein, Grace Rosenstein Design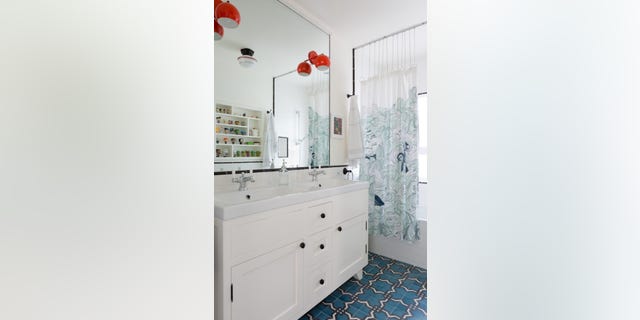 "I've used the Vittsjo shelf multiple times. It looks great faux-painted in an antique finish. To really jazz it up, replace the glass shelves with antique mirror. I've also used two Oddvald trestle sawhorses for a table base. Just add a glass top and it's a stylish table or desk."
Karen Vidal, Design Vidal
"The Odensvik double sink top is one of my all-time favorites! I love the integrated sinks, and it comes in three sizes so it's super-versatile. A custom cabinet makes it look like an expensive European sink top."
More from Architectural Digest
Donna Mondi, Donna Mondi Interior Design
"I like to think outside the box and find different ways to use things I find at IKEA. Socker hanging planters make the perfect toy and craft storage for a little girl's room. The pop of color makes organizing look fun. For an inexpensive bar cart, the Flytta storage cart on wheels is the perfect piece; just add some fabulous decanters, trays, vintage glassware, and bar books. Also, try throwing a sheepskin pelt like the Rens over your accent or dining chair to give it a whole new feel—the added texture and drama is worth far more than the cost."
Amy Sklar, Sklar Design
"I am a big fan of the Besta cabinets. They are so clean and roomy, and can be wall-mounted or customized with your own legs and/or tops. We have an eight-foot run of Besta cabinets in our office, with bronze spray-painted Nannarp legs and a plywood top that we stained walnut. Voilà—16 feet of lineal storage for around $300! If we are feeling particularly fancy, we sometimes add legs from a Swedish company called Pretty Pegs that makes the most amazing custom legs for all kinds of IKEA products."
Richard Ouellette, Les Ensembliers
"On a small-budget renovation, Pax wardrobes are a great way to create a custom look in a dressing room. Upgrading the hardware with bespoke handles elevates the result effortlessly. If space and budget permit during the construction process, consider encasing the system into a drywall alcove; it will provide a custom millwork effect instantly. You can also use a showpiece such as an antique chest, painting, photograph, or mirror, which will instantly transform a closet into a special room."
Jody Myers-Fierz, Color Concept Theory
"I've also used the Malm bed when there was no budget for the bedroom. Once the client saw the impact a small investment can have in transforming a space, it was a no-brainer. The bed's wide variety of finishes, clean lines, simple construction, and streamlined look can elevate many different design styles at a very low cost. It's also gender-neutral and, with some custom bedding, personalizes any room, whether it's for a child, a preteen, or a guest."