The biggest houses in America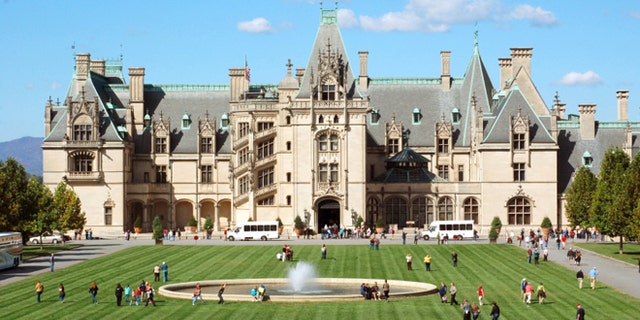 Some of the biggest houses in America can be found in likely states such as New York and California and the District of Columbia, while still other significant sizable structures exist in less expected places like North Carolina and Michigan.
To get an accurate assessment of some of the biggest houses in America and the individually stylized touches to be found in each of them, Networx turned to architect Bruce Moore.
A veteran in the field for more than three decades, Moore admits a special fondness for restoring historic homes to their earlier days of glory. Together with partner Michael Alper, the two restored an early 19th-century farmhouse in Hancock, New York, and went on to revitalize much of the small town's main street by designing a new hotel and purchasing and restoring multiple structures, including an old movie theater and a turn-of-the-20th century store front and office space.
Currently Moore owns and operates the architectural firm Red House Design, with offices both in Hancock and Great Barrington, Massachusetts. He now focuses primarily on contemporary modular home design. Moore's background with high-end clients and appreciation of historic architecture make him uniquely qualified to comment on our pick of some of the biggest houses in America.
1. The Biltmore Estate
Originally constructed between 1885 and 1889 as a private residence by George Vanderbilt, II in Asheville, North Carolina, Biltmore comes in at number one as the largest private home in the country, with the main house and outlying structures covering over 175,000 square feet. Although members of the family discontinued using Biltmore as a residence in 1956 and turned it into the tourist attraction it remains today, the estate is still owned and operated by Vanderbilt's grandson and great grandson.
"It was designed by Richard Morris Hunt," says Moore. "Based on three previously built French estates, it's one of my favorites. I especially like the fact that it's very asymmetrical."
2. Oheka Castle
Built by financier Otto Kahn between 1914 and 1919, Oheka Castle in Huntington, New York appears on our list at number two with 109,000 square feet. It's particularly noteworthy for being one of the earliest fireproof structures to be built. In the years prior to the construction of Oheka, Kahn's country home was destroyed by a massive fire. This prompted Kahn to undertake every effort possible to prevent a second such disaster. The result of his efforts? His architects, a team known as Delano and Aldrich, created the home using steel and concrete. "What I like about this house is that it is restrained, not gaudy. It's attractive, but not overly ornate." Today it serves as a hotel and resort.
3. The Hearst Castle
Located in San Simeon, California, this breathtaking estate was continuously a work in progress directed by publishing giant William Randolph Hearst between the years of 1919 and 1947.
Now a museum, it is number three on our list. The main house is 60,645 square feet. Additional footage in other structures on the same property is as follows: Casa del Mar: 5,875 square feet; Casa del Monte: 2,291 square feet; and Casa del Sol: 2,604 square feet. The total? 90,000 square feet. Says Moore: "This is one of the most unique structures in the country. It was truly Hearst's passion and he worked at it for many years. He actually brought in pieces of exterior structure and rooms from other houses in Europe. He had them broken down, brought in and then reassembled."
4. Meadowbrook Hall
Meadowbrook Hall was built in Rochester, Mich., between 1926 and 1929 by Matilda Dodge Wilson, the widow of John Francis Dodge, co-founder of the Dodge Motor Car Company. At 88,000 square feet, it places at number four on our list of the biggest houses in America. These days Meadowbrook is a tourist attraction and often serves as a special events facility. "Unlike many of the houses we've talked about so far, this one is brick," Moore offers. "It's all brick. It's beautiful work in a well-bonded pattern. Very tempered."
5. The White House
Construction began on The White House in 1792, although it was not completed until 1800, making John Adams and his wife Abigail the first residents. It survived an attempted burning by the British in 1814 and another fire in the West Wing in 1929. Beginning in 1949, the interior of the house, with the exception of the third floor, was completely gutted and renovated. The exterior stone walls you see today are those originally put in place when the White House was first constructed over two centuries ago. In 2012, it serves as residence for President Barack Obama, First Lady Michelle and their daughters Sasha and Malia. It is also an office for the president. Public tours are available. At 55,000 square feet, it's practically modest in comparison to some of the other homes included here, which is why it falls in on our list of the biggest houses in America at number five.
"The façade is like a very classic Roman-style temple," Moore observes. "It shows a lot of restraint in style and proportion. In some ways, it's simple, yet it's elegant."
David Aaron Moore writes for Networx. Get home & garden ideas like this on Networx.