The Big House or Your Small House: Comparing the football viewing experience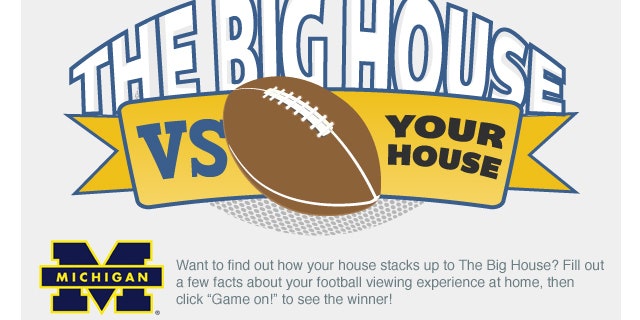 Click to find out how your house stacks up to The Big House.
At Movoto Real Estate, we're big fans of football (as evidenced by our story on affordable homes close to stadiums). Wander through our San Mateo office and you'll find employees with their favorite teams displayed across their chests, in heated debate about an upcoming game.
Per the request of our resident football fanatics, Movoto bloggers are paying homage to this beloved pastime by honoring the king of all American football stadiums: The Big House.
We figured now, with the approach of the Wolverines' homecoming, would be the perfect time to look at how watching a game in this affectionately named "House" compares to the experience in a different kind of home -- namely, the type that the average American resides in.
While we were at it, we threw in some unique stats about the stadium that might surprise you.
Let's see how they stack up, shall we?
The House That Yost Built
For those Americans who are as of yet uneducated about our nation's much-favored sport, The Big House is the nickname for the University of Michigan's football stadium -- which happens to be the largest in the United States, found in Ann Arbor, MI.
Originally constructed in 1927 with a seating capacity of 72,000 people, The Big House was designed to include steel footings that made the size of the stadium expandable. It has been expanded six times since first built, and now has an official capacity of 109,901, although it has held crowds of more than 114,000.
The project was pursued by Michigan's then head football coach, Fielding Yost. After leading the Wolverines to six national championships, Yost envisioned a day when the crowd would reach upwards of 150,000 and fought for a larger stadium. It is because of his contributions to the university's football program that Michigan Stadium is often referred to as "the House that Yost built."
Everything You Ever Wanted to Know About The Big House
An exterior view of the stadium might mislead you about the true size of The Big House, as it was literally built into the ground. With only a portion of the upper rows visible from the outside, Michigan Stadium looks much more impressive when you're on the inside.
The stadium field was originally covered in real grass, but was replaced with artificial turf in 1969 to give players better traction. The field then returned to natural grass in 1991 because the turf was considered bad for players' joints. Fans had yet another change of greenery in 2003 when the grass was swapped out for FieldTurf, an artificial turf with grass-like playing characteristics.
And some other interesting tidbits about The Big House (with help from Michigan Stadium's facility manager):
Cost: It originally cost $950,000 to erect, or $12.7 million in 2012 dollars (this does not include the price of the six expansions since then)
Average game attendance: Approximately 110,562 people for the past 11 years
Parking: The stadium itself was never built with a parking structure, so attendees must arrive early to haggle for available spots in nearby parking structures
Restrooms: 91 bathrooms total -- this breaks down to 36 restrooms in the premium seating section, plus 23 women's, 17 men's, and 15 family in the public seating area
Food: On average the stadium's vendor service sells around 15,000 hot dogs, 8,000 personal pizzas, and 65,000 bottles of water per game
The House That Your Contractor Built
It seems obvious to say that watching a game from your house is a far cry from watching in the stadium, but just how different of an experience is it?
For starters, the venues themselves are quite dissimilar. At Michigan stadium, you're sitting in a area that's nearly 422,000 square feet and watching close-ups of the game on a 108-by-62-foot Jumbotron. At home the size of your entire house is only a small portion of that, and your flat screen TV is a measly 46 inches in comparison.
If you watch from home, you can still eat and drink to your heart's content, but don't expect your trash to throw itself out -- in this case the clean-up crew is guess who, you. You'll also miss out on the camaraderie and team spirit that comes from cheering alongside thousands of fellow fans.
There are a few benefits, however, to critiquing the game from the comfort of your couch.
Parking: Your pals will have plenty of room to park in your driveway and on your street, instead of having to carpool to the stadium and cough up an absurd amount of money for a parking spot.
Beer: A more-than-adequate amount of brewskies can be within arm's reach.
Food: No need to broach lengthy lines for food -- with delivery your food will come to you, and you don't even have to get up to order.
Seating: Your rear end will thank you for sitting on a couch instead of being 1 of 110,000 people stuck on aluminum bleacher seats.
We say it's a toss-up, and so we turn to you. Where would you rather watch a game from?
Related:
The Movoto blog is a service of Movoto Real Estate.