The Best Way to Shop for a Home? Case the Joint Like a Burglar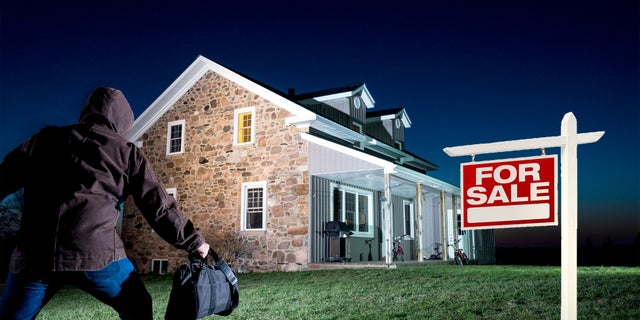 NEWYou can now listen to Fox News articles!
So you've got the whole house-hunting routine down, and you run your must-have home features on a loop in your head like a Spotify playlist. You've become a pro at scoping out closet space, bedroom sizes, and whether there's adequate wall space to mount the big-screen HDTV you plan to buy after the move.
But here's something you almost certainly have not thought to evaluate: Just as you size up whether a home fits your needs, how might burglars size it up to see if it fits theirs? Is your new abode safe as a fortress, or does it stand out as a prime target for intruders?
Before you put in an offer for a new home, consider these potential problem areas -- and whether you can fix them on the cheap!
Shrouded in shrubbery
Extensive and elaborate landscaping can add appeal to any yard. But bushes placed in front of windows could provide all-too-much shelter from watchful neighbors or passers-by -- isolating your home and making it a target for bad guys, says Steve Albrecht, a San Diego -- based national expert on crime and violence prevention.
Landscaping that blocks a door or acts as a wall between properties also provides hiding spots for criminals. Scary!
Your security solution: You don't have to spend a fortune ripping out a bunch of bushes, but you might need some elbow grease.
"Landscaping should be kept trimmed so that neighbors -- or patrol cars -- can see completely around the front side of your house," Albrecht says.
A visible security system panel
Of course, having a security system is a popular and effective deterrent for home break-ins. And while it's helpful to have stickers and placards that announce a property is protected, a poorly placed panel can actually undermine your security goals, says Robert Siciliano, home security expert with BestHomeSecurityCompanys.com.
"If your alarm's control panel is visible through glass to someone loitering outside, a burglar can get an idea of how to defeat it," Siciliano says.
The best spot for a security panel is close to where you typically exit and enter a home -- but not in front of a window.
Your security solution: Negotiate to have it relocated to a more secure, less conspicuous area. "In a nearby coat closet or on a wall not visible from a foyer or door window are good choices," Siciliano says.
Let there be light, but not too much
A dark doorway lets crooks stroll inconspicuously up to your door and attempt to get in. But an entryway that's too brightly lit provides illumination for burglars to see what they're doing, so they don't need a flashlight to work, says Tim Krebs, corporate communications manager for national home security company Protect America.
Your security solution: Make sure a home has motion-sensing exterior lights that switch on as a visitor -- wanted or unwanted -- approaches the house, porch, or side windows.
"A monitor sensor light means a crook has to guess correctly if someone is home or not and may be calling the police," Krebs says.
Dimly lit yards are also problematic (no big surprise), because they similarly allow a miscreant to stalk around unnoticed.
"We suggest double-cone yard lights be placed on the corners of the home," Krebs says. "These do a great job of illuminating the exterior of the house."
Fences make great neighbors for burglars
High fences are dramatic and stately but also alluring for a wrongdoer. That privacy you want? Potential criminals want it even more.
"Burglars see a very tall fence or stone wall as an opportunity to work in private," Krebs says. "Any fence is actually a welcome sight."
Your security solution: Consider installing a security system or reinforced back/patio doors if the backyard is secluded.
Don't forget the garage
Doors that lead from the garage are helpful when the weather is frightful or you've got a lot of groceries to haul in. But it's also a security risk if you aren't vigilant, Siciliano says.
"Just because it's on the inside of the house doesn't mean it should be left open for convenience," he says. "That door may be the last line of defense in the event a crook gets into your garage."
Your security solution: Make sure all doors with access to the outside have a deadbolt and are part of your home security system.
Garage-door windows should always be covered to prevent someone from peering in and being tempted by pricey gadgets and tools, your car, an expensive bike, or other valuables.
Before getting your heart set on a new home, Siciliano suggests a full security inspection. Much like a home inspection can uncover flaws in the roof, structure, or plumbing, an inspection by a home security company or expert can help identify all sorts of ways a home might catch a malefactor's eye.