The 5 Most Stressful Stages of Moving -- and How to Cope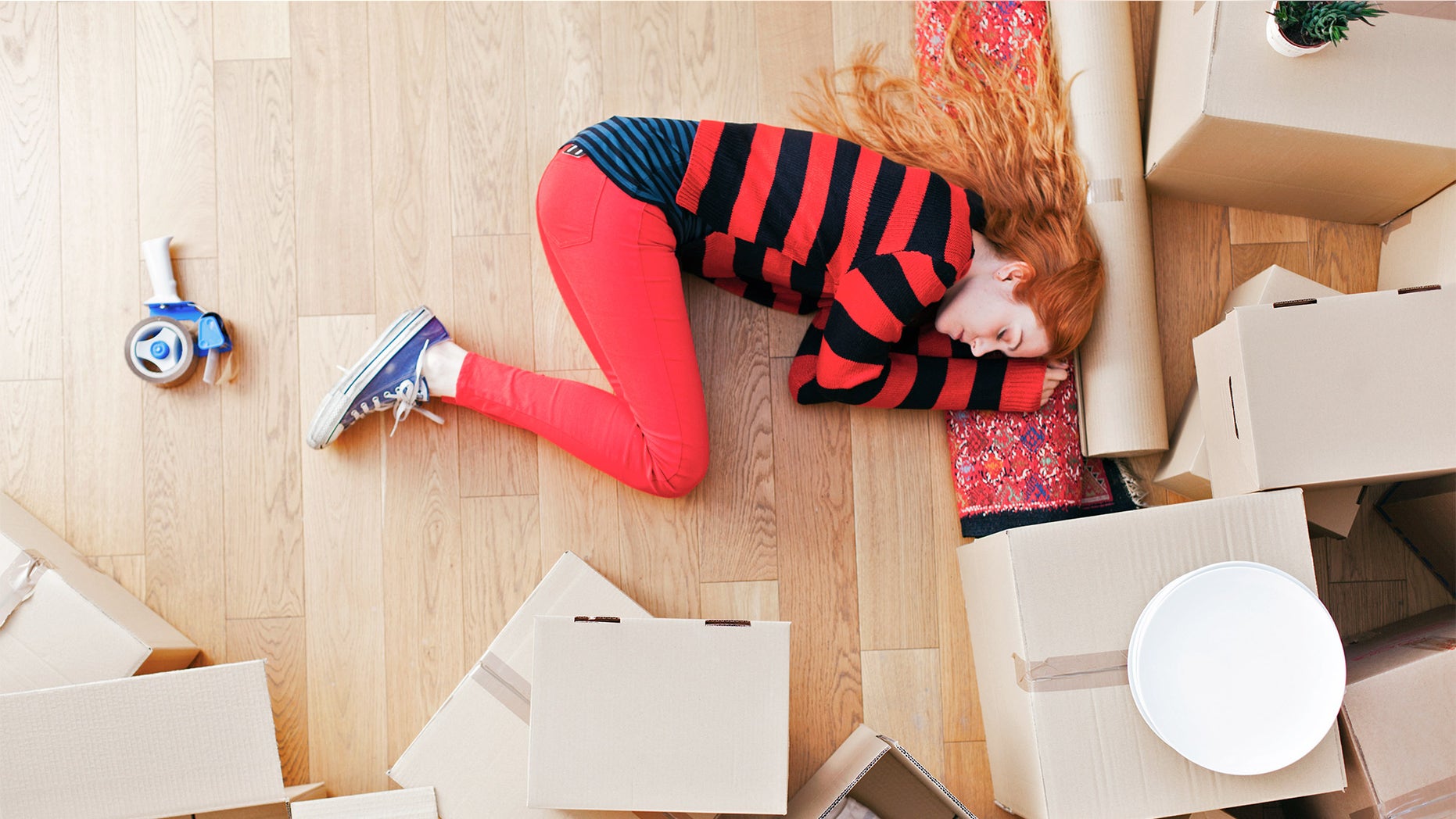 Yay, you've found that new address and are excited for a new chapter -- that is, after the stress of actually getting all your stuff from Point A to Point B is finally over. In fact, according to a recent study of 2,000 adults by energy company E.ON, moving is so tough, it actually tops the list of life's most stressful moments, beating out divorce and starting a new job!
Fortunately, though, there are steps you can take to chill out about the whole process. Here are the five stages of moving stress, and what you can do to minimize the mayhem.
Stage 1: Pre-move prep
At this point, pre-movers are probably procrastinating, thinking there is still all the time in the world to worry about logistics. Actually, there isn't. In the aforementioned study, 25% of soon-to-be-movers found themselves feeling stressed because of the need to notify everyone of their updated address. So, the sooner you start this mail redirection process, the better.
"Some new homeowners also forget to notify their employer and their medical insurance company of their new address," says real estate broker Julie Marie McDonough. "These can have a significant impact if you receive prescriptions by mail, paychecks, W-2s or tax information sent to your home, which many of us do."
Unless you're planning to move yourself, this is also the time to lock down a reputable moving company, one that has moving insurance as part of the deal.
"If you ask two men from Craigslist to come help you move, it is doubtful they'll provide insurance," says Lior Rachmany, CEO and founder of Dumbo Moving and Storage. Some buildings require you to have a certificate of insurance in order to move in: "If you don't get a certificate, some property managers simply won't allow your movers into the building."
Stage 2: Packing panic
Then, there is the moment when the actual boxing up of stuff must start. First step here? Purge.
"Getting rid of nonessential items before a move can be cathartic, and can also reduce the cost of your move," says broker Mickey Conlon of HGTV's " Selling New York." "Consider donating the unwanted items to charity in exchange for a tax deduction."
On that note, measure your new place before you move. If you have any items that won't fit into your new dwelling, get rid of them at this time, too. Twenty percent of survey respondents said furniture that didn't fit ended up being a major cause of moving day drama.
Not being able to find things immediately once you've moved in also stresses out 30% of movers. Prevent that by clearly labeling things as you go.
"Make two dozen printouts that include the words 'Room,' 'Contents,' 'Fragile' (or not), and 'Box Number' to help you organize while you pack," says Victoria Shtainer, a real estate broker for Compass. Write the appropriate info next to the words on the printouts and affix to boxes as you fill them.
Stage 3: Apocalypse tomorrow
People often get so caught up in packing up their home, they forget to pack a bag for themselves!
"Prepack IDs, passports, and any important paperwork you may need, as well as personal electronic devices, their chargers (phone, laptop, tablet, etc.), a change of clothes, medicine, and some basic toiletries," Rachmany advises. "Setting this bag aside can help you have immediate things you need at your fingertips, rather than looking through crowded boxes to find your toothbrush."
Stage 4: Moving day mania
On the big day, take deep breaths.
"Expect that everything will take longer than it should, that little will go as planned, and be flexible in the process," says Conlon. Also, get a cash tip for your movers beforehand so you're not frantically looking for money in your wallet on moving day. Rachmany recommends a 20% tip, maybe a little more or a little less depending on your financial situation and customer satisfaction.
Oh, and leave some extra cash to order takeout: Half (50%) of respondents in the E.ON study said having food delivered would help make things more manageable, while almost a third (31%) said having a chilled bottle of wine/beer in the fridge would ease the moving day strain. So plan ahead!
Stage 5: Apres M-Day
The first few days after a move can be a tad disorienting, but one task you'll want to address right away is to check to see if there was any damage to your furniture or items during their transition. If so, Rachmany suggests you take photos of each piece and send them to the moving company. From there, unpack at your own pace.
"You are not superwoman/man, you don't have to unpack everything in one day," says Rachmany. "Start slowly, going room by room. By the end of each room, you'll feel accomplished, rather than having each room scattered across your new pad."
That being said, don't wait too long, as 24% of respondents in the E.ON study admitted they still had belongings in boxes months after moving. The sooner you get settled, the faster you can start kicking back in your new home.
-- -- --
More from realtor.com: How to Hang Pictures With Toothpaste (Really)!