Tarek and Christina El Moussa of 'Flip or Flop' Take a Desperate Risk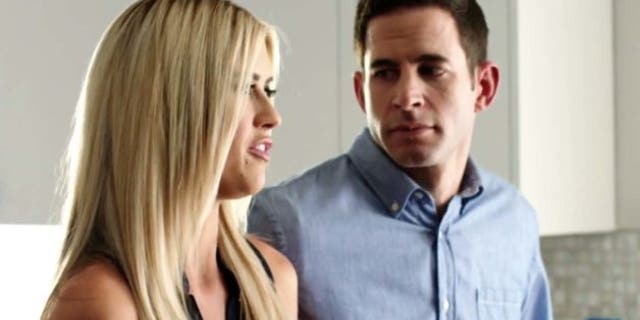 Looks like desperation is beginning to dog the troubled twosome Christina and Tarek El Moussa of "Flip or Flop." Their future as a married couple is nonexistent—and meanwhile, it seems their career as reality stars is also on the rocks. Christina has made it clear she'd like to continue solo, with her own spinoff reality show. But Tarek, who probably has plenty of bills to pay, too (to his divorce lawyers, in particular), seems to be pining for a solo spot as well. So, maybe that explains why their latest episode shows them taking yuuuge risks to pull off a flip of the century that could crash and burn badly.
In "Double Lot Limbo," the couple set us on edge when they put themselves in a position to lose hundreds of thousands of dollars. And it goes from bad to worse, with moves that'll make you suck in your breath and think, "Dear God, what are they thinking?" Here's a rundown of the do-or-die moves they make (which you should probably never try yourself).
Risk No. 1: Buying without knowing whether or not they can split the lot
Tarek and Christina decide to pay $510,000 for a three-bedroom, two-bath house with estimated remodeling costs of at least $65,000. Tarek reveals that, with additional closing costs, they'll have to make at least $595,000 just to break even. And that's doubtful, because comps in the area fetch right around $580,000. Yikes.
But there is method in their madness: The house sits on a half-acre lot, and if they can split it and sell the property as two independent parcels, they might be able to get as much as $200,000 for the second lot. Still, it will take at least two weeks to find out whether the city of Buena Park will allow them to go halfsies. What to do?
"It's risky, but we both love a good gamble," says Christina.
They go ahead and make an offer. Suddenly there's a $200,000 chip on the poker table. They could win, or they could lose. Let the gambling begin!
Risk No. 2: Using fancy finishes to dig an even deeper financial hole
With so much money up in the air until they hear whether they can split the lot, you'd think they'd want to spend as little money as possible primping up the place. Nope—Christina decides to use reclaimed wood on the ceiling, of all places. She also goes for all-marble backsplashes in the kitchen.
Risk No. 3: Letting Tarek tile the shower
Christina has decided to use small mosaic tiles on the entire shower and, for some reason, Tarek decides to tackle the job himself. When Christina checks in on him, he's obviously having a tough time.
"This is so hard to do," he whines. "It's taking forever!"
Why didn't he just let the pros who were working on the tile in the kitchen take over? Hmm, maybe their budget concerns are catching up with them. Or could it be that he feels he has something to prove?
HGTV
Risk No. 4: Demolishing, rather than rebuilding, the carport
The contractor reports that the carport is not up to code, so they'll have to demolish or rebuild it. Tarek opts for the cheaper route of tearing it down, to the tune of $3,400. Will potential buyers appreciate the fact that they'll have to get wet on their way to their car if it's raining?
Risk No. 5: Leaving the front yard half-grassed
The word finally comes in that they can split the lot and sell half separately. So, you'd think they'd invest a little more in the landscaping all around, since these adjoining plots prop each other up. But no, they split the lawn right down the middle, mulching and grassing only the half with the house. Frankly, it looks really weird. Who will want to buy some abandoned-looking lot, or a house right next door to that mess?
How it all ends
By the time it's finished, Christina and Tarek have spent $80,000 on the remodel. Along with their $510,000 offer and $25,000 in closing costs, they'll have to sell it for $615,000 just to break even.
And apparently, a lot of buyers don't appreciate what they've done, since all they hear at first is crickets. Eventually, an offer trickles in for $567,000, which they're forced to accept. That puts them $48,000 in the hole.
But all is not lost, since they are able to sell the lot next door for $250,000 (phew!). So once they subtract their losses, they end up making nearly $200,000 on the deal.
It looks like their desperate moves paid off. Still, it isn't pretty, and one can't help wondering: Is their game off for good? Guess we'll have to see what happens next week.
The post Tarek and Christina El Moussa of 'Flip or Flop' Take a Desperate Risk appeared first on Real Estate News & Advice | realtor.com®.