Stoke your fireplace with decorative screens and doors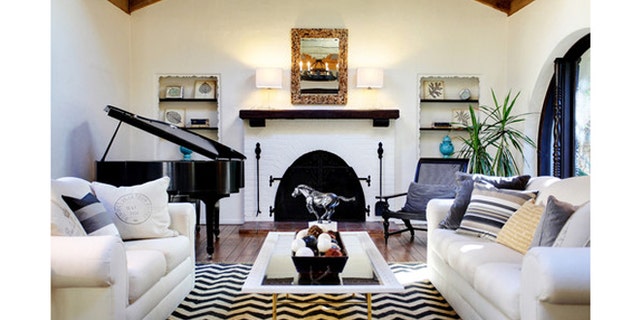 Both functional and aesthetic, fireplace doors and screens keep your fire safely contained while being a beautiful element in your fireplace's design. Whether custom made or store bought, these works of art come in endless styles, finishes and materials. If you have an old or slightly used fireplace that could use some updating, try replacing the screen or door for an instant and cost-effective makeover.
See if any of these beautiful fireplace screens inspire you.
Built in. These Mediterranean-style iron doors are permanently attached to the outside of this fireplace with decorative hinges. With a design like this, it's the hinges that will attract attention.
Tip: Not only are these doors beautiful, but they have the extra structural integrity needed to keep pets and children safe.
Designer. This high-style freestanding fireplace screen in polished chrome has an elegant look that's just the right touch for this perfectly accessorized interior.
Tip: Place birch logs inside the fireplace opening for decoration and depth.
Glass. Close off a burning fire completely while enjoying the view with clear glass fireplace doors, like in this photo. Stone and glass make for a beautiful combination.
Tip: If you choose glass for your fireplace door, be aware that it will require a good cleaning every so often.
Artistic. Get creative by custom designing your own fireplace screen. This built-in version of a metal screen overlaps the surrounding fireplace opening to create a look all its own. Bravo for originality!
Tip: Having this much metal around the fireplace opening looks very cool, but beware -- the metal can become very hot.
Freestanding. This classic-looking fireplace screen stands in its upright position by attached angle brackets (behind the screen) and decorative feet.
Tip: The best part about a freestanding fireplace screen is that it makes cleaning the interior of the fireplace much easier than with a built-in screen.
Mesh. Should you forgo a fireplace door, try this very traditional metal mesh curtain. When you need to access the fireplace opening, simply pull the curtain back.
Tip: Mesh curtains, like the one here, are affordable and seem almost invisible when the fire is burning.
Utilitarian. This freestanding fireplace screen serves double duty. Each side of the screen is actually the hanging rail for the fireplace accessories (shovel, poker and broom).
Tip: Fireplace accessories can look good when they are first purchased, but you may want to think twice about having them out on display after they have been used. Black soot and ash can rub off from them onto furniture and textiles.
Ornate. It's not right for every interior, but this freestanding fireplace screen is the perfect fit for this traditional wood fireplace. I love its ornate scalloped corners, feet and decorative finials.
Tip: Like the screen design but not the brass? Use a high-temperature spray paint to turn it into a piece you love.
Related:
Houzz is the leading online platform for home remodeling and design, providing people with everything they need to improve their homes from start to finish -- online or from a mobile device. From decorating a room to building a custom home, Houzz connects millions of homeowners, home design enthusiasts and home improvement professionals around the world. Shane Inman is a contributor to Houzz.