Stocks rise after Bernanke signals no quick end to stimulus and home sales rise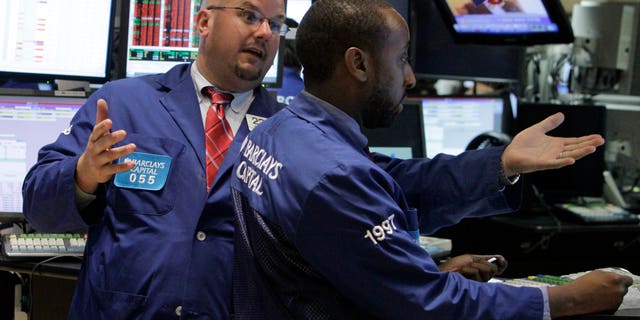 NEW YORK – Stocks are moving higher Wednesday morning after Federal Reserve Chairman Ben Bernanke said it was too soon for the central bank to pull back on its massive economic stimulus programs.
Investors were also encouraged by news that sales of previously-occupied U.S. homes rose last month to the highest level in three and a half years.
Stocks opened with modest gains, then rose sharply after 10 a.m. when Bernanke started speaking in front of Congress and the National Association of Realtors released its report on home sales.
The Dow Jones industrial average jumped 112 points to 15,499 points as of 10:18 a.m., a gain of 0.7 percent. It was up 40 points before Bernanke started speaking.
The Standard and Poor's 500 rose 14 points to 1,683, an increase of 0.9 percent.
The Federal Reserve has been keeping short-term interest rates near zero to encourage people and businesses to borrow and spend more. The Fed has also been buying $85 billion worth of bonds each month to push down long-term interest rates.
Later on Wednesday, the Fed will also release minutes of its latest policy meeting.
Among stocks making big moves:
— Bristol-Myers Squibb jumped 6 percent, or $2.62, to $46.67 after a Citigroup analyst raised his rating on the drugmaker. The analyst said the company could be a big winner with a group of cancer treatments under development.
— Target fell $2.53, or 4 percent, to $68.72 after announcing a 26 percent drop in first-quarter profits. The company also said full-year earnings may come in lower than previously expected.
— Homebuilders rose after the home sales report came out. Lennar rose $1.18 to $43.65, or 3 percent. Pulte rose 42 cents to $23.47, or 2 percent. Toll Brothers, which also reported a 46 percent surge in second-quarter earnings, jumped $2.63, or 7 percent, to $38.63.
On Tuesday, stocks rose after James Bullard, president of the St. Louis branch of the Federal Reserve, told an audience in Germany that the central bank should continue buying bonds.
Both the Dow and the S&P 500 are up 18 percent since the start of the year.
The Russell 2000 index of small-company stocks rose eight points to 1,007, a gain of 1 percent. The index is headed for its first close above 1,000 points.
The Dow, S&P and Russell are at record highs.
The yield on the benchmark 10-year Treasury note fell to 1.91 percent from 1.93 percent late Tuesday. The price of gold rose $25 to $1,402 an ounce, an increase of 1.8 percent. Crude oil fell 46 cents to $95.72 a barrel on the New York Mercantile Exchange.