Stocks advance on Wall Street, boosted by surge in home sales; Dollar Tree jumps on earnings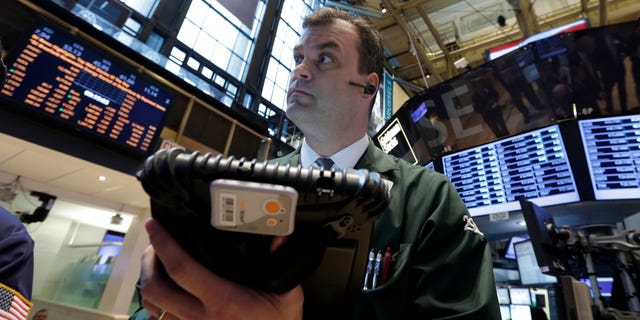 NEW YORK – Stocks rose on Wall Street Wednesday, boosted by gains for discount retailers, after Dollar Tree posted strong earnings. More evidence that the housing market is recovering also gave stocks a lift.
The Dow Jones industrial average rose 81 points, or 0.6 percent, to 13,980 as of 10:46 a.m. EST. The Standard and Poor's 500 gained 9 points, or 0.6 percent, to 1,505. The Nasdaq composite rose 18.7 points, or 0.6 percent, to 3,147.
Dollar Tree jumped $5.30 to $46.38 after the discount retailer reported a 22 percent profit increase as consumers spent more at its stores. Dollar General followed suit, gaining $1.92 to $46.87, and Family Dollar Stores rose $1.85 to $58.14.
A measure of the number of Americans who signed contracts to buy homes rose in January from December to the highest level in almost three years. The National Association of Realtors said that its seasonally adjusted index for pending home sales rose 4.5 percent last month to its highest since April 2010.
PulteGroup rose 41 cents to $19.46. The home builder also rose 5.7 percent Tuesday after the government reported that sales of new homes jumped 16 percent last month to the highest level since July 2008.
Stocks are still down for the week after logging heavy losses Monday.
Both the Dow and the S&P logged their biggest losses in more than three months Monday on concern about Europe after elections in Italy left the country with political gridlock.
Investors will also follow Federal Reserve Chairman Ben Bernanke's testimony to Congress Wednesday.
Bernanke is giving the second of two days of semiannual testimony to Congress about the Fed's interest rate policies, this time to the House Financial Services Committee. On Tuesday, Bernanke told a Senate committee that he thinks the Fed's low-interest-rate policies are giving crucial support to an economy still burdened by high unemployment.
The yield on the 10-year Treasury note, which moves inversely to its price, fell 1 basis point to 1.87 percent.
Among other stocks making big moves;
— Priceline.com, a travel website operator, gained $13.97 to $692 after it said late Tuesday that its net income jumped in the fourth quarter as bookings grew.
— First Solar plunged $5.52 to $25.85 after the company posted disappointing sales for the fourth-quarter and offered a weak early outlook for the year.
— Target fell 87 cents to $63.31 after the No. 2 discount chain reported fiscal fourth-quarter net income dipped 2 percent as it dealt with intense competition during the crucial holiday season.