Springsteen's 'Born to Run' House Is for Sale, for Just $299,000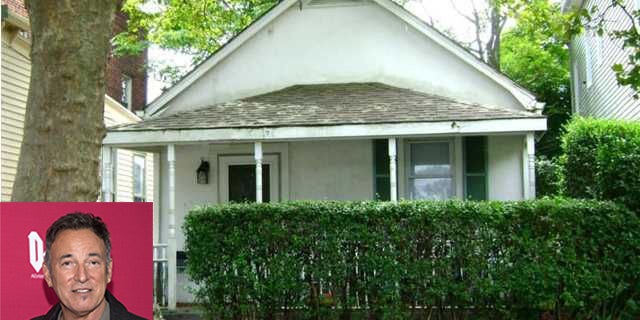 Just in June, Bruce Springsteen put his Beverly Hills compound up for sale for somewhere around $60 million, Variety reported. It's not really the sort of place most fans of The Boss could afford.
Well, now they may be in luck: A former Springsteen property is on the market, and it's only $299,000.
OK, so Springsteen doesn't live in the 828-square-foot, two-bedroom, one-bathroom cottage a block and a half from the beach in Long Branch, NJ. But he did in 1975, and that's when he wrote the eight songs that became his seminal album, "Born to Run."
Six years ago, according to NJ.com, Springsteen lovers Jerry Ferrara (not Turtle from "Entourage"), his sister, Kim McDermott, and a friend, Ryan DeCarolis, bought the house at 7 West End Court for $280,000, hoping to renovate and preserve the songwriting site both as an homage to The Boss and an act of historic preservation -- the house would likely have been a teardown.
"We'd been to a couple of auctions where people paid a ridiculous amount of money for a (Springsteen) signed guitar," Ferrara told NJ.com. But it was nearly the height of the market and, he admitted, "we probably paid more than it was worth when we bought it."
Then life intervened. DeCarolis got married and his business boomed, and McDermott got divorced; the renovations, other than new wood floors, a new roof, and new vinyl siding, were never finished. It was time to let the place go.
But maybe the timing is right. Not only is the market surpassing pre-crash peaks in some areas, but Springsteen celebrated the 40th anniversary of "Born to Run's" release this year. Perhaps this listing is on fire.
Ferrara and his partners sure hope so -- and join the ranks of those in search of new residents with a very particular bent. Magician Penn Jillette wants to sell his home to fellow atheists. An environmental activist landlord wants to rent to vegetarians. The owners of the West End Court house know they can't dictate who buys it, but McDermott hopes the new owner preserves "the Bruce factor."
In fact, she has a very specific buyer in mind, one who could do that without even trying.
"In a dream world, Bruce would show up and say, 'I think I should own this still,'" McDermott said.