Spinning Wall Turns Backyard Into an Ampitheater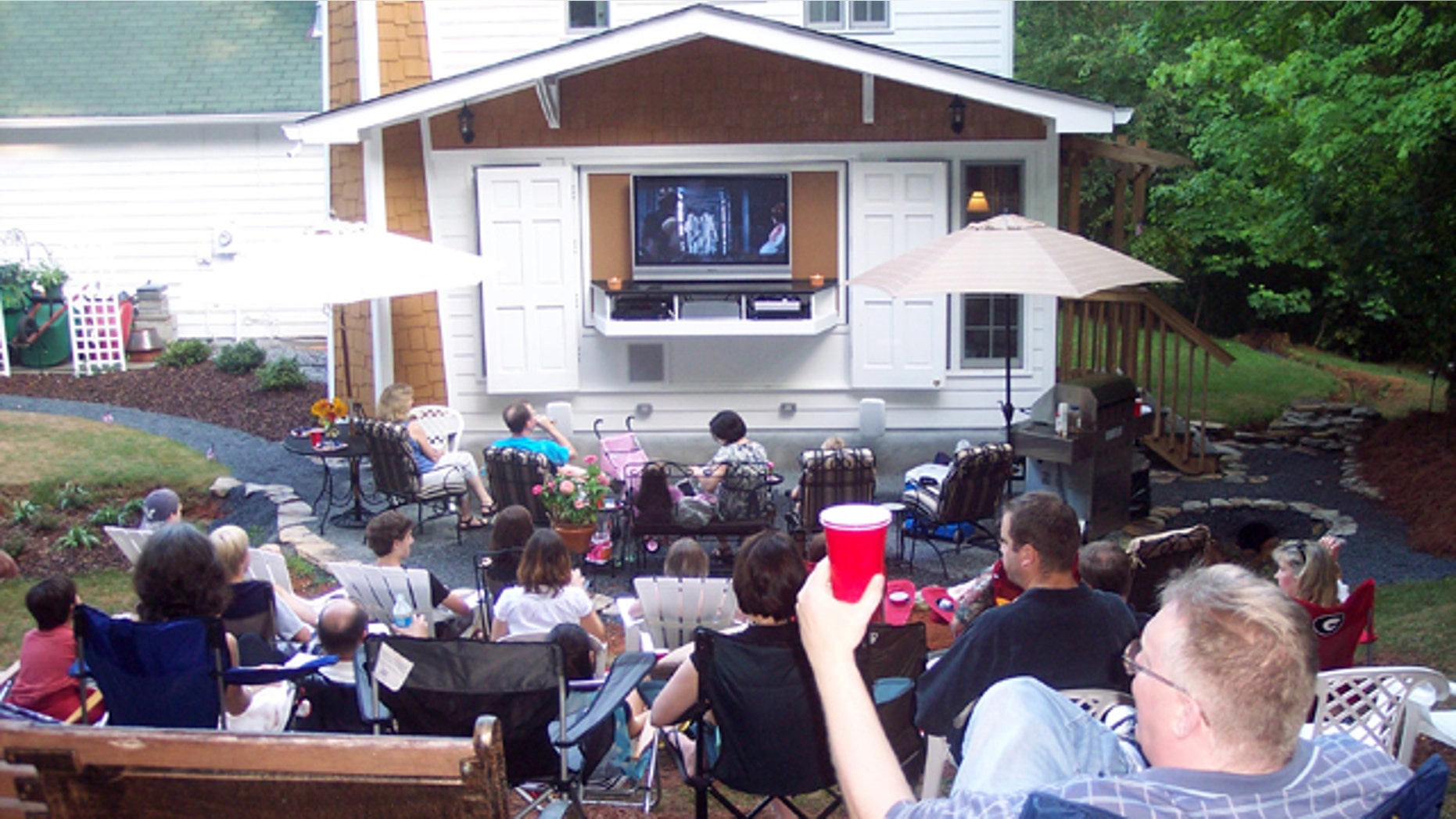 It is a dream come true for designers and inventors when a casual doodle on a napkin becomes reality after many years. Timothy Pulver is the brain behind Mr. Spinwall, hardware that can make your wall spin with just a push of your finger.
The custom hardware bracket incorporates into the wall and is designed to support 3000lbs of weight. So, if you want to bring your living room outdoors, your wall hung television can now double as an amphitheater in the comfort of your own home.
Pulver's casual sketch on a napkin 10 years ago is now a reality. After years of planning, market research, prototypes, patent pending and constructive criticism from friends and family, Mr. Spinwall is now on the market. Along with his business partner, Laura (who is also his wife, critic and client), Pulver is ready to conquer the outdoor living world with his invention.
Pulver has always been an inventor at heart, and he's been working as a registered architect and interior designer for 22 years.  The idea of inventing a spinning wall came to him when he and Laura were living in a "not so big home" and wanted to take their indoors outside. The idea was accepted by Laura immediately, since she is an avid football fan and loved the idea of being able to spin a wall and watch football outdoors.
Pulver said, "The million dollar moment was when University of Wisconsin's marketing report said, 'There is a potential demand for this in conjunction with outdoor living spaces,' and counselors at SCORE [Service Corps of Retired Executives] did not say, 'You are nuts.'"
The Pulvers tried out their spinning wall invention on their neighbors, to a chorus of dropped jaws. They knew the invention would be a hit.
What is it made of?
Mr. Spinwall is a custom component consisting of various brackets and ball bearings incorporated into the wall, making it possible to spin a section of wall with the touch of a finger. The wall is like any 6" stud wall, but is insulated with a minimum of R-19 insulation and covered with Tyvek on the exterior to avoid leaks and drafts. On the inside it looks like an entertainment system with a media console at the bottom. On the outside, the spinning panel is protected by an overhang and water-sealed exterior doors. The panel has a perimeter brush sweep on all sides to protect the home from bug intrusion.
The system is easy to fix into your existing wall whether it's made of stucco or wood siding. Tim suggests installing Mr. Spinwall on the north or east walls, in order to reduce glare while watching the game outdoors. The Mr. Spinwall bracket kit costs $1,999.95. The entire system can be built with the help of a general contractor or finish carpenter, and you can customize the look of Mr. Spinwall for your home.
The wiring and sound system
All the wiring from the television and other media run on 2 separate 20 amp circuits in a flexible conduit per the electrical code inspector. Tim designed Mr. Spinwall to have the sub woofer sitting on a Lazy Susan so it can be swiveled around when watching television outdoors. Additional exterior speakers are installed to give it a theatre effect. The HDMI cables are prewired through the bottom brackets and are designed to accommodate upgrade and additional cables for the future.
Contact Mr. Spinwall on Hometalk.com, a social network dedicated to home improvement projects where he has photos and a company profile, or visit his website.
Yamini Mudaliar is a Networx - http://www.networx.com - writer. Read more articles like this one - http://www.networx.com/article/for-football-fans-a-spinning-wall-turns - on Networx.com.