Showcase art to brighten your home for staging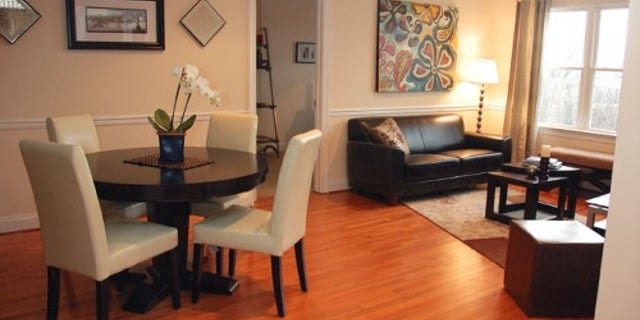 Interior designers often are surprised that few homeowners actually paint their walls or hang art on them.
While choosing art is a highly subjective -- and sometimes intimidating -- process, you can find inspiration on websites, at galleries or art festivals and in objects that you encounter every day.
Here are a few tips for using art in your home.
Play it up BIG!
Don't be afraid of large art, even in small spaces. Many times, one great piece can really fill up a space nicely. In the model home photo above, the large piece of art on the right is almost the same width as the sofa and takes up most of the wall, helping fill in the room. Look for large canvas pieces for art that is larger than 30 inches wide to help cut down on the weight of the piece and make it much easier to hang.
Create a collage
Still nervous about large art? Can't decide on one piece to showcase? Try using smaller pieces in a big way to create a wall collage. Even though you're using a few pieces of art, it will read like one piece. This is great for art that is between 8 and 30 inches wide. Use an odd number of pieces and hang the set behind a sofa, above a console table or buffet or even over your bed. Incorporate a variety of textures -- art on canvas, framed art, colored glass and even mirrors -- to brighten the space. If you have art smaller than 8 inches wide, frame it in a wide frame or 3- to 4-inch mat to make it appear larger.
If it's small, it's NOT for the wall
Any framed art or photo that is smaller than 8 inches wide should not be hung on a wall. Instead, use these pieces on any shelf -- mantle, bookshelf, buffet or nightstand.
Hanging rules of thumb
Hang art so that the middle of the piece (or collage) is approximately 5 feet from the floor. Hanging art on a wall with wainscoting may require it to be a little higher, but try to stay within that range. When hanging a large piece of art behind a sofa, hang it high enough for heads to clear once people are seated.
Don't be afraid of art; it can really help you bring life to your space -- for living and for staging.
Related:
Roslyn Ashford, MBA, is a former corporate recruiter turned home stager, and native Washingtonian (as in DC). She hosts a bi-weekly tweet chat for home stagers and loves to stage small and vacant homes. Learn more about her growing company here or follow her on Twitter to keep up with the daily hilarity!
Note: The views and opinions expressed in this article are those of the author and do not necessarily reflect the opinion or position of Zillow.