Selling in a Drought? Spruce Up Your Lawn -- but Be Water-Wise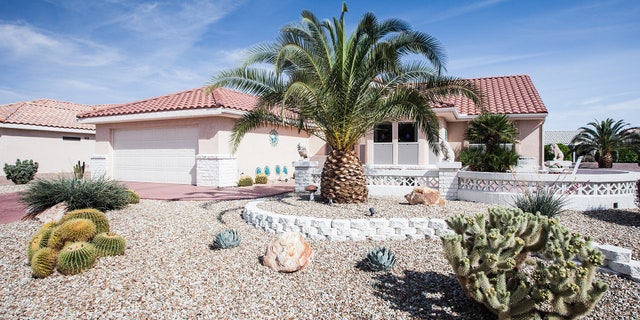 NEWYou can now listen to Fox News articles!
In case you haven't heard, brown is the new green -- at least in the western U.S., where California and its neighbors are trudging through a fourth consecutive year of drought.
And with mandatory water restrictions in place, many homeowners have to say goodbye to their once-lush lawns, stripping their homes of classic curb appeal.
What's a seller to do? While an expansive green lawn would once have added to your property value, it could now be a deficit. Buyers want to know that they won't be paying a premium to water those pansies.
But that doesn't mean you can just let your lawn wither and die. "Residences where the homeowner has quit watering and mowing their lawn are going to have a harder time selling their property," says Leslie Reed, a Realtor with Re/Max Gold in Roseville, CA.
One Sacramento, CA, homeowner recently took a $9,000 price reduction because his yard required all new landscaping. Reed recommends consulting with a local nursery or landscape architecture firm approximately a month before putting your home on the market.
So if you're preparing to list your home, here are seven tips that'll make the grass greener on your side of the fence. (So to speak.)
1. OK, you can keep your lawn -- if you water smartly
If your grass still has game, you can ensure it stays green by installing a drip irrigation system with a timer.
"Since sellers typically are gone a lot when their property is being shown, a water timer is an easy way to ensure the garden will be reliably watered," says Mark Lederer of Red Oak Realty in Berkeley, CA.
Drip irrigation systems can be purchased at most hardware stores for $15 and up, and can reduce water use by 30%.
In addition, up to 65% of the water used in daytime irrigation can be lost through evaporation, so it's better to do it at night.
2. Spray-paint your lawn. Yes, we said that.
For those who can't wean themselves from green, lawn spray-painters can transform your brown grass into a lush green using water- or oil-based paints that bind to each blade. The paint, which can last several weeks to months, offers homeowners an easy way to maintain their curb appeal while also reducing watering costs by 50% to 75%, on average.
Lawn Paint Pros in Southern California is one company that's seized this business opportunity. The cost of lawn painting typically ranges from 25 to 35 cents per square foot of grass. On average, a 500-square-foot lawn is likely to cost $175 for a fresh coat of green paint.
For those who prefer to channel their inner Martha Stewart, many hardware stores and nurseries also sell lawn paint (an 8-ounce bottle of grass paint concentrate covers approximately 150 to 250 square feet and sells for $16.95).
3. Go for a 'lawn-ectomy'
Most homeowners don't realize how much water their lawn guzzles. The Environmental Protection Agency says grass lawns account for 30% to 60% of residential water use in the U.S. During these dry times, it makes sense to consider giving up grass altogether and installing a drought-resistant garden.
For a yard of about 2,000 square feet, lawn replacement can cost about $6,000, or $3 per square foot in Southern California, which includes removal, installation, and irrigation. That means depending on the size of the lawn, a project could cost $2,000 to more than $10,000.
Lest you think that simply means planting a couple of cacti, think again. Making your garden water-wise, or xeriscaping, means more than choosing succulent plants. It also means choosing varieties native to your region.
"The Orange County area in Southern California has a Mediterranean climate, but you often see homeowners plant a drought-resistant garden that are more appropriate for a desert climate such as Palm Springs," says Fred Peterson, a Realtor with Aspero Realty in Lake Forest, CA.
Most Californians can just pop in some manzanita and low-water plants such as chaparral, sage, and others that are native to the area before listing their property. Your local nursery can help you identify plants that are water-wise and native to your state and region.
Another low-tech, water-saving tactic is to add a thick layer of wood mulch to your yard. It helps reduce evaporation, improve water penetration, and moderate soil temperature. Wood mulch can be purchased at most hardware stores, gardening stores, and even big-box stores.
And if you do make changes, brokers recommend showing prospective buyers the water bills before and after installing water-efficient devices, so they can see the savings.
4. Try fake grass that's worth flaunting
Lederer has also seen some homeowners turn to synthetic grass, not to be confused with the AstroTurf commonly found on football fields. Besides being perennially green, artificial turf is environmentally friendly, requires very little water, and is easy to maintain. Some companies are even putting catchment cisterns underneath the turf field to capture stormwater. There are companies like SYNLawn or Easy Turf, and DIY-ers can also purchase synthetic lawn turf at stores like Home Depot.
ForeverLawn makes artificial grass from recycled plastics used for water bottles. The padding between the blades and webbing is soy-based, and the webbing itself is 100% postindustrial recycled plastic. In total, about 75% of the product is made of recycled materials, and at the end of its very long life, the artificial grass is 100% recyclable.
5. Free money? Get it!

Water districts and cities really want homeowners to go drought-friendly and are rewarding those who do by offering enticing rebates. Dump that lawn, and you might also get a higher purchase price (not to mention skipping the high cost of irrigation that will ultimately be revealed in disclosures).
The Contra Costa Water District in the San Francisco Bay Area claims homeowners can reduce their water bill by more than half by converting to drought-friendly landscaping, and it's making that prospect even more appealing with its lawn-to-garden rebate program. The district offers homeowners a rebate of $1 per square foot of lawn replaced with water-wise landscaping, with $1,000 maximum for residential properties and $10,000 for commercial, municipal, and homeowner associations. In Southern California, the Los Angeles County Waterworks Districts are offering " cash for grass," which is about $1 to $2 per square foot for up to 5,000 square feet.
In addition, some landscapers are offering free lawn removal for residents who retain their services to install a drought-tolerant yard, while other companies will convert lawns in exchange for homeowners signing over their rebate checks (they'll process the paperwork, too).
6. Launder your lawn (and, while you're at it, your toilet)
Likely you're not giving up showering or doing the dishes or laundry, but you can use the water from those activities to tend to your plants. Greywater systems recycle water from your sink, washing machine, and even your shower, funneling it to your toilet or your outdoor greenery (you just have to use special soap that won't hurt your plants). There are many regulations about this, though, so be sure to check with your local municipality.
___
You've got plenty of choices here to reduce, reuse, or recycle. Of the three R's, of course, it's best to favor reducing -- and hopefully with these tips, you won't have to reduce your asking price.
The post Selling in a Drought? Spruce Up Your Lawn -- but Be Water-Wise appeared first on Real Estate News and Advice - realtor.com.