Remodeling for renters: Give your kitchen a makeover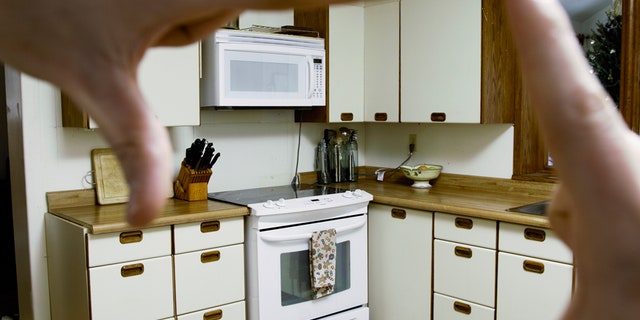 There are a lot of drawbacks to renting, but perhaps the worst is feeling like there's nothing you can do to improve the place. But you don't have to put up with a subpar kitchen just because you're renting. Here are a handful of non-destructive DIY projects that will give your rental kitchen an upgrade.
Improving Storage Space
Give your cramped kitchen a makeover by increasing the amount of storage space at your disposal. While you might not be able to install new kitchen cupboards, there are a number of ways that you can add more space.
A wall- or ceiling-mounted pot rack can greatly increase your storage space, while keeping your cookware within easy reach. Yes, you'll have to drill a few half-inch holes in the wall or ceiling. But you can fix that up before you move out with a bit of putty, paint and a drywall patch, which will have it looking like new in no time. Installing a pegboard is another great storage solution, and because it sits flat against the wall, it's perfect for kitchens that are too small for extra shelves.
Swapping Out Hardware
The kitchen faucets found in most rental units are downright awful. Landlords rarely pay attention to little details like hardware, so swapping out an old faucet is a good place to start. For around $100, you can upgrade to a faucet with a pull-down spout, which makes it easier to clean the sink and wash dishes. Replacing a faucet is a pretty straightforward DIY job, requiring little more than a crescent wrench and some teflon tape. However, if you are not confident in your skills, you should hire a plumber because leaky water lines can cause damage in your unit and the unit below if you don't do it right. You don't have to leave your investment behind when you leave. Keep the old faucet someplace safe, and swap it back in when you move.
A Better Place to Cook
Buying a brand new stove is a pricey and impractical addition to a rental unit. But if you're not content with your current cooktops, you can improve things by springing for an induction element. At around $60 to $80 for one of these countertop units, an induction cooktop is a great way to add a little more surface area to cook on. And because they heat up incredibly fast, you'll probably see a vast improvement over your rental unit's creaky old stove.
Creating More Prep Space
You might not be able to carve out extra counter space in your rental, but you can add a kitchen island if you're in desperate need of extra space for food preparation. Not only will it increase your counter space, but a kitchen island also gives you more room for storage. If you're really pressed for space, you could also consider a fold-down counter top. These wall-mounted counter flip up when needed and fit snugly against the wall when you're done making dinner.
Improve the Lighting
Often the problem with a rental kitchen isn't a lack of space, it's bad lighting. A dark and dreary kitchen can make the place feel a lot more cramped than it really is. Improving the lighting is a pretty straightforward DIY project — and you don't even have to be an electrician for this sort of upgrade. A good place to start is by adding under cabinet lighting to better illuminate your countertops. You can use LED light strips that plug into an ordinary wall socket, or even get a few stick-on light units that rely solely on batteries.