Quick Flip: NBA Center JaVale McGee Is Selling Las Vegas Condo Less Than a Year After Purchase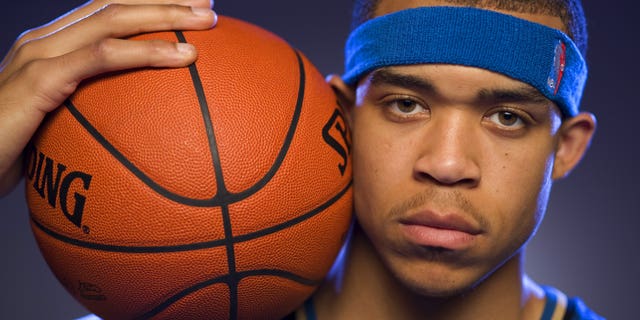 NEWYou can now listen to Fox News articles!
Las Vegas is known for quickie-wedding chapels but not long-term commitments, so it figures that NBA center JaVale McGee is skipping town less than a year after buying a condo on the Strip.
It's unclear why McGee would leave behind such a baller pad so quickly. Perhaps his plans to become a pit boss, lion trainer, or Britney Spears' backup dancer didn't pan out?
Then again, McGee has been known to retweet himself and throw spur-of-the-moment free-burrito parties, so he seems like the type of dude who flies by the seat of his motorized shopping cart -- riding pants.
What we do know is that this is a bona fide bachelor pad, complete with dark finishes, electric shades, and a stunning vantage point of the Strip from its perch on the 21st floor. There are two bedrooms and two-and-a-half baths.
The master bedroom has a wall of windows to take in views of the mountains (the development isn't called Panorama Towers for nothing), and the master bath has a double vanity, tub with jets, and separate shower.
The 2,406-square-foot condo is listed for $849,900. McGee bought the place for $800,000 in October, so he's looking to eke out a profit. But, hey, you don't become a professional athlete without confidence, and this condo has plenty of swagger.
As for the 7-foot-tall, 27-year-old McGee, he's currently a free agent after playing for the Washington Wizards, Denver Nuggets, and, most recently, the Philadelphia 76ers. Talks fizzled with the Celtics in March, but maybe his latest real estate acquisition is a hint: He just paid $2,425,000 for Marc Anthony's party pad in Encino, CA, so maybe he's leaning toward signing with a Los Angeles squad in 2015?
Keep checking Twitter to see what he decides -- he'll probably retweet it.
The post Quick Flip: NBA Center JaVale McGee Is Selling Las Vegas Condo Less Than a Year After Purchase appeared first on Real Estate News and Advice - realtor.com.