Projects to get your yard ready for summer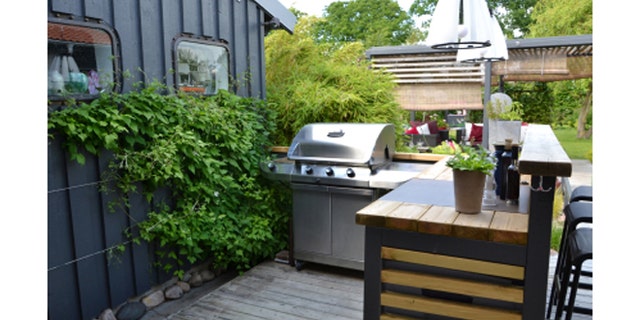 With the summer months just around the corner, many homeowners are firing up the grill for the first time and dreaming of lazy days in the backyard. In order to get the most out of your yard this summer, you might consider sprucing it up to wow the neighbors and impress your friends and family. Here are a couple of backyard renovation projects that will make your yard the envy of the block.
Outdoor Kitchen
An increasingly popular addition to the backyard, an outdoor kitchen can spare you multiple trips indoors while you're trying to cook up a feast. By bringing your kitchen amenities outdoors, you can make the patio, and the barbecue, the focal point of festivities during the summer.
Start by upgrading that rickety old card table that you use for grill-side meat storage with something more permanent. An outdoor counter will give you all the space you need to whip up a batch of your famous barbecue sauce or dice up enough grill-able greens to keep the vegetarians happy. When building an outdoor counter, you want to select materials that are weatherproof, durable and easy to clean. Avoid untreated wood, which can warp and rot, as well as porous stone, which will attract grime over time.
Next you'll want a place to keep your drinks and food chilled. Most bar fridges are not rated for outdoor use, so if you want one that will be able to weather the elements, make sure it's built to be used outside, like the Vinotemp outdoor fridge. If you plan to keep your fridge stocked all summer long, you'll also want to look for one with a security lock in order to keep neighborhood animals like raccoons from pilfering your beer and soda supply.
A backyard countertop and fridge are nice, but you don't have to stop there. For an extra touch of luxury, you can install an outdoor sink, making food prep and cleanup a snap. And by wiring your new counter with electrical outlets, you'll ensure that your margarita maker and stereo stay powered through your summer parties.
Backyard Lighting
A great way to make your backyard parties more inviting is to replace harsh floodlights with softer lighting options.
A great way to make your backyard parties more inviting is to replace harsh floodlights with softer lighting options. Low-voltage lighting, the type that often line pathways and pools, are a great way to give your yard a warm glow without overpowering the night's sky above. And because most of these lights simply plug in to an outdoor outlet, or are powered by solar cells, they won't require an electrician to install, making them a great DIY option.
While low-voltage ground-level lights can help set the mood for your moonlit party, they won't shed much light on your dining table or help you at the grill. To ensure that you're not stumbling in the dark, add a few sets of string lights to the mix. An affordable and easy-to-install lighting option, string lights can make your backyard feel more like an outdoor bistro.
As an alternative to string lights, an umbrella light transforms your patio umbrella into a light source, illuminating your outdoor dining table when you need it, but staying out of the way when you don't.
Nowhere is good lighting more important than at the grill. You don't want to risk poisoning your guests because you couldn't tell if the chicken was cooked to perfection or still raw in the middle. To make sure you've got enough light to keep cooking past sundown, grab yourself a barbecue lamp. Featuring both a powerful clamp and a magnet, the lamp can clamp or stick to any surface, while its bendable, snaking neck can reach across the grill.