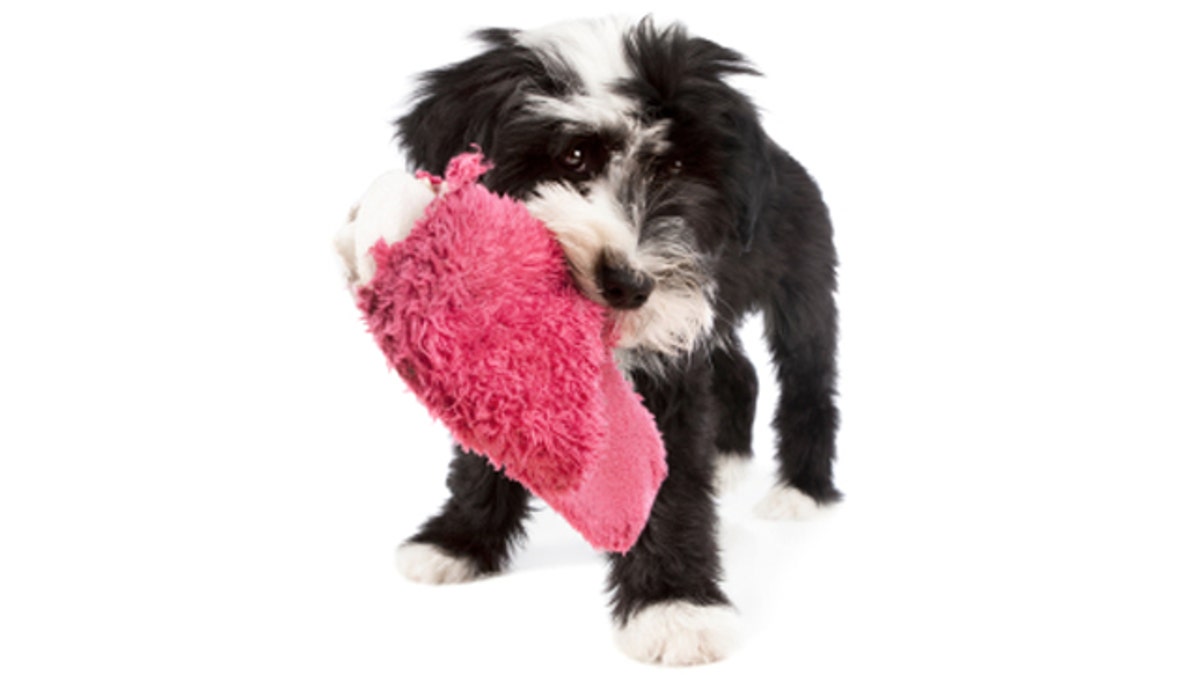 As a homeowner and lifelong pet owner, I know too well how the cute antics of a new puppy or kitten can turn into extensive pet damage. I've also been a remodeler for many, many years, so lucky you. You're about to get some great advice.
Floors
At the top of the list, it's difficult to reverse a ruined floor. Pet urine flowing between floorboards can cause wood to warp if left unchecked. Wipe up "accidents" immediately and monitor wandering puppies. A puddle allowed to remain on the floor will seep between seams and eventually be absorbed by subflooring and the flooring itself. Residual odors remain and an animal will go back to the same place and instinctively deem it a bathroom area. Use odor-neutralizing products to clean up and discourage repeat behavior. Ideally, limit where an untrained puppy can play to areas where cleanup is easier, such as tiled kitchen floors.
Crating an animal is a popular training method, but galvanized metal crates are not waterproof. Water bowls in crates get jarred by the animal, spill over and leak onto the floor, creating the perfect scenario for a chemical reaction to take place between the wood floor and metal. Two months later, after Fido is house trained, the crate is removed and you'll be surprised to find blackened floor boards! If crate training, place a slightly larger protective mat underneath.
Food and water bowls can also damage wood and tile flooring. Water spills out of bowls, and small spills disturb the finish on a wood floor, cause stains or degrade grout between tiles. A mat under pet food and water bowls will also prevent minor damage.
Large dogs have large nails. They jump hard and play hard – even indoors. Keep nails trimmed regularly to prevent small scrapes in the surface coating of wood flooring. Damage is not immediate, but over time, the constant scraping of nails as they run back and forth between rooms will dull and wear away the finish, especially in some pre-manufactured floors with thinner coatings.
Rugs
Timing is of the essence when it comes to animal urine on a rug. Rugs wick liquids down into the matting and will soak through to the plywood subfloor. It takes a long time to dry and will cause constant urine odor. Clean up urine as quickly as possible by blotting with a paper towel and use spot cleaner to treat and block odors. If you have not been able to get to it in time, it's best to have the rug professionally cleaned as soon as possible.
Windows
Window sills are favorite spot for cats to sit and watch the world. They also like to lean against the screens, loosening them. Screens or window frames are irresistible scratching posts. Cats can scratch away the better part of a ¾ inch thick board - the homeowner completely unaware because a drape or curtain is hiding the damage! Regularly check screens for holes and frames for scratches. Provide plenty of opportunity for your cat to scratch in other places - cat condos, scratching posts, etc. Dull the ends of claws by trimming and filing.
Doors
Dogs love doors as much as cats love windows. Puppies use corners of open doors as teethers and will gnaw away as long as they're allowed. Discourage chewing by purchasing products with a bitter taste, available at most pet supply centers. From the beginning, train dogs not to claw when they need to be let out; otherwise, you are inviting disaster! Nothing looks worse than a gouged-out door! For stubborn dogs, install a protective metal plate during the training process.
Appliances & Baseboard Heaters
Animal hair is a major contributor to reduced energy efficiency. Hairballs clog up the fan that blows over refrigerator coils. Air movement draws hair up and in, causing a strain on the compressor, decreasing the life of the appliance. Animal owners should move refrigerators out every few months to thoroughly vacuum behind and underneath.
Vacuums should be well maintained. Hair will jam up rug-beater attachments. Empty the system or change bags often to minimize risk of blockages, and remove hair from around wheels to keep them moving freely.
Heating coils in baseboard heaters are hair magnets. Annually remove baseboard covers, and using a small air compressor, blow hair and dirt out between elements. Using specialized nozzle attachments designed for small spaces, vacuum appliances and baseboards weekly.
Miscellaneous
Pets chew and claw in surprising places – wires, furniture and even water lines. Offer pets plenty of toys. Create opportunities for structured play time in safe spots where they can romp freely. For animals resistant to training, take advantage of products to help you gain control. For example, cats can be discouraged from scratching by using wide double-stick tape. They don't like the way it feels on their pads, and will avoid scratching your lovely new sofa - especially if you've placed a scratching post nearby as an attractive alternative! Note: Do not place tape on leather sofas as it will damage the surface and always do a test strip in an inconspicuous area.
Laura Foster-Bobroff is a Networx - http://www.networx.com - writer. Get home & garden ideas like this - http://www.networx.com/article/pet-ownership-pee-on-the-floor-and-gaug - on Networx.