Open workspaces make watching over kids' online time easy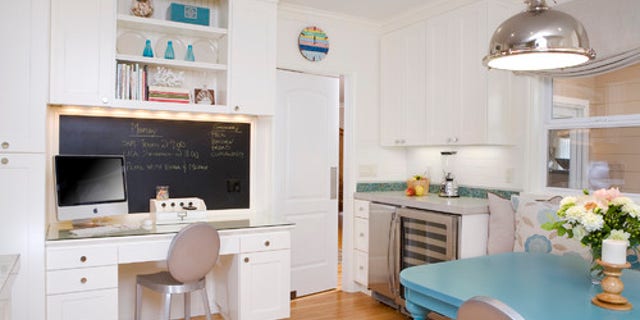 My children don't spend much time on the computer. I'm sure they would like to, but I am a firm believer in limiting media time and don't see the value in creating little virtual homes for their stuffed animals. I would rather see them using their hands and some construction paper to create real homes if that's something that really interests them.
When things like homework require them to get online, I think it's important to keep an eye on what they're doing. These days there are plenty of reliable and safe Internet monitoring programs available (and we have those), but I personally prefer keeping the computer in a common area where I can occasionally pop in and check on what they're doing. Below are eight examples of how to incorporate a computer and a simple workspace into almost any room in your home.
Setting up the computer in the kitchen is a perfect solution for busy families. Many mothers and fathers would say they spend most of their time in this room, making it a great space to house the family computer.
The family room (especially if it opens to the kitchen) is ideal for electronics like TVs and computers. Your children can work on homework while you read or watch a show (with the volume turned down low, of course.)
Keeping the computer in a high-traffic area, like this hallway or the nook under the stairs shown below, will make it easier for you to monitor what your children are doing while they're online.
Some may think the living room is too formal of a space for keeping the family computer. I would suggest if you spend the majority of your time here, do it. You can dress the area up with a parson's chair that matches the room's other upholstery and some pretty artwork.
If you tend to spend a hefty amount of time in the laundry room and the space has the square footage, consider placing a desk, a chair and a computer there. Your child can have computer time while you sort, wash and fold clothes.
Taking advantage of available space, like the wall in this mudroom, to place a desk can be a great solution. Your children can feel a sense of privacy all the while knowing you're not too far away to check in.
If you're still not too keen on having a computer in the common areas of your home but like the idea of monitoring computer usage, how about tucking a desk with a computer into a closet? When it's in use the doors are open, and when it's not you can close everything up and have it out of sight.
Related:
Danyelle Matthews is a writer for Houzz who is "designing a lovely life with five children in tow."