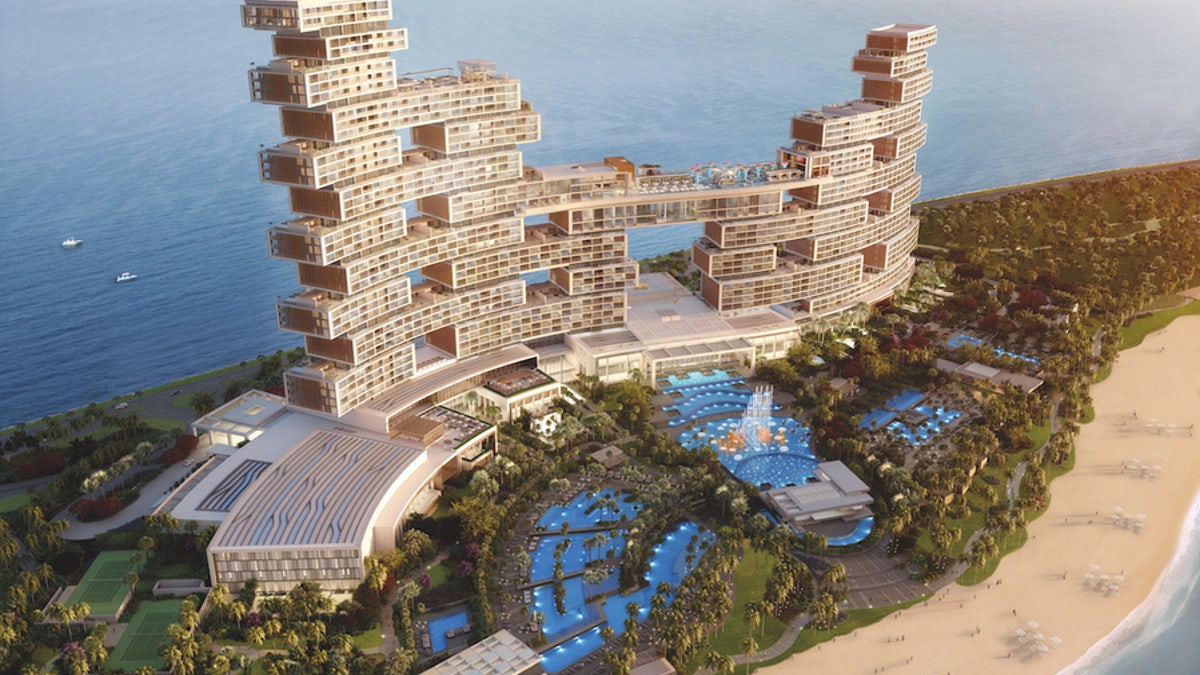 The Royal Atlantis Residences, a super luxury new development in Dubai, United Arab Emirates launched global sales this week.
Located on the crescent of the iconic Palm Islands, an artificial archipelago in the Middle Eastern country, the 231-unit curvy tower, overlooking the ocean, will consist of a selection of two-to-five-bedroom homes, offering 82 different layouts and three different color palettes with prices starting at $2 million.
The Royal Atlantis was conceived by a team of international real estate experts. It's developed by Kerzner International, a developer and manager of luxury resorts and hotels in The Bahamas, Mauritius, Mexico, the Maldives and other destinations.
Prior to The Royal Atlantis, Kerzner already developed Atlantis, The Palm, a 1,500-room water-themed resort also located on the Palm Islands in Dubai. Another flagship Atlantis luxury condominium is under development in Shanya, China.
KPF Associates, one of the largest New York-based architecture firms, is responsible for the overall architecture, while Paris-based Sybille de Margerie is behind the interior design.
Additionally, Los Angeles-based David Mexico, who worked on water features at the Bellagio hotel in Las Vegas and for Disney Cruise Line, is commissioned to design a 90-meter (about 295-foot) sky-high infinity pool.
The team is promoting The Royal Atlantis in the U.S. this week, with stops in New York, Miami and Los Angeles. Tours in the U.K., Russia, India and other Asian countries are scheduled for later this year, according to Maria Morris, a partner and head of Middle East project marketing at Knight Frank, which is handling the sales. Sales launched at the end of January domestically.
"The timing was right to build another iconic structure and to continue the Atlantis experience in a new way, creating a home and a community for families to live," said Serge Zaalof, chief operating officer of Atlantis Resorts and Residences.
The prices of prime Dubai real estate have plateaued during the past 12 to 18 months, according to Morris, citing a Knight Frank annual report. In 2016, luxury home prices fell 4 percent year-over-year.
"As the market nears the bottom of the cycle, it's a good time for global citizens to look into Dubai," she said.
Completion of the development is slated for the second quarter of 2019.