New Houston Cougars Coach Major Applewhite Roars Into Real Estate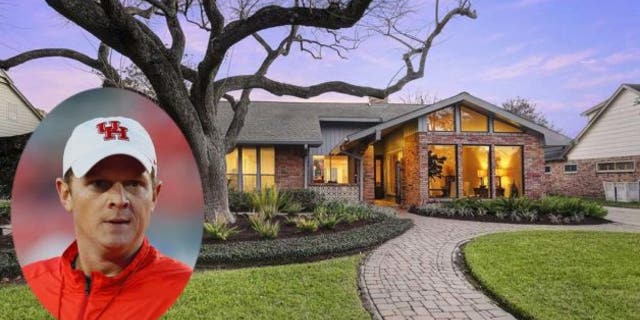 From Austin to Houston, TX, a former Longhorn legend is sorting through some real estate–related issues.
Former University of Texas quarterback and current University of Houston head coach Major Applewhite is selling a home in Houston not long after the Cougars named him as the boss. Perhaps an upgrade is in the offing? He did get a nice salary bump when he took over the Cougs—reportedly a five-year deal with an annual salary of $1.5 million.
His four-bedroom, three-bath home on the city's Southwest side has a listing price of $799,000, which is $20,000 more than the price the home was listed for in 2015—the year Applewhite bought it after being hired as the Cougars' offensive coordinator and quarterbacks coach.
The home features hand-scraped wood floors, high ceilings with recessed lighting, and recently upgraded infrastructure.
realtor.com
Additional features inside the 2,948-square-foot house include two main bedrooms, an open floor plan, and a spacious kitchen with stainless-steel appliances, quartz countertops, and marble backsplash. On the market for just a couple of weeks, the home's sale is already pending.
Applewhite's real estate blitz doesn't stop with his Houston property. His single-family home in Austin is available for rent for $4,100 a month.The three-bedroom house, which is close to the University of Texas, has one bath and comes with a handsome backyard patio.
realtor.com
Applewhite graduated from the University of Texas in 2001 with a career win-loss record of 22-8. Over a decade later, he still holds at least 20 school and Big-12 records.
Shortly after his graduation, he began his coaching career as a graduate assistant with his alma mater. He went on to serve for Syracuse, Rice, and Alabama before returning to Texas in 2010.
Early in 2015, Applewhite was hired by the University of Houston to assist under recently hired head coach Tom Herman. In late 2016, Applewhite was then promoted to be the Cougars' main man when Herman left to take over the coaching duties at the University of Texas.
The post New Houston Cougars Coach Major Applewhite Roars Into Real Estate appeared first on Real Estate News & Advice | realtor.com®.