Never Say Neverland? A Chinese Auction Site Tries to Sell Michael Jackson's Ranch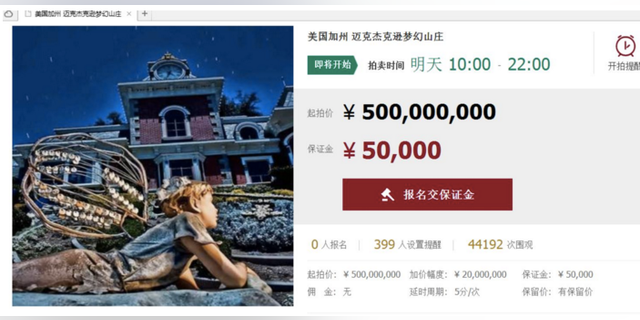 Chinese buyers have flooded the American real estate market for the past couple of years. This week, an iconic piece of American real estate has been drawn into the Chinese (online) market. Taobao Pamei, the Chinese version of eBay, has offered up a thriller: Michael Jackson's notorious (and notoriously hard to sell) former ranch/amusement park/grown-up playground Neverland.
Will someone in the international market finally buy this place?
In May, Sotheby's International Real Estate listed the estate for $100 million. There were no takers.
Neverland -- now called Sycamore Valley Ranch -- then showed up on Taobao for Tuesday's one-day auction, according to the Xinhua News Agency, via gbtimes.com. The opening bid was 500 million yuan, or $78.6 million. Only one bidder signed up for the auction and, in the end, declined to make a bid. Some buyers are so darn picky!
The 2,700-acre property in Los Olivos, CA, was inspired by the tale of Peter Pan. (But you already knew that, right?) It includes a 12,000-square-foot, six-bedroom Normandy-style main house, as well as two guesthouses. There are two lakes, railroad tracks and a train station, a swimming pool with a cabana, tennis and basketball courts, a stage built for magic shows, and a movie theater that seats 50.
Jackson paid $19.5 million for the ranch in 1987, but he defaulted on his loan -- which had risen to $24.5 million -- in 2008. The real estate investment firm Colony Capital then picked it up for $23 million and spruced it up, with the intention of unloading it. But, as we real estate watchers know, the early 2010s weren't a good time to sell.
Since December 2014, Taobao's auction branch has brought properties from more than 10 countries under the e-hammer for bidders from China, according to CRIEnglish.com. About 60% of the overseas properties, including islands in Fiji, castles in Italy, and chateaus in France, have been auctioned off online, according to Lu Weixing, the general manager in charge of the auction branch.