NBA All-Star Peja Stojakovi Is Selling $8.9M Mansion in Miami Beach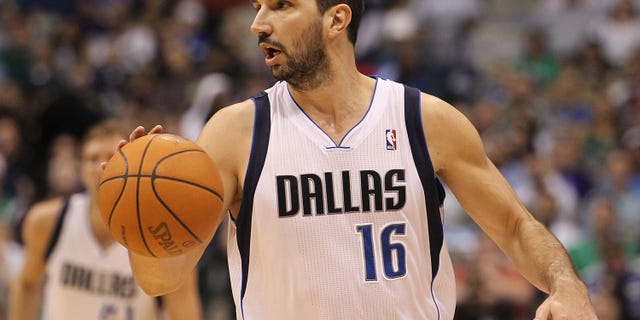 Athlete real estate is sizzling in Florida (just ask Walt Weiss, Carlos Carrasco, or Reggie Wayne), and we've seen no signs of a slowdown. In fact, retired basketball star Peja Stojakovi just put his Miami home on the market.
Built in 1938 as an Art Deco showpiece, the $8.9 million home was heavily remodeled in recent months. The result is a mansion with plenty of curb appeal thanks to its round windows, horizontal roofline, and columned entryway. Those deco elements then blend seamlessly into a crisp and modern interior.
Inside, the sunken living room with a tray ceiling, oak floors, and recessed lighting flows into a sunroom, which is separated from the outdoors by a rounded wall of glass. Both rooms have large custom chandeliers -- a gold-tone wave of light in the living room and a cluster of glass bubbles in the sunroom.
The large master suite is white and bright, with double french doors and a mirrored closet. The doors lead to a private balcony overlooking the canal. The master bathroom offers a massive oak vanity and a large walk-in shower encased in black granite.
There's also a relaxing media room with space to mount a large TV in a row of wood cabinets. Recessed lighting and a sun-filled window brighten the space by day, but the room can be dimmed for a movie night.
And since this is Southern Florida, the property also has a pool and deck, and it's only mere steps to the canal.
Stojakovi is one of the most successful Serbian players to ply his trade in the NBA. He's best remembered for his seasons with the Sacramento Kings, but he also hooped it up with the Indiana Pacers, New Orleans Hornets, and Dallas Mavericks -- with whom he won the NBA championship in 2011. The 6-foot-10 forward announced his retirement from the baller life in 2011 after 13 seasons in the league.
The post NBA All-Star Peja Stojakovi Is Selling $8.9M Mansion in Miami Beach appeared first on Real Estate News and Advice - realtor.com.