Luxury Home Magazines Get Makeovers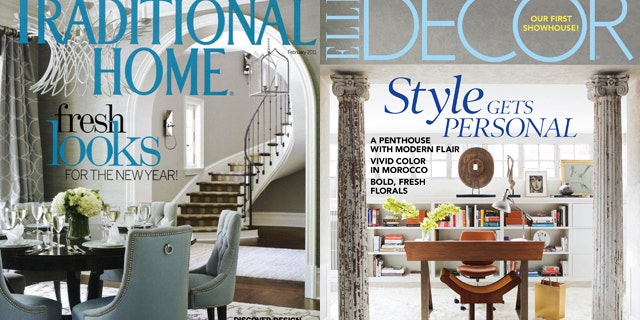 NEW YORK – Luxury home magazines that provide readers a peek inside some of the swankiest, most interesting abodes around the world are getting a freshening up — from new editors and publishers to new approaches to technology.
The venerable Architectural Digest, which slipped from its position as ad-page leader in recent years, has a new editor and a March cover that proclaims in pink: "The Age of Elegance."
Elle Decor, defending its position at the top of the heap, has witty new columns and vibrant features.
Traditional Home has a new publisher and launched a digital version called "TradHome." Veranda has a new editor and a new app. The list goes on.
Part of this is coincidence, part of it necessity; Architectural Digest stole editor Margaret Russell from Elle Decor, so former Executive Editor Michael Boodro got the job leading that magazine.
But the economy had a role in all of it. The magazines — like the rest of the publishing world and the country in general, really — took a big hit when the economy tanked a few years ago. Advertising plunged, designers lost work and no one was buying anything, let alone a $6 magazine advertising a $2,200 pair of sheets.
Many magazines folded, from the upstart Domino to Martha Stewart's Blueprint. The ones that emerged are sinewy and focused — aiming to stay squarely in the center of the design dialogue.
"I feel it coming back," said Ann Maine, editor of Traditional Home. "I see it at trade shows — there is more attendance, more buying. I stand in a show room to look at new products and across the room I see retailers placing orders. Work is picking up for designers from Indianapolis to New York to L.A."
Advertising is on the upswing, too. In 2010, Elle Decor had 1,121 pages of ads, up from 832 the year before. AD had 837, up from 791. House Beautiful was 710, up from 650, according to Mediamark Research, Inc., a media research provider.
The term "shelter" magazine is used for the most upscale home magazines, which focus on living well. They feature beautifully designed rooms, or create them.
Architectural Digest is something of an anomaly in the bunch — its readership is 50 percent male. A stalwart on fancy coffee tables, it was seen to have staled in recent years and its advertising has not yet returned to previous levels. In 2006, there were 1,709 ad pages.
"AD, which had been the leader and the go-to place, lost it to Elle Decor, but whereas Elle Decor's advertising has returned, AD was still foundering," said Martin S. Walker, a media consultant. "It didn't move with the times."
Enter Margaret Russell. The former Elle Decor editor, and Bravo's "Top Design" judge, has already made some subtle changes to the magazine, such as adding a new last page called "Exchange Rate" that promises to reveal "Key sales, surprising steals and the state of the market." She's increasing coverage of art and architecture, and shepherding a redesign of AD's website.
Russell said she's not focused on the competition, or beating her own record.
"I think that you can't ever lose sight of your reader," she said. "... AD is a very sort of exclusive magazine, but it's not just about a price tag. It's about looking at the detail — how could that inspire you?" she said.
Meanwhile, at Russell's old digs, Boodro has created a design directory for the website and a What's Hot! feature. The April issue, currently being tweaked, is full of fantastic exotic homes, new columns and tons of color.
"I do feel confident in the choices that I make," he said. "I think my interests are the interests of readers. I have a broad range of styles and homes that I like. I'm fascinated by the way people live. I'm a little bit of a voyeur that way."
Traditional Home, under new publisher Beth Brenner, formerly of Domino, is using video on its website to complement magazine spreads, and the company is in the process of launching "TradHome" online, focused on younger readers. Editor Maine said she's seeing a resurgence in the magazine's focus, traditional design.
"Everything traditional is really hot right now," she said. "Heritage brands out there, from watches to Converse tennis shoes, re-establishing themselves. We've always been here, but it allows us to move forward in new ways."
Of course, all the magazine editors say their readers are diverse in age and makeup, but industry figures show most are upper-class women in their 50s. They are loyal — there is very little crossover among the magazines. So to keep up with the times, the magazines are reaching out to bloggers and trying to position themselves as trusted go-to brands. They all have tens of thousands of Facebook fans, and people devoted to Twitter. Boodro says he has found writers and designers from blogs.
Dara Caponigro, editor of Veranda, said the magazine has a lot up its sleeve, from TV shows to an app devoted to American design.
"The magazine will always be, but we're looking to add other parts to really expand the brand," she said.
House Beautiful, which focuses exclusively on American design, is using Twitter to generate interest among Chicago readers. From March 26-28, the magazine will drop off 50 chairs around the city and let readers on Twitter know where; the first person to get to them can claim them.
The chairs will be pink in some way to match the magazine's theme for its latest issue.
"There's a note on the chair that says 'take me,'" said Newell Turner, House Beautiful's editor. "People's expressions are just great. It's a fantastic way to really connect with readers."
Turner, who like the other editors has been in the business for years, says he thinks there will always be interest in shelter mags.
"Everybody's gotta have a home," he said. "There is going to be a need to decorate and care for that home. We keep that in mind for the content of the magazine. Be as attainable as possible. But where it's not attainable, it should be inspiring. The right combination is the key."
Click here for more from Foxnews.com Home and Garden